Are you moving to a new home in Washington, DC? Then, you likely have a long to-do list. With everything you have piled on your plate, the list can become overwhelming. We hope to help lighten your load by providing you with information on how to set up utilities in your DC Metro Area home.
Washington, DC Utilities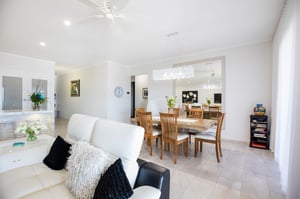 New homeowners within the limits of the District of Columbia will utilize these providers.
Potomac Electric Power Company (aka PEPCO)
You have only thirty (30) days from the date that you take possession of your house to call PEPCO and begin your services with them. Once you contact them, they schedule a start date for you and deliver power at 8 am on that day.
Deposit?
Maybe. Most often, they do not charge any deposit. However, if you have an unpaid balance with them, they will request payment on that balance plus might assess a fee.
Starting service:
Complete the online form, here
Call 202.833.7500
Clean Choice Energy
Clean Choice Energy is an independent provider that works alongside PEPCO to give DC homeowners the option of greener energy choices. For now, they offer services in a somewhat limited area. However, they are expanding their footprint rapidly. If greener living is essential to your family, it's worth your time to check out their offering. Check to see if your new home's address falls within their service area, here.
Deposit?
Clean Energy doesn't collect deposits. However, if the power company they partner with to deliver your service requires one, it would be assessed through that energy provider.
Starting service:
Complete the online form, here
Call 800.218.0113
Washington Gas
Your home may or may not use natural gas to power your home. The area's natural gas service is Washington Gas. You'll call them to turn the gas on in a home that already has service.
Or, you can contact them to learn about the possibility of switching to natural gas, if you're interested. To see if your new house falls within their service area, click here.
Deposit?
Washington Gas requires a soft credit inquiry to determine whether or not they collect a deposit. They will also request either a service initiation fee (for homes with existing gas service) or set-up fee (for homes adding gas).
Starting service:
Complete their form online, here
Call 844.927.4427
DC Water and Sewer Authority
You'll also need to reach out to DC Water and Sewer Authority to begin your service. Furthermore, you cannot establish service until your title company sends the Authority a confirmation of the property's ownership change through their portal. The old owner must have a zero balance.
You cannot start service via phone or online. You can call the customer service team with additional questions at 202.354.3600.
Deposit?
Plan for a $50 service initiation fee
Cable and Internet Service Providers
Many companies provide combo packages that discount cable and internet services. Some also offer stand-alone services. Be aware that some of these providers require contracts and some do not.
Additionally, they might request you pay installation fees, equipment rental fees, and deposits. Therefore, be sure to ask the customer service agent all your questions. Here are the numbers to reach these services.
DirecTV (Satellite Television):
Dish Network (Satellite Television and Internet):
Verizon FiOS (Cable and Internet):
You can check whether service from the cell phone giant is available in your new house, here.
Comcast Xfinity (Cable and Internet):
You can bundle both internet and cable services for discounts on the monthly fees, or you may order them separately with Comcast Xfinity. Click here to see if your new house is in their service area.
Order your installation online, here
Call 800.934.6489
DC Access
If you want to stream your television and movie programming and want internet only, DC Access could be an excellent plan for you. They provide services in the Adams Morgan and Capitol Hill areas.
Complete the online form to request installation, here
Call 202.546.5898
T-Mobile Layer3TV (Cable TV only)
T-Mobile, the cell phone company, dives into the cable television industry with their Layer3TV service. You can look into service availability by clicking here.
Order their services online, here
Call 844.529.3738
Setting up Your Washington, DC Utilities
Setting up your utility services as you move can feel daunting. Armed with the resources here, you should have no trouble in getting started!
As you speak with each provider, keep careful notes so you can reach them again if you do experience any difficulties.
Welcome to Washington, DC!
Khalil El-Ghoul
"Thanks for reading! I'm passionate about empowering home buyers and sellers with professional advice and unbiased information, throughout the real estate transaction. Unlike most agents, I always put clients first. When it comes to negotiating, marketing homes, and sealing the deal, I've got the experience and knowledge you're looking for. If you have any questions about moving to VA, D.C., or MD, don't hesitate to reach out."