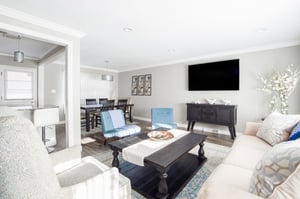 Are you in the process of moving to a new Northern Virginia home? First, then, we welcome you to the community. But, without further ado, we know that you have a lot of moving in tasks to accomplish. And, setting up utilities is at the very top of that list.
We want to help remove the guesswork out of connecting those essential services. Read on, and you will find all the details on how to have your utility services connected in your new home.
Northern VA Utilities
New homeowners in Northern Virginia should contact these service providers to get their utilities in place.
But first, check this map to determine your electricity service provider
Dominion Virginia Power
Dominion Virginia Power provides electricity to the majority of homes in Northern VA. You should contact them as soon as you know your closing and move-in dates to coordinate your services.
Deposit?
Dominion Virginia Power assesses a connection fee of $14.41 which they tack onto your first bill. Additionally, they will request a deposit based on your estimated usage for the next twelve months.
Starting service:
Complete the online form, here
Call 866.366.4357
Northern Virginia Electric Cooperative (aka NOVEC)
Some households within Loudoun, Prince William, or Fairfax Counties utilize Northern Virginia Electric Cooperative (but we generally shorten this to NOVEC) as their electric provider.
Deposit?
All new customers pay an account set up fee of $40, which they add to your initial billing. Deposits can run as high as $300. They will discuss with you whether they require the money on the first bill or whether they will allow you to pay over the first three billing cycles.
Starting service:
Complete the online form, here
Contact customer service at 888.335.0500
City of Manassas Electric
Residents inside Manassas city limits will utilize the City of Manassas as their power provider. Even better, they are also your trash, water, and sewer service provider, so you will only need to contact one provider for all four.
Deposit?
Plan for a $50 new account set-up fee and a $250 deposit that covers all four services provided by the city.
Starting service:
Complete the online form, here
Call the utility customer service department 703.257.8219
Sunpower
Do you strive to reduce your carbon footprint? Then, you'll be happy to hear that solar power might be an option for you via Sunpower. Check to see if your new residential address falls within their service zone, here.
Deposit?
Sunpower will write a quote for equipment lease and installation fees.
Starting service:
Complete the online form, here
Call 800.786.7693
Washington Gas
If your house is powered by natural gas, Washington Gas is likely the company that delivers it into your new home.
You may call them to either turn on gas in a home that already has connections or to inquire about the possibility of switching to natural gas. To see if your new house falls within their service area, click here.
Deposit?
Washington Gas requires a soft credit inquiry to determine if you will need to pay a deposit (or not). They will also request either a new service fee (for homes with existing gas service) or a set-up fee (for homes newly adding gas).
Starting service:
Complete their form online, here
Call 844.927.4427
Columbia Gas of Virginia
For homes utilizing natural gas within the city limits of Chantilly or Herndon, in Fairfax County, Columbia Gas of Virginia serves as your utility company.
Deposit?
Almost all new customers will be assessed a deposit, and the amount charged is based on the homeowner's credit score. However, they credit the deposit back to the account after 12 on-time payments or when the homeowner discontinues service, whichever comes first.
Starting Service:
Complete their online request form, here
Contact them at 800.543.8911
Cable and Internet Service Providers
Many companies provide combination offers that discount cable and internet services. Some also provide stand-alone services. Be aware that some of these providers require contracts while others don't.
In addition, they might require you to pay installation fees, equipment rental fees, and deposits. So, be sure to ask the customer service representative all your questions up front. Here are the numbers to reach these services.
DirecTV (Satellite Television):
Dish Network (Satellite Television and Internet):
Verizon FiOS (Cable and Internet):
You can check whether service from the cell phone giant is available in your new house, here.
Comcast Xfinity (Cable and Internet):
You can bundle both internet and cable services for discounts on the monthly fees, or you may order them separately with Comcast Xfinity. Click here to see if your new house is in its service area.
Order your installation online, here
Call 800.934.6489
Cox
Cox serves as the cable provider in a relatively small area around Northern Virginia. However, they do offer "bundles" with cable, internet, and phone services for those who have them at competitive rates.
Order their services online, here
Call 703.480.1798
Water and Sewer
Most water and sewer providers assess a new account fee and/or a deposit. Contact your provider tor receive the specifics.
Below is a list of the municipal and county water and sewer providers, along with respective phone numbers to call:
City of Alexandria (Virginia American Water) 800.452.6863
City of Falls Church (Fairfax Water) 703.466.6863
City of Manassas 703.257.8219
Arlington Water and Sewage 703.228.6570
Dale City (Virginia American Water) 800.452.6863
Fairfax Water (covering both the City and County of Fairfax) 703.466.6863
Loudoun Water 571.291.7880 or complete this form
Prince William County 703.335.7950
Town of Hamilton 540.338.2811
Town of Herndon 703.435.6814
Town of Round Hill 540.338.4772
Town of Vienna – complete this form online (no phone number is listed on the form)
Setting up Your Northern Virginia Utilities
Setting up your utility services as you are trying to coordinate your move can feel overwhelming, to say the least. But now that you know the right providers to call, it should be no trouble to get them connected.
As you speak with each utility company, keep good notes so you can reach them again if you do face any challenges.
Khalil El-Ghoul
"Thanks for reading! I'm passionate about empowering home buyers and sellers with professional advice and unbiased information, throughout the real estate transaction. Unlike most agents, I always put clients first. When it comes to negotiating, marketing homes, and sealing the deal, I've got the experience and knowledge you're looking for. If you have any questions about moving to VA, D.C., or MD, don't hesitate to reach out."