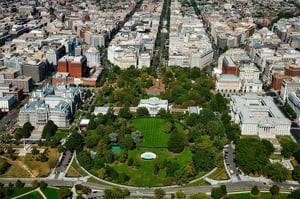 Most people are aware of the several dangerous neighborhoods in our nation's capital. At the same time, some of the most beautiful neighborhoods in the country are found in this exact same city. The following are 5 of the safest neighborhoods in Washington D.C. These neighborhoods are listed in no particular order.
Safest Neighborhoods in Washington DC
Foxhall Village
Just a bit west of Georgetown lies an intimate neighborhood with well kept green grass and rows of charming brick-and-stucco Tudor-style homes. Foxhall Village has one of the lowest crime rates of any DC neighborhood for robbery, assault, and murder; its overall crime rate is 26% lower than the national average. This quaint neighborhood has a population of almost 6,000. Many young professionals call Foxhall Village home and residents comment it feels as though they live in the English countryside versus the middle of Washington DC. The numerous top-rated schools in Foxhall Village are a large reason this neighborhood is popular with young families. This neighborhood is filled with grassy parks and playgrounds. Foxhall Village is a great place to raise a family.
Hawthorne
Bordering Montgomery County, in the Northwest quadrant of Washington D.C, is a peaceful neighborhood made up of elegant Ranch-style homes. The neighborhood is named for the Hawthorn trees which once grew in great abundance in the area. Hawthorne is well-known for its plentitude of green grasses and trees. Most notably are the Ranch-style and split-level homes in Hawthorne. However, what makes the neighborhood distinct is the variety of home styles found; Cape Cod and Colonial homes are sprinkled throughout the subdivision as well. Hawthorne's public schools Lafayette Elementary, Alice Deal Middle, and Woodrow Wilson High School are all top-rated schools. In 2019, the only crime reported in this neighborhood was four thefts from inside automobiles and two stolen automobiles. Hawthorne is the neighborhood where residents feel safe opening their windows at night.
Palisades
Palisades sits alongside the Potomac River, right at the edge of Georgetown University. This quiet community has an overall crime rate of 29% lower than the national average and has only had one reported crime in the last year. It is a unique neighborhood where you will find multi-generations of families living on the same street or within a few blocks of one another. Surprisingly, being just 10 minutes from downtown DC, the only noise heard comes from the airplanes landing at Reagan National Airport. The community runs along MacArthur Boulevard and is home to a small commercial strip that has a variety of convenience stores such as CVS and Safeway. The strip even houses a renovated, historic theater. Residents have a wide range of dining options such as Balck Salt which is half high-end seafood restaurant and half seafood market. Et Voila, a Belgian restaurant and Lupo Verde Osteria's Italian are just a few of the culturally diverse eateries that are sprinkled through the Palisades area. In this tight-knit community, you will find a wide variety of home styles. While the vast majority of houses are single-family bungalows, Cape Cods, and Colonials, some condos, townhomes and apartments can all be found scattered throughout the neighborhood. Many people move to this popular neighborhood in order for their children to attend the renowned Francis Scott Key Elementary School.
Van Ness
Sometimes referred to as Forest Hills, Van Ness is a luxurious neighborhood in Northwest DC. This sparsely populated community of under 2,000 is situated on the red line with the large green space of Rock Creek Park serving as it's backyard. Van Ness has far more rentals than other comparable neighborhoods, giving these renters much more space for their money. In recent years Connecticut Avenue, which is considered to be Van Ness's main street, has gone through major redevelopments giving the affluent neighborhood more options for dining and shopping. This bustling street is home to many flourishing businesses and unique dining options like Laliguras Indian Nepal Bistro who serves up mouthwatering Tandoori meat and seafood, and the popular bakery, Bread Furst offering gourmet breads, pastries, and coffee. Just as the other neighborhoods covered, Van Ness has an incredibly low crime rate. Van Ness is a popular area due to its embassy buildings, first-rate educational institutions, historic Rock Creek Park trails, and its general low-key vibe.
Woodland Normanstone
Bordering Woodley Park and Massachusetts Heights, sits the small, extremely upscale neighborhood of Woodland Normanstone. This unique DC neighborhood has no commercial businesses and is reported to be home to many Trump and high-profile political officials. Metro buses travel up and down Massachusetts Avenue providing residents a simple commute to downtown DC. Residents of Woodland Normanstone have a strong sense of community, calling their neighborhood a "village within a village." Students can attend, Eaton Elementary, Alice Deal Middle School, and Wilson High School, which are all highly ranked public schools. The exquisite homes in this tucked-away oasis range from Georgian and Colonial architectural styles to more contemporary properties set on spacious lots. When it comes to safety, Woodland Normanstone rarely sees any major crime. This is a neighborhood where residents feel the true sense of community.
Washington D.C. is home to such beauty; the elegance of this historical city is seen in these neighborhoods. Diversity, a sense of community, phenomenal schools and a small-town-feel in the midst of our nation's capital city make these neighborhoods the shining gems of DC.