Thinking of moving your family to dc?
Whether you plan to move to Washington DC or have lived here your entire life, choosing the best DC neighborhood to raise your kids is a significant decision.

Washington DC is comprised of a myriad of neighborhoods. When choosing the right area for your family, you want to consider housing, schools, and the overall neighborhood vibe.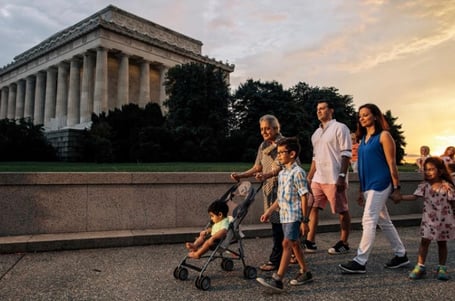 Source: washington.org
We have done the homework for you - below are the best Washington DC neighborhoods to raise your kids.
Capitol Hill
Capitol Hill is referred to as "Stroller City" because of the many strollers being pushed through the Hill. Capitol Hill is home to Moms on the Hill (MOTH), with thousands of members.
The neighborhood gets together for holidays like "Hilloween," which brings families together for spooky games and hayrides at the Eastern Market and the annual Fourth of July Parade.
Composed of 19th-century manor houses, rowhouses, and Federal townhouses, the architecture in Capitol Hill is spectacular.
Source: dc.curbed.com
Several top-rated public schools, like Peabody Elementary and Kramer Middle School, and excellent private schools such as Capitol Hill Day School and St. Peters School are located near Capitol Hill.
Pennslyvania Avenue has everything you need - shopping, dining, and nightlife. And the neighborhood is brimming with green parks.
Although Capitol Hill is not an inexpensive neighborhood to live in, its median home at $829,000 is much less expensive than other popular DC neighborhoods.
Glover Park
Glover Park offers residents a real sense of community. The neighborhood is just north of Georgetown with borders Wisconsin Avenue to the east, Archbold Park to the west and south, and Fulton Street to the north.

This family-friendly neighborhood is what you would imagine a tight-knit community looking like. Kids playing in the streets and periodic block parties.
Source: pexels.com
Streets in Glover Park are fringed with beautiful early 20th-century rowhouses and many Edwardian-style homes. Homes in this neighborhood range from the high 200s, which will get you a one-bedroom one-bath to well over 1 million.

Many condo and co-op buildings line the streets of Glover Park; most were apartment buildings built between 1950 and 1960 and then converted into condominiums.

Glover Park is home to many outstanding public schools such as Hyde-Addison Elementary and Hardy Middle School and private schools Duke Ellington School of the Arts and Washinton International School.
Friendship Heights
Friendship Heights is a mecca for families with young children. The many parks in Friendship Heights are packed with kids playing and parents pushing strollers during the weekends.
Source: pexels.com
This comfortable community has become popular for young families for many reasons: you can walk everywhere and allow children to frolic outside until the sun disappears. And with Friendship Height's small population and low crime rate, parents experience less fear of allowing their children to be children and play outside.
Updated early 1900 Victorian and Federal-style rowhouses fill the streets of Friendship Park. Homes in this lively neighborhood have a hefty median price of $1.2 million.
Georgetown
Georgetown is a perfect neighborhood for families that want to be at the heart of it all. This neighborhood is made up of single residents and young families.

Everything you could ever need is within reach living in Georgetown. Over 500 stores and a diverse selection of restaurants are right at your fingertips.
Source: getyourguide.com
Georgetown is home to some of Washington DC's finest schools. Renowned Schools Without Walls High School and Georgetown Visitation Preparatory are both located in Georgetown. Many neighborhood schools have forged community partnerships with George Washington University and Georgetown University, promoting higher education learning to young students.

Georgetown was founded in 1751, and homes in this neighborhood strongly reflect this colonial period. Georgian-style and Federal-style make up most of the homes in Georgetown. The median home price in this upbeat neighborhood is just over $1 million.
The Pallisades
The Pallisades is DC's westernmost neighborhood and just 10 minutes from downtown. Surprisingly, with its proximity to downtown, Palisades has a genuine small-town feel.

Any day of the week, you will see joggers, cyclists, and residents walking their dogs. Many Pallisades homes are elegantly tucked away behind trees and greenery. And with a crime rate lower than 85% of DC neighborhoods, you can feel secure taking that early morning jog.

Source: pexels.com
Finding The Best Washington DC Neighborhood To Raise Your Kids
Washington DC is a great place to raise your kids. The nation's capital has several neighborhoods that offer top-notch education, parks for your kids to play, beautiful homes, and a low crime rate.
Khalil El-Ghoul
"Thanks for reading! I'm passionate about empowering home buyers and sellers with professional advice and unbiased information, throughout the real estate transaction. Unlike most agents, I always put clients first. When it comes to negotiating, marketing homes, and sealing the deal, I've got the experience and knowledge you're looking for. If you have any questions about moving to VA, D.C., or MD, don't hesitate to reach out."