Considering moving your family to Washington DC? Or are you simply searching for the perfect DC neighborhood for your new family?
3 Great Family Friendly DC Neighborhoods
Georgetown
Georgetown is recognized for its family-friendly environment and historic appeal. Cobblestone streets with historic row houses, Federal-style homes, shopping, and dining set adjacent to the Potomac River. One huge selling point of Georgetown for new families in Washington DC is the many highly-performing schools.
Source: washington.org
Family-Friendly Fun in Georgetown
Highly-Performing Schools in Georgetown
Source: washingtonpost.com
Georgetown's location allows families to choose from top-ranked private and public schools, from pre-k to high school, and includes world-renowned Georgetown University.
Hyde-Addison Elementary School is Georgetown's only public elementary school. Recently, Hyde-Addison has gone through a $50 million makeover which added 30,000 square feet of space to the school. The updates include high-tech classrooms, an art center, a multi-purpose gymnasium, a music room, and so much more.
Hardy Middle School offers students a rigorous educational environment and a strong academic curriculum. The middle school is known for having one of the best music and arts programs in the greater DC area.
Washington DC's well-known The School Without Walls (SWW) is a small humanities-based public magnet high school located in The George Washington University. SWW offers a college-prep curriculum with over 20 Advanced Placement (AP) courses.
Southwest Waterfront
South of downtown Washington DC, Southwest Waterfront, also known as The Wharf is bordered by the Potomac River. Most of the neighborhood comprises mid-century condos and luxury townhomes. Living in Southwest Waterfront, families can enjoy picnicking, golfing, live theater, and water recreation.
Source: wharfdc.com
Family-Friendly Fun in Southwest Waterfront
Highly-Performing Schools in Southwest Waterfront

Source: stpetersschool.org
The Southwest Waterfront neighborhood is served by many excellent public schools along with a large choice of top-notch private schools.
Capitol Hill Day School is one of the area's leading schools. Serving pre-k through 8th grade, Capitol Hill Day School offers more than just the basics of education. Performing arts, Spanish, and French aren't electives here, they are integrated into the curriculum requirements. Children are exposed to diversity in culture and arts at Capitol Hill Day School.
Jefferson Middle School Academy creates an environment where not only education is a priority, but the social and emotional needs of middle schoolers are just as relevant. The advanced STEM coursework Jefferson offers prepares students for the rigorous high school workload.
St. Peters School has twice been awarded the National Blue Ribbon of Excellence which is awarded to schools based on their overall academic excellence. St. Peters ranks in the top 10% across the nation in standardized reading and math assessments.
Cleveland Park
Families who enjoy a more urban setting will love Cleveland Park. The neighborhood consists mainly of Queen Anne, Art Deco, and traditional Victorian homes. Cleveland Park is home to great schools and tons of family fun.
Source: ducksters.com
Family-Friendly Fun in Cleveland Park
Highly-Performing Schools in Cleveland Park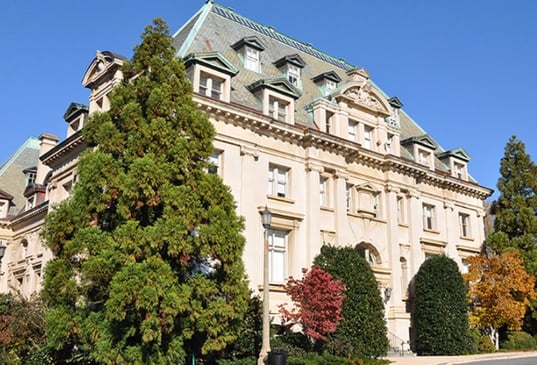 Source: pecf.org
Cleveland Park's highly rated schools include choices of top-ranked private and public schools.
National Cathedral School teaches girls how to become leaders and pursues their intellectual curiosity. The private school offers a wide range of performing arts courses such as theater, visual arts, and dance.
John Eaton Elementary provides a well-rounded, 21st-century education to all students. The historic school has been a community staple since 1911 and the student population represents 24 countries.
Washington International School's core values include inquiry-based learning, global perspective, and individual responsibility. The pre-k through 12th-grade school represents over 95 countries. Their diverse population in addition to 72% of their teachers holding advanced degrees makes Washington International one of the best schools in DC for all grades to attend.
Choosing a Washington DC Neighborhood For Your Family
When it comes to choosing a Washington DC neighborhood for your new family you have to think beyond what type of house you want and what the neighborhood looks like.
These three DC neighborhoods are superb choices for new families to lay down their roots. All of them are loaded with family-fun activities, top-of-the-line schools, and of course beautiful homes.
Khalil El-Ghoul
"Thanks for reading! I'm passionate about empowering home buyers and sellers with professional advice and unbiased information, throughout the real estate transaction. Unlike most agents, I always put clients first. When it comes to negotiating, marketing homes, and sealing the deal, I've got the experience and knowledge you're looking for. If you have any questions about moving to VA, D.C., or MD, don't hesitate to reach out."