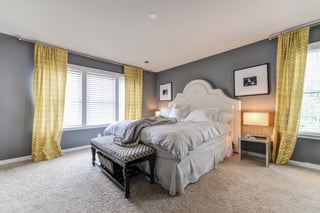 When you put your house on the market, you'll want to "wow" buyers with a great first impression using great staging and photography. Even if your home has some unique features, certain upgrades can impress buyers and increase their interest. In this article, we'll discuss just 7 upgrades you can complete for under $5000 each in order to increase your home's value so it sells quicker and for more money!
7 Upgrades That Will Help Your Home Sell Quicker and For More Money
1. Kitchen Countertops and Backsplash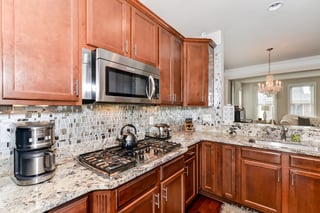 When upgrading your kitchen, start with the countertops and backsplash in order to make the biggest impact for buyers for less cost. This one renovation can make a huge difference for your kitchen's appearance. Many home owners will steer towards granite for the remodel, however, if this is the only upgrade you are making in your home splurge and go with a recycled glass countertop instead. Don't forget about the backsplash! For color choice, go neutral and light. Choose wide tiles so they look timeless and simple.
2. Increase Living Space with the Addition of Decking
The addition of decking, an outdoor patio, outdoor kitchen or outdoor small living room will make a huge impact on the sale of your home. Choose an affordable extention of the home and create a place to entertain.
3. Outdoor Lighting
For your outdoor space, add some low-voltage outdoor lighting to brighten up the home. This addition will increase the quality of your night photos and also give a great impression for any evening open houses. Lights along the driveway, on the walkway, on backyard trees or strung up on the patio are all great options. Make sure to install timers so that they are easy to use and also energy friendly.
4. Exterior Makeover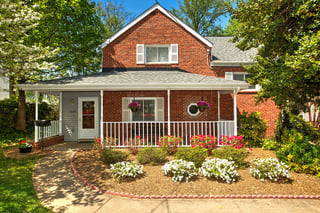 The exterior of your home is the first thing prospective buyers see so it's important to leave a lasting impression. Start with general clean up such as power washing the front porch and ensuring there are no leaves, snow or ice on the driveway. Upgrade your lighting fixtures outside with edison bulbs or energy star certified lighting (this will give buyers long term cost savings which is definitely appealing!). If you have any shutters that are broken or warn out, replace them with new ones or freshly painted. Also, make sure the landscaping around your home is in great shape! Freshen up flowers and keep the grass cut and low.
5. Upgrade The Entryway
The entryway of your home is a critically important feature for prospective buyers. Provide a lasting impression by upgrading your entrance door if it's old or worn out at all. "A fiberglass entry door returns about 72% of it's investment", according to Housetopia.
6. Increase Natural Light
A home with a lot of natural light shows off it's features and increase energy savings. The addition of a skylght in main rooms or large, open windows will bring in the natural light you need to attract buyers. For as high as $2,400 you can install an Energy Star certified, solar power, no leak fresh air skylight.
7. Upgrade Master Bathroom
For less than $5,000 you can improve your master bathroom dramatically without having to do a major overhaul. Upgrade faucets with anything from Energy Star - this represents short and long term savings to home buyers. Replace old cabinets or countertops in the bathroom. Upgrade the flooring to something neutral and easy to clean. Of course, focus on cleaniless including a clean shower and new floor mats and accessories.
Sell Your Home, Get Cash Back & a Full-Service Agent
Why pay 6% when selling your home when you can experience a 50% discount compared to traditional agencies? When you sell a home with Glass House Real Estate, you can rest assured that you're going to work with a top real estate rebate agents in the D.C., VA and MD areas. Talk to us today!
Khalil El-Ghoul
"Thanks for reading! I'm passionate about empowering home buyers and sellers with professional advice and unbiased information, throughout the real estate transaction. Unlike most agents, I always put clients first. When it comes to negotiating, marketing homes, and sealing the deal, I've got the experience and knowledge you're looking for. If you have any questions about moving to VA, D.C., or MD, don't hesitate to reach out."