When listing your house for sale, you have to consider all the types of buyers who will be interested in your property. At Glass House, we work with many millennial buyers who utilize a modern real estate process that saves them money when buying and selling their home. As a home seller, learning about what appeals to young buyers can help you sell your home faster and for more money!
6 Must-Haves When Selling Your Home to Millennial Buyers
Updated Fixtures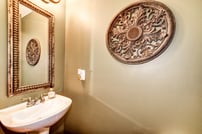 In your bathroom and kitchen, replace outdated fixtures with simple and budget-conscious fixtures. You won't want to sink too much money into this upgrade but millenial buyers will be attracted to more modern fixtures compared to vintage. Keeping them simple however is important because not everyone will love what you've picked and they may end up replacing them once they buy.
Spacious and Open Flow Kitchen Area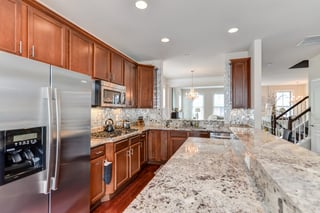 Young buyers are not attracted to the traditional "formal" dining area of the home. Millennials love to entertain in a spacious, open floor kitchen. In modern days, the kitchen "is the new living room" and being able to flow through a room easily for all occassions is appealing. Allow young buyers to invision entertaining in your kitchen by keeping clear, uncluttered countertops and adding small entertain themed items around the kitchen area such as a bar cart or cheese plate.
Home Office
Many young millennials are now working from home or in need of a dedicated work space for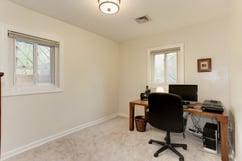 projects or studying. A dedicated home office can be seen as a huge value for young buyers who may be entrepeneurs, students or just enjoy hobbies such as reading or writing. Buyers will also see this area as flexible space for a guest room or a future child's room. If your home doesn't have a home office, find a spacious area to create one within the home.
Great Location
No matter where your home's location, make sure to highlight specifics that will appeal to young buyers. How close are you to schools? What is your morning and evening commute like to and from the city? How far are the closest public transportation services? Are there low gas prices near by? Where are the best local restaurants and how far are they from your home? What's in walking distance? Marketing your location is critical to the sale of your home for all types of buyers but showcasing specifics that appeal to young buyers can be the key to selling fast!
Low Upkeep Features
For all types of buyers, low up-keep features throughout the house will be appealing. Wood floors in main traffic rooms like the living room and hallways are much easier for upkeep compared to carpeting. Granite countertops in the kitchen and even in the master bathroom can be attractive because they are easy to clean, show less wear over time and are long lasting and durable. Landscaping in the front and backyard is a must but don't over do it with large gardens and high maintanence plants.
Technology and Energy Efficiency
Home with technological capabilities are becoming a must-have for young buyers. Solar power energy options are a huge value. Homes with remote controllable features for lighting, security and energy savings are very attractive and will help you sell for more money. When marketing your home and talking with prospective buyers be sure to discuss internet options in your area and how well the wireless internet connection works throughout the household.
The Rebate Process Will Save You Money When Selling Your Home!
At Glass House, our fee for selling a home is only 1.5% of the sales price. We don't have a fancy office, franchise fees, broker splits, or other overhead "traditional" agents have, so we pass those savings on to you. We absolutely never charge admin fees, and we do not collect anything if your home does not sell.
Contact Glass House today and one of our full-service agents will come to your home to give you an expert market analysis of your home's value and the current market. There is absolutely no obligation to work with us, just a friendly meeting in which you will get a ton of information about the market for your home.
Khalil El-Ghoul
"Thanks for reading! I'm passionate about empowering home buyers and sellers with professional advice and unbiased information, throughout the real estate transaction. Unlike most agents, I always put clients first. When it comes to negotiating, marketing homes, and sealing the deal, I've got the experience and knowledge you're looking for. If you have any questions about moving to VA, D.C., or MD, don't hesitate to reach out."