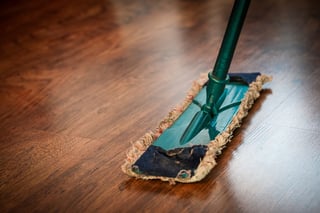 When your home is on the market it's important for it to look it's absolute best at all times. Buyers will find a clean and organized home more appealing. They won't be distracted by a strange smell in the kitchen or a scuff on the master bedroom wall. By executing a deep clean of your home before you put it on the market, it will make it easier to maintain between showings. Here are some step by step tips on how to deep clean your home when it's for sale!
Step by Step Deep Cleaning Guide For Your Home
Clean All The Windows
Remove screens, place them on a clean & waterproof surface
Use a hose to gently clean the screens then scrub each with a soft brush
Polish window glass (*mix a solution of part white vinegar, eight parts water — add a drop or two of dishwashing liquid)
Clear Out Your Refrigerator
Check drop tray underneath the fridge
Wash out any standing water from defrosting
Scrub the inside of the fridge with baking soda and water
Use activated charcoal in the fridge to avoid future odors
Outside of The Home & Garage
Wipe down the front door
Shake out the doormat and vacuum
Clean off outdoor furniture of dust and dirt
Use a pressure washer and wash driveway and garage floor
oil, rust and grease stains can be removed with dark cola drinks (the acid)
Deep Clean All Bathrooms
Use a Wet/dry vac to suck out contaminants from grout
clean tile floors with your usual cleaner
quarter cup baking soda and vinegar down the drains and leave overnight — flush in the morning with boiling water
Before you begin cleaning the shower, turn on the hot water for a couple of minutes in order to loosen the dirt and grime. *To keep the shower clean every day, use a tub or tile spray cleaner after each person showers. This will keep the walls clean and bright without extra deep regular cleanings.
Clean off soap scum from plastic shower curtains by putting them into the washer on gentle in cold. Use detergent and 1/2 cup vinegar as cleaning solution.If mildew is on the curtains add bleach instead of vinegar! Also be sure to put large towels in for scrubbing purposes.
Use a small amount of your favorite scented cleaner and drop it into your toilet bowls each night before you go to sleep. This will make sure that every morning each bathroom will smell great!
Bedroom and Living Room Cleaning
Vacuum your mattress and box springs
Dust and vacuum lamp shades and curtains throughout the home
Rotate and flip mattress
Vacuum and rotate also for removable furniture cushions throughout the bedroom (and living room spaces).
Wash or dry clean dust ruffles and mattress pads
Shake lump comforters vigorously to redistribute stuffing
Wash The Walls
Use a mixture of general purpose cleaner diluted with hot water to clean the walls with a mop
Start the top corner of the wall to avoid dripping! Be sure not to press too hard
Rinse the mop head frequently in clean water
General Tips For Keeping a Home Clean Throughout The Sales Process
Your best air fresheners and candles are the ones that smell CLEAN.
Decluttering is the best way for a home to look neat, clean and organized. Do this first before starting your deep clean project.
Buy floor mats and use rugs at every entryway to avoid dirt and scuff build up.
Use microfiber clothes rather than regular cleaning rags.
Get your carpets professionally cleaned before starting to show your home.
Don't forget to clean baseboards! Wipe with a wet rag all around each room.