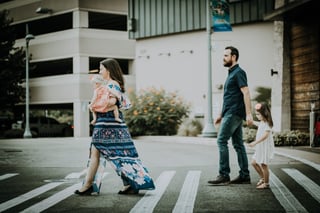 Each year, more and more people are moving to our nation's capital. They're drawn by the attractive job market, moderate cost of living, and successful school districts. If you and your family are thinking about moving to DC, check out these 8 family-friendly neighborhoods. Each one has a unique combination of libraries, parks, museums, and historic monuments. A little research will help you determine the right neighborhood for your growing family.
8 Neighborhoods Great For Families in Washington D.C.
1. Glover Park, DC
Glover Park, a.k.a. the "Leave it to Beaver" community, is an ideal choice for new families.
This DC neighborhood is experiencing steady growth and is also home to some of the most prestigious schools in the city. In 2010, Stoddert Elementary School was ranked as the top school in the city, and in 2013, it enrolled students from more than 20 different countries. Other Glover Park attractions include community gardens, softball fields, and a farmer's market at Hardy Middle School.
2. Palisades, DC
The Palisades is a scenic neighborhood in Washington DC that runs along the banks of the Potomac River. While the majority of the single-family homes in this close-knit community are large and pricey, there are smaller houses and apartments for families with smaller budgets. Other popular attractions in the Palisades include a weekly farmers' market, annual holiday parades, and several high-ranking public schools.
3. American University Park, DC
If you're looking for a suburban setting within the DC city limits, look no further than American University Park. This verdant neighborhood is full of pristine lawns, uniform architecture, and whitewashed picket fences. Most of the homes are owned by families and elderly couples, so you can be sure your children are in good company. There are also several quality elementary schools, including St. Ann's Academy and Janney Elementary. Last, but not least, American University Park offers easy access to downtown DC via the metro.
4. Dupont Circle, DC
Dupont Circle has experienced its fair share of crime, but it's made a roaring comeback since the turn of the century. Today, this DC neighborhood is home to both million-dollar dream houses and more moderate single-family residences. If you're seriously considering Dupont Circle, you should known that many of its charter schools have waiting lists for admission. Call ahead to make sure your children can get into the right school at the right time. Some of the top family-friendly activities in this area include the Woodrow Wilson House, the Phillips Collection, and the Dupont Circle Fountain and Park.
5. Capitol Hill, DC
If you like historic monuments and you don't mind politicians, Capitol Hill might be the perfect neighborhood for your growing family. This area is home to the United States Capitol Building, the Library of Congress, and even the Supreme Court Building. It's also home to Moms of the Hill, or MOTH, a community group for parents in the Capitol Hill area. Locals moms can visit the MOTH website for babysitter recommendations, play date events, and more. Parking, however, is another story. If you're considering a forever home in Capitol Hill, you should also consider a DC metro pass.
6. Georgetown, DC
Next up is Georgetown, the oldest neighborhood in DC. Founded in 1751, this quaint area includes both cobblestone streets and authentic architecture from the 18th century. Families with school-aged children will appreciate that many of the public schools have community partnerships with both Georgetown University and George Washington University. These agreements enable college-aged students to get involved with higher education at a younger age. While there are plenty of single-family homes available, the apartment complexes with a view of the Potomac are truly something special.
7. Potomac, MD
If you're looking for a plot of land and a large home, consider Potomac, Maryland. This DC suburb offers more bang for your buck than centrally located suburbs like Bethesda. That said, Potomac is considered one of the wealthiest towns in the country and is home to two of the best schools for math and science. As a result, its housing prices can get quite high. You'll definitely want to work with a skilled realtor to find a home within your budget.
8. Chevy Chase, MD
The last location on our list is actually a suburb known as Chevy Chase. While it shares a name with the popular comedian, the similarities ends there. This affluent neighborhood is both stately and historic, and its housing options range from modern condos and historic colonial-style homes. Growing families can enjoy the baseball, basketball, soccer, and tennis facilities at the North Chevy Chase Local Park. It also boast a crime rate of less than three percent and several exceptional schools. The top neighborhoods in Chevy Chase include The Village, Friendship Heights, Rollingwood, Somerset, and New Hamlet.