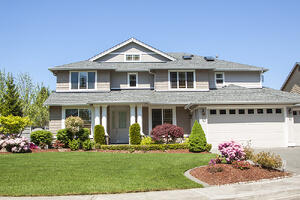 If you're getting your house ready to sell, you've probably heard about curb appeal, or that first impression as potential buyers drive up to the house. One of the best ways to achieve curb appeal is to focus on your landscaping to make your home more desirable to buyers.
Landscaping is a crucial element of curb appeal. You can think of curb appeal as what lures someone into wanting to take a look around. If your house isn't impressive on the outside, hurried shoppers might just skip looking inside your house and move on to the next one.
Use These Landscaping Tips to Make Your Home More Desirable to Home Buyers:
Keep your lawn lush and healthy. Nothing says home more than a beautiful front lawn. Keep your lawn fertilized and mowed. Edging and trimming are also important. If your lawn is looking a little lackluster or sparse, overseed. Just add some seed to the existing lawn and water every day for a few weeks. Set your automatic sprinklers so they run late at night or very early in the morning. You don't want your sprinklers running – and perhaps spraying down walkways or your driveway -- during the day when your house might be shown. Having your your sprinklers running during the day especially in the summer is also very impractical as most of the water typically evaporates in the heat before it soaks into the soil.
Clean up. If you have dried leaves peppered throughout your front or back yard, it tends to look messy and dirty. Also, if you're in experiencing spring weather, you might be finding a deluge of weeds overtaking your yard. Be sure you eliminate them all. Get all the old stuff off the ground. If trees and shrubbery are overgrown, some heavy-duty pruning will be needed. As people view your house from the street, the house shouldn't be overwhelmed by thick greenery.
Add mulch. One of the quickest and most effective ways to improve your curb appeal through landscaping is by adding mulch. The pop of natural color and the fresh scent of cedar bark are sure to be enticing to potential buyers. A nice bark on top of the soil adds an attractive, finished look to your front yard.
Provide pops of color with annuals. Most everyone likes pops of color, whether it's fashion accessories or home décor. Adding some vibrant annuals to your- landscape is like adding a great accessory to your wardrobe. In the spring and summer, bursts of red, purple, and yellow help your home look seasonal and attractive. In the fall months, yellow and orange flowers, like mums, give off an inviting fall look.
Don't forget the back yard. All the same rules apply to the back yard. Tend to the lawn, clean up weeds and dried foliage and leaves, add mulch, and plant some annuals. You'll also want to power clean the patio, including any outdoor kitchen or grilling equipment and furniture. Add some new outdoor pillows or rugs in strong clusters of color that complement or contrast with colors in your landscape and exterior house color.
Once you have your landscaping up to par, you'll be well on your way to making your home more desirable to buyers and ultimately landing an offer. If you are looking to sell your home, contact Glass House Real Estate below to learn how you can earn a cash back rebate.
Work with Glass House to sell your home quickly and earn a cash rebate
Khalil El-Ghoul
"Thanks for reading! I'm passionate about empowering home buyers and sellers with professional advice and unbiased information, throughout the real estate transaction. Unlike most agents, I always put clients first. When it comes to negotiating, marketing homes, and sealing the deal, I've got the experience and knowledge you're looking for. If you have any questions about moving to VA, D.C., or MD, don't hesitate to reach out."