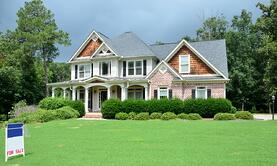 As you clear the closets, clean the carpets, and make your home's curb appeal the envy of the neighbors as you get your house ready to sell, it's all a waste if you end up with home listing mistakes.
You may be wondering 'What are the biggest home listing mistakes I can make?" Your home's listing is the gateway to potential buyers. You want factual information, professional-level photos that wet the viewers' appetites, and descriptions that are accurate and free from grammatical mistakes. Here is a list of mistakes you can easily avoid.
The 5 Biggest Home Listing Mistakes
Setting the right price. An asking price that is too high won't get any real interest. It's vitally important to be realistic about how much your home will sell for. Just because you love your house and think it's the best place to raise kids doesn't change the hard, cold facts surrounding the market conditions. Talk to a real estate agent and ask him to pull a report to show how much homes in your neighborhood have sold for in recent months. You should also ask the agent what you can do to make your house as seller friendly as possible. Trust your real estate agent's advice. While you have emotions vested in the process, an agent has the facts surrounding the current market.
Bad photos. House hunters today use the Internet as their first stop in looking for a house to buy. Not only does a house need real-life curb appeal, but it needs online appeal, which means great-looking photos. Whoever takes the photos should put away the smart phone and use a good camera. Exterior shots should be taken in the middle of the day when the lighting is good. For interior shots, a flash should be used and the lights should be turned on. This will brighten the room up and the flash will balance out the colorsthe way they should be. There should be photos of all the rooms from various angles. There shouldn't be any trace of clutter in any of the shots. Some basic editing like cropping and improving contrast will make the photos more appealing.
Poor grammar and punctuation. The listing information should have all words spelled correctly and proper grammar and punctuation. If the listing is sprinkled with mistakes, would-be buyers may not take the listing as seriously as they might have otherwise.
The facts are wrong. If your listing says your house has one bathroom when it really has two, you will lose a lot of interest. Close to nobody wants a house with just one bathroom. Oftentimes, these kinds of mistakes are the result of typos. That's why it's vital that you read everything in the listing several times to make sure it is error-free.
Not working with a real estate agent. Your agent knows the pulse of the market, how to set the right price, how to get appealing photos taken, and how to write and review your listing. A real estate agent also is a skilled negotiator and knows all the nuances of the home selling and buying process.
By knowing these common mistakes and always having them in the back of your mind while you sell you home will make the process easier and less problematic. If you are currently in the market of selling a home, take a look at our home seller rebate program by clicking the link below.
Work with Glass House to sell your home quickly and earn a cash rebate.
Khalil El-Ghoul
"Thanks for reading! I'm passionate about empowering home buyers and sellers with professional advice and unbiased information, throughout the real estate transaction. Unlike most agents, I always put clients first. When it comes to negotiating, marketing homes, and sealing the deal, I've got the experience and knowledge you're looking for. If you have any questions about moving to VA, D.C., or MD, don't hesitate to reach out."