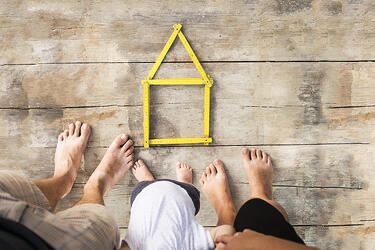 When you think of buying a home for the first time, you probably picture the white picket fence ideal, popular with newlyweds, young families, and starry-eyed suburbanites. The excitement that comes with being a first-time home buyer is intoxicating. Unfortunately, these emotions often create a rose-colored glasses effect for first time home buyers, causing them to overlook details that experienced home buyers have learned the hard way to be wary of.
Whether you're buying a home for the first time, or need a reminder for your next home purchase, here are the most common mistakes first-time home buyers make. Keep these mistakes in mind during your search for your dream home to ensure you get the best deal for your lifestyle.
Top 10 Mistakes First-Time Home Buyers Make
1. Not knowing how much you can afford
Many first-time home buyers get caught up in the excitement of comparing home details like kitchen appliances, home square footage, and rich home additions, but they never think to compare their finance options just as scrupulously.
You should start the home buying process with a budget. Know how much money you can pay upfront, and try to estimate what your mortgage and home expenses will be in the long-run. The key is to work with a mortgage lender for pre-approval before getting caught up in the home search process. It would be no fun to fall in love with a home only to find out later that you can't afford it in the long run!
2. Failing to work with a trustworthy buyer's agent
If you're a first-time home buyer, navigating the market on your own is tough! Finding a buyer's agent who you trust and are comfortable working with can make a huge difference in your home buying journey. A trustworthy agent can provide you with buying, negotiating, and financing advice. He or she will be able to answer any questions you have about the homes you're interested in or the home buying process. You should be able to trust your agent to put your interests before his or her own, negotiate on your behalf and be honest with you throughout the process. It would benefit you to seek out an agent who has experience working with first-time buyers. A buyer's agent will guide first-time buyers through the home process and should be able to educate buyers on the process along the way, so they will gain a lifetime of knowledge from this partnership.
3. Not conducting a home inspection
Hire a home inspector before you sign anything! You may be trying to cut costs during the home buying process, but saving money now could end up costing you thousands of dollars down the road. When you're looking at a house with an inspector, feel free to ask them about anything that strikes you as worrisome - a crack in the tile, funny smell, or weird ceiling stain may all be hiding deeper issues that could cost you thousands to repair. Don't forget to ask about the quality of less apparent details, like the local water and soil quality.
4. Putting too much faith in online home values
At Glass House, our clients start their home search online, and then approach us to tour the homes and settle the negotiations (hence the reason we are able to rebate 2% of our commission to our clients). Obviously, we support finding homes online, but touring the homes with a professional is still a must.
Visiting a home on-site with an agent allows you to explore details the Internet simply can't convey — the neighborhood atmosphere, feel of being in the house, and the home's actual value. While the Internet has the ability to simplify the home buying process, traditional steps cannot be replaced.
5. Skipping mortgage qualification
If you don't get approved before beginning to tour homes, then you could end up wasting the seller's time, the sellers agent's time, and your buyer agent's time. What's the point of getting excited about a house and signing the papers when, when the time comes to apply for a loan, you find out you won't be able to afford what you thought you could? Obtaining pre-approval will help you plan financially, plus give you a better idea of the price range of house you'll be able to afford.
6. Not considering all the costs of being a home owner
A huge mistake that first time buyers often make is assuming the cost of being a home owner is limited to the down payment and mortgage payment. However, this is rarely the case. Maintenance costs, taxes, and fees can stack up surprisingly quickly. Some costs to look out for include property taxes, moving costs, a home appraisal fee, a home inspection fee, and more. Do your research to identify the costs along the way and budget accordingly.
7. Becoming too emotionally-involved
Buying a home for the first time is a life-changing event, so of course emotions will come into play. That's to be expected, but buyers should be careful not to let emotions cloud their judgment.
Don't fall in love with a home only to find out later that you can't afford it. It's best not to even set foot in a home that's out of your price range. Another tip is not to be too emotional in front of a seller. Check your emotions at the door when you're touring a house. If you see something that displeases you during your home tour, wait to address it with your buyer agent later, rather than expressing your distaste to the seller. This could lead to murky financial details and a more stressful home closing.
8. Not knowing market conditions
Be careful not to overlook market conditions. If most of the homes are way out of your price range, perhaps the market is just priced high right now and you should wait a bit. Or maybe that's how the market is all the time. Working closely with your buyer's agent and doing your research will reveal the truth of the market conditions, which will help you make the smartest home buying decisions.
9. Researching loan information online only
You could conduct online research for hours to explore loan options. However, nothing will replace actually talking with an agent! Working with an agent can help demystify the process better than any online article ever could. Plus, speaking to lenders in your town will unveil the pros and cons of each lender, like fees, perks, and expertise.
10. Not using a real estate rebate agent
Unless you won the jackpot, as a first time home buyer you're probably very wary of your budget and excess costs. That's why working with a real estate rebate agent is a great option. A rebate agent, like our team at Glass House Real Estate, will refund you a portion of his or her commission, allowing you to save thousands of dollars on your home buying costs.
Key Takeaway
You're going to make mistakes buying your first home — it's often inevitable. However, be smart not to make mistakes that will end up costing you money and heartache in the long run. Work with trustworthy and experienced real estate professionals to help guide you in the process, and always do you research.
Our principal broker, Khalil, has years of experience helping first-time home buyers find their dream home and navigate the real estate process. As our past client Jonathan stated, "I've worked with several Realtors and had not encountered one that I would recommend until I worked with Khalil...Khalil took the time to get to know what we were looking for, he helped us get a house in the area we wanted to live in, and he helped us keep as much money in our pockets as possible."
Interested in working with Khalil to purchase your first home in the D.C. metro area? Fill out the form below to contact him today, or give him a call at 866-971-5608.
Sources: Investopedia, CNBC, How Stuff Works, Realtor.com, MSN Real Estate
Get paid to find your dream home
Find out how you can earn a cash rebate working with Glass House
Khalil El-Ghoul
"Thanks for reading! I'm passionate about empowering home buyers and sellers with professional advice and unbiased information, throughout the real estate transaction. Unlike most agents, I always put clients first. When it comes to negotiating, marketing homes, and sealing the deal, I've got the experience and knowledge you're looking for. If you have any questions about moving to VA, D.C., or MD, don't hesitate to reach out."