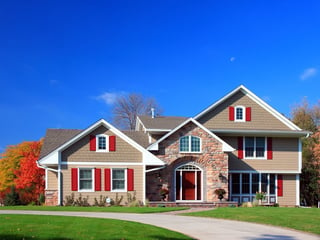 Are you considering buying a newly built home in the DC metropolitan area? The idea of working with builders to move into a new construction home is definitely appealing. However, buying new construction without representation from an agent is basically blindly signing away your money for a new home. Having an agent by your side throughout the process reduces the risk and adds a professional eye so you never feel taken advantage of during your new construction transaction. Here is what you can expect a real estate agent to help you with during the new home construction process.
1. CHOOSING THE RIGHT PEOPLE
Your agent will help you find a great home builder in a community that fits your needs. Instead of starting from scratch with your search, your agent has a network of vendors and home builders. You get to benefit from this network because that agent more than likely has already worked with great builders they would recommend to match your needs. Even if the agent has not worked with the builder you want to use directly, they have connections within their network to get referrals and recommendations from other clients and agents. Don't waste time with research and meetings, have your agent help you through the process based on what will fit your criteria and be best for your family.
2. CHOOSING A COMMUNITY THAT WORKS FOR YOU
Whether you are building on a lot within a neighborhood or purchasing new construction in a community, an agent can be a huge advantage to the process. A professional will inform you why your purchase will best serve you, including information on neighborhood comps and the value in the current market. Work with your agent to help find you a neighborhood that best fits your lifestyle, which could be outside of the areas you would look at on your own. An agent is looking out for your present and your future, they don't just want to sell you a lot or a new build. Your decisions should work in the long term in case you would like to sell for a profit down the road.
3. UPGRADES AND PLAN MODIFICATIONS
Not only will your agent be able to ensure you get the upgrades and modifications that will best suit your lifestyle, but will also help you make decisions that will increase the value of your home in the long term. Your agent should be an expert negotiator and work with your builder to get you deals on the upgrades you need for your home.
Learn how Glass House works with new construction home buyers here
4. HANDLING CONTRACTS AND PAPERWORK
Your agent will handle the contract and all of the paperwork, and they will be sure to review it to ensure that it is in your best interest. They will be able to help you break down the best loan types, purchasing processes, and steps to take that benefit YOU, not the builder. They are, after all, working for you. They'll make sure there are no overlooked terms in a builder's contract that could end up hurting you after you move in or during the building process. You want to make sure you have a professional and experienced new construction agent who is experienced with the paperwork and contracts and knows how to make revisions that work in a way that make you happy.
5. NEGOTIATIONS
It is imperative in the purchasing process to have an agent that is able to represent you and negotiate for you. The building process is so much more than having the builder put in your favorite counters and floors. Your agent will be able to get you a price that actually benefits you - not the builder. They will be able to run a comparative market analysis to ensure you are paying a fair price for the property. You don't want to end up overpaying for the home - it could put you in a tough spot when it comes time to sell. The agent you work with will also be able to negotiate terms around building time frame, closings costs, and so many other aspects of a contract that you may otherwise overlook.
6. BUILDER'S AGENT REPRESENTS THEM, NOT YOU
It may seem easy just to pop into an office of a new build, or a builder's office, and use the onsite agent. But keep in mind that this agent works FOR the builder, NOT for you. So they will be working to make sure the builder gets the best deal at the end of the day. By having a buyer's agent of your own, you can ensure there is a professional on your side that can walk you through the process and avoid being taken advantage of during the transaction. If you end up working with a builder who isn't holding their end of the deal, they will have the power to make connections that ensure the builder holds their end of the contract terms.
Ready to get started on buying your new construction home?

Contact us today and we'll walk you through why we are the best choice for a new construction build buyer agent in DC, Northern Virginia and Maryland.
Khalil El-Ghoul
"Thanks for reading! I'm passionate about empowering home buyers and sellers with professional advice and unbiased information, throughout the real estate transaction. Unlike most agents, I always put clients first. When it comes to negotiating, marketing homes, and sealing the deal, I've got the experience and knowledge you're looking for. If you have any questions about moving to VA, D.C., or MD, don't hesitate to reach out."