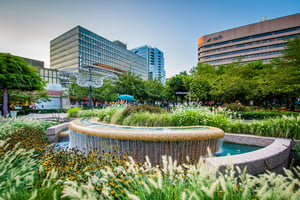 It's a new year - time for new adventures, new chances, and new opportunities - especially right here in South Arlington! While the news of the Amazon HQ2 Moving into South Arlington may be "last years news" - we couldn't be more excited at the advancements and growth opportunities that await this year, and in years to come.
To refresh your memory, let's look at the facts around the new Amazon HQ2 Headquarters: Where is the new Amazon HQ2 being built? The heart of Amazon's local HQ2 will be in Crystal City, the neighborhood of high-rise office buildings south of the Pentagon and north of Alexandria.
How many jobs will this new HQ2 really bring?
Amazon expects to hire 400 people in 2019 and 1,180 the next year. It expects to create a minimum of 25,000 jobs by 2030 and potentially a total of 37,850 by 2034. What will the impact be on housing costs? While we can't know for sure - we can forecast that if housing costs go up, it will be those who rent that will be more at risk. When a city suddenly becomes popular, landlords will see it as a chance to put more money in their pockets. While Amazon won't be moving into South Arlington overnight, now would be a great time for renters to consider homeownership. Prices are increasing in many areas of Virginia, but mortgage rates remain fairly low. If a down payment isn't something you have access to, down payment assistance grants & forgivable loans may be a good option.
What will the benefits be for the region?
Metro improvements to the Crystal City and Potomac Yardstations. (Including new 8000-series railcars). Metro General Manager Paul Wiedefeld says these improvements will not just benefit Northern Virginia, but all commuters throughout the D.C. region.
Virginia Tech will be building the Virginia Tech Innovation Campus in Alexandria,
A 1 million square foot technology-focused campus. (A project that was cited in helping draw Amazon to Virginia).
Oh, and did we mention the jobs?!
Whether you've had mixed emotions, or have loved the concept from the start, the new Amazon HQ2 being built right here in our own backyard can only mean great things for South Arlington. And we can't wait to see how it all plays out!
Khalil El-Ghoul
"Thanks for reading! I'm passionate about empowering home buyers and sellers with professional advice and unbiased information, throughout the real estate transaction. Unlike most agents, I always put clients first. When it comes to negotiating, marketing homes, and sealing the deal, I've got the experience and knowledge you're looking for. If you have any questions about moving to VA, D.C., or MD, don't hesitate to reach out."