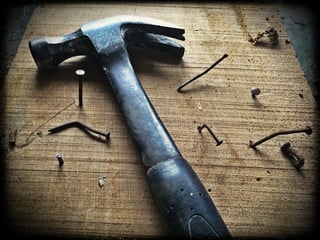 When it comes to selling your home, a small but smart and strategic investment can go a long way. The National Association of Realtors and the Appraisal Institute have announced that small renovations add substantial value, can increase a home's sales price, and should be considered a better option than most major remodeling projects. That position was influenced by a national review that compared the cost of remodeling projects to their resale value. The survey concluded that upgrades such as adding a stone veneer to your exterior, or installing laminate countertops and new cabinet doors, can fetch an 80 percent or better return on investment and make more financial sense than committing to a costly renovation.
A highly ambitious project can make a prospective buyer suspicious of your motives and the true condition of your home. It's also taking a risk because you could redo your bathrooms or kitchen, for example, in a style that doesn't suit a buyer's tastes. There's a simple rationale behind the upgrade-over- renovation philosophy: why replace and redesign when you can add value by making what you've got look better?
Top upgrades
There are a number of relatively simple improvements you can make that will give you some nice bang for your buck. Some of the most effective enhancements are those that emphasize your home's most prominent features, ones that everyone notices. If you're looking to sell, consider going with a steel/glass front door rather than wood or vinyl. You can also add value by putting in a new garage door or adding new siding. New kitchen countertops and appliances can really make a well-worn kitchen stand out, while refinishing your hardwood flooring gives your home a rich luster that always impresses. And don't underestimate the value of freshly painted walls, one of the most financially rewarding and inexpensive improvements you can make.
You can also add to your home's appearance by installing new fixtures, toilet and washstand along with bright, easily installed tiles; simple DIY upgrades that won't cost you a lot of money. Making your carpeting shine is also a good idea, so consider having yours cleaned professionally before you start showing your home. Lighting is also important, a point that can be easy to overlook. Making your house shine means having sufficient lighting, so think about adding some decorative new fixtures throughout your home. And don't forget the importance of a well-manicured lawn when it comes to curb appeal.
Cosmetic touch-ups
Minor chinks and small cracks in your home's exterior may amount to nothing from a maintenance standpoint, but if they're easily visible they can add to an overall negative impression. Take the time to cover up sidewalk or driveway cracks, repair shingles, repaint shutters and external features that need a little cosmetic help.
DIY safety
Safety should always be the first consideration of any do-it- yourself endeavor. Homeowners who are committed to DIY are often ambitious go-getters, but going it alone can be dangerous if you lack knowledge and experience. "Each year, thousands of people end up in emergency rooms from accidents that occurred while performing various home improvement tasks. In order to save money on home renovations and overall costs, more and more people are attempting to tackle DIY home projects. So it's crucial that DIY safety is a top priority in any home improvement endeavors."
Upgrade and defray
Preparing your home for sale can be a very expensive undertaking. Most homeowners have quite a bit of work to do inside and outside to get a house or condo ready to sell, and sometimes necessary improvements are costly. The more you can defray that cost by making affordable DIY upgrades, the easier the buyer-seller process will be.

Seth Murphy
Seth Murphy first got into doing DIY projects to save money, but over time he has developed a real passion for this hands-on, intensive work. He knows DIY can be intimidating so he created PapaDIY.com to share tips and help others with their own endeavors.