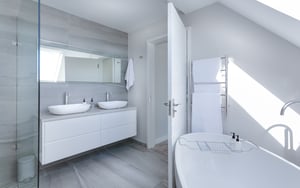 The new year has just begun and with that comes fresh new renovation trends for your home, more specifically your bathroom. Because home renovation involves maintenance, you'll need to buy proper supplies to fix old fixtures and new products to upgrade key design elements around counters. If you need help tackling a bathroom revamping project, simplify focus on four aspects during the renovation process.
Revamping Your Bathroom To Improve The Value and Appeal of Your Home

Colors

After someone buys a home, the homeowner may decorate the bathroom with new decorations. If you want to make the decorating process easier for a homeowner, you'll need to paint the walls a neutral color. This color should be light, and the tone must have a scheme that will blend nicely with modern or vintage décor. The goal is to reduce work for a new homeowner while each bathroom is decorated, and you can accomplish this by selecting a light, cheerful color that won't clash with decorative towels, elegant tile flooring, and stylish counter and cabinets.

Accessories

By placing fun and convenient accessories in each bathroom, you'll boost the home's value and attract more potential customers. The most useful and practical accessories include:

Sleek faucets: Faucets that are made of out chrome material stand out in a space when light reflects off of the surfaces. If you install a fixture that has a sleek design and advantaged technology, potential buyers will have opportunities to save water. In order to accomplish this objective, you'll need to buy and install a faucet that's designed with a motion sensor.
Polished knobs and handles: Polished knobs and handles that are mounted on cabinets give a bathroom a luxurious vibe. When selecting knobs and handles for low cabinet, always consider the shape of each product. If a knob or handle has a wide arch, the process of gripping and pulling the hardware in order to access a cabinet won't be a hassle.
Modern shower hardware: If a bathroom has outdated shower hardware, residents won't have opportunities to take speedy showers. Modern shower equipment is more efficient because the jets have powerful, pressurized components that blast out water very effectively. Soothing showers are very appealing to buyers, so you can easily boost a home's value by replacing old equipment with custom shower hardware that has an adjustable nozzle.
Update

Besides shower hardware, you could also raise a home's value by replacing outdated toilets, tubs, and sinks. When scouting new products, always consider the features, as certain options can provide practical benefits while residents are in the bathroom. For example, if you purchase a tub that has a soap compartment, a homeowner can keep a bar within reach.

Maintenance

In some cases, simple cleaning routines can make a bathroom more appealing and valuable. As potential buyers inspect bathroom spaces, they always examine grout lines and surfaces around sinks and toilets. If these zones have any dirt or grime, you must use a strong cleanser to eliminate all stains because bathroom bacteria can impact a sale.

Detailed Elements

While implementing cleaning procedures, carefully check key areas where hidden grime can generate. If these zones aren't properly cleaned or touched up, you could miss opportunities to secure a sale. The most vulnerable areas include:
Vents
Blinds
Toilet bowl rims
Things To Remember
Always keep in mind that projects should not take more money or time than it will add to the home. The point of revamping is to help add value to the home. Always consult a professional for an electrical or plumbing needs and remember that bathrooms do matter.