Situated in historic Aldie, Virginia, just 15 minutes from Washington Dulles International, south of Route 50, The Greens is the largest of four villages located in the Willowsford community. The highly sought-after three-time Community of the Year offers one of the most elegant and practical environments to call home in the metro DC area.
Trusted Willowsford Realtor
If you are interested in learning more about the lifestyle in Willowsford's The Greens or are ready to make the move to living in this sophisticated community, I would love to speak with you. I have expert knowledge concerning the Willowsford community and have recently sold and went under contract for several homes in this area. I have relationships with the builders in Willowsford and would love to help you get into your dream home! Currently, homes are available in The Greens neighborhood. Below learn about the incredible benefits The Greens in Willowsford offers.
About Willowsford
The convenient location of the Willowsford community puts you near renowned dining, shopping, and entertainment venues. With a simple commute to Washington DC, Reston Town Center, and Fairfax the Willowsford Community is becoming an increasingly popular residence for DC area professionals who want more than just luxury living and an easy commute.
Many vineyards are just minutes from The Greens. Chrysalis Vineyards at The Ag District, Cana Vineyards and Winery of Middleburg, and 50 West Vineyards all are conveniently located just minutes west of Aldie in Middleburg, VA. Traveling to neighboring Ashburn, residents enjoy fine dining and upscale shopping at One Loudoun.
NVHomes: Expert Builders at The Greens
NVHomes, the area's leading luxury builder, constructs all the upscale homes on up to ¾-acre lots in The Greens. Homes are up to 7,000 square feet and include options such as stunning ground-floor guest suites, completely refinished recreation rooms, ascending two-story family rooms, dual islands with butler's pantries, and more.
Living in an NV Home
NVHomes create home sanctuaries. SMART-HOMES, the epitome of luxuriant living, are available through NVHomes. Drive into your 3-car garage, step into your new home using your WiFi keyless door entry. Never worry about your family's safety when taking advantage of Alarm.com's exterior cameras, interior and exterior lighting controls, garage door access, and doorbell camera. Walk into your formal dining room and up the curved open staircase leading to the giant master suite equipped with a custom-built coffee bar where you can peacefully relax. With over 6,000 square feet of living space, enjoy your home office, oversized kitchen island, and Sub-Zero appliances. Open the back door and take delight in pure tranquility on your back deck with your accompanying AV sound system.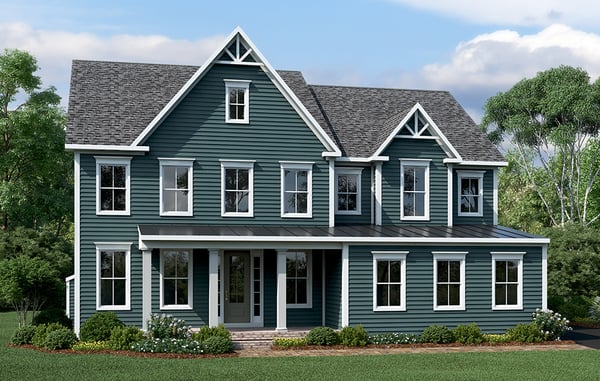 The "Longwood" NV Home Model
Photo courtesy of Willowsford.com
Amenities at The Greens
Residents at The Greens have endless amenities. The Lodge Clubhouse features a 2,500 square foot fitness center with state-of-the-art equipment. Indulge in a pool day at one of the many resort-style pools or a great workout in the spa fitness facilities. Residents spend a large portion of their time outside hiking the 45 miles of trails, at the outdoor amphitheater where community events are frequently hosted, and fish and boat on the 7-acre lake. What about kids' entertainment? Children love living at The Greens with numerous parks, ponds, tot lots, zip-lining, camping, and fishing.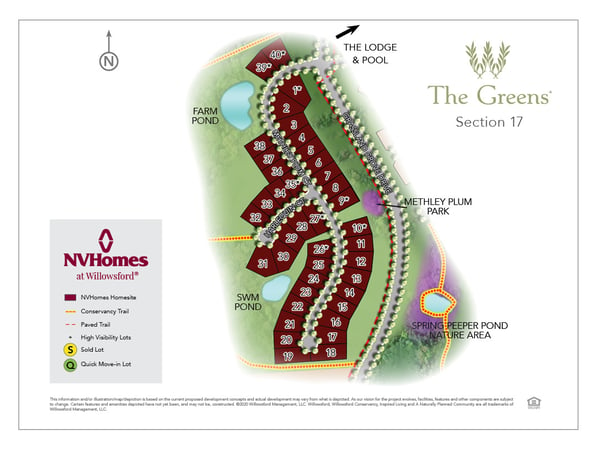 Photo courtesy of Willowsford.com
Benefits of Living in the Willowsford "Agrihood"
An agrihood is a neighborhood community that is built around a working farm. The main goal of an agrihood is to make residents feel connected to their neighbors, their homes, and the land they live on.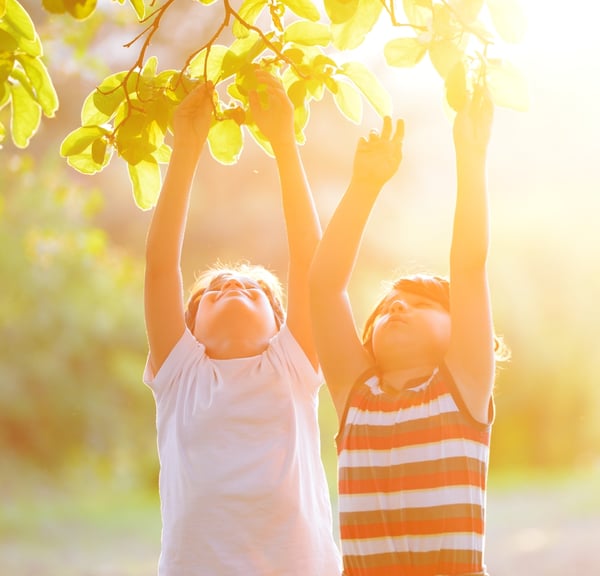 A unique amenity The Greens offers is a working farm. The Willowsford community sits on close to 4,000 acres of land including over 2,000 acres of open space. This sustainable community provides a natural environment where a professionally managed farm produces over 150 varieties of herbs, flowers, fruits, and vegetables.
Currently, there are over 200 agrihood neighborhoods across the US. Willowsford's working community farm inspires a connection with the natural world and a healthy lifestyle. The farm and on-site kitchen permit tons of resident interaction.
Willowsford residents reap numerous benefits from living in an agrihood. In addition to the on-site kitchen, working farm, and acres of green recreational land this agrihood offers pop-up restaurants and culinary programs as well. The majority of Americans consider eating healthy or organic as a top priority. Living at The Greens residents can easily purchase produce, herbs, and flowers directly from the farm.
Ready to move in?
Developers expect the Willowsford style agrihood culture to continue spreading across the country. Living at The Greens in Willowsford, residents will enjoy luxurious homes, numerous amenities, and the benefit of healthy living all within minutes of the city life found in the DC metro area.