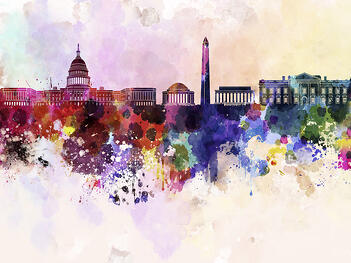 In recent years, Washington, D.C., has emerged into the number one location for young adults. The amount of adults between 25 and 35 who have moved to the D.C. metro area is larger than any other city, despite the recent economic recession.
The Wall Street Journal has provided us with great data and statistics to answer the question, 'Why is D.C. the best city for young adults?'
Why is D.C. the Best City for Up-and-Coming Young Adults?
The most popular cities for young adults pulled from a recent poll between 2010 and 2012 were: Denver, Portland, Houston, Austin, San Francisco, Seattle, Riverside (California), Dallas, Charlotte, Minneapolis, Oklahoma City, San Antonio, Kansas City, and New Orleans. These are all great cities but the number one location that beat all of those was Washington, D.C.
One of the main reasons why D.C. has become such a popular city for young adults is primarily a result of the election of President Barack Obama. The primary demographic that voted for the recent President was between 18-29. This could be one of the main reasons why the millennials are flocking to this area. The younger generation believes that the President can provide them with good jobs and great incomes.
Another reason is that this city was not affected as much by the recession back in 2007-2009. The housing market did not crash as much as some of the other major cities around the United States. The nation's capital seemed to have a stronger and more stable economic environment, and the many young home buyers recognized that.
If you compare the Census' snapshot of migration trends in 2010-2012 to the recession-era period of 2007-2009, D.C. is among a handful of thriving "knowledge-based" or high-tech economies that are jumping up the "attractive-to-millennials" charts.
The household median is also $88,223, which is the highest of the 25 most populated metro areas. This was very enticing for young adults who were recent college graduates looking for a job market that would pay them well.
The data below shows us recent migration numbers:
Another reason why D.C. is the best city for young adults is because the D.C. metro area has been known to be a great hotspot for young adults. It is a city with a lot of fun, exciting and very fast moving that happens to be the capital of the United States. With great income medians, a stable housing market and an appealing job market, D.C. is an overall great place to migrate to.
If you are considering to moving to the D.C. metro area, you should check out the Glass House Real Estate rebate process, where you can get cash back for buying a home in this great location.
References: Huffington Post, WSJ
Get paid to find your dream home
Work with Glass House to earn a cash rebate!
Khalil El-Ghoul
"Thanks for reading! I'm passionate about empowering home buyers and sellers with professional advice and unbiased information, throughout the real estate transaction. Unlike most agents, I always put clients first. When it comes to negotiating, marketing homes, and sealing the deal, I've got the experience and knowledge you're looking for. If you have any questions about moving to VA, D.C., or MD, don't hesitate to reach out."