Looking to sell your home? With the real estate rebate process you pay only 1.5% commission for a full service broker. Skip the fancy office, franchise fees and broker splits and save money when working with a rebate agent vs. a traditional real estate agent. Rebate agents pass the savings to YOU and do not charge admin fees. Here's what you expect when working with a rebate agent, like Glass House, to sell your home.
The 6 Step Process For Selling a Home With a Glass House Rebate Agent
Free Consultation
When you request to get started selling your home with Glass House, all you have to do is fill out a form with your information and Khalil El-Ghoul will be in touch with you right away. The first step is for one of Glass House's full-service agents to come to your home to give you an expert market analysis of your home's value and the current market. There is absolutely no obligation to work with Glass House after this consultation! It's just a friendly meeting in which you will get a ton of information about the market for your home. We will provide you with a market analysis after the consultation. Click here to view an example Seller's Report
2. Free Staging
It's proven that homes that are staged sell more quickly and for more money. Most traditional agents will advise you to hire a professional stager but will not help with expenses. There is only one chance to make a good first impression on prospective buyers, so staging is very important in order to get your home sold! When you work with Glass House, the cost for professional staging is included! We work with the top stagers in the Northern Virginia, Maryland and D.C. metro area to ensure our homes appeal to the largest audience possible. View a sample staging report here
3. Professional Fusion Photography
It's important to give prospective buyers a beautiful impression of your home for your online listings with professional photography. Using the latest technology, you can have photos of your home that will attract serious buyers and sell your home quicker! When working with Glass House, we will hire a professional fusion photographer to capture the most beautiful features of your home. Fusion photography will get buyers to pay attention to your listing and give an impression they will find hard to forget! Glass House also includes premium quality print brochures with your photos. See below for examples of the gorgeous photography you can expect when working with Glass House agents.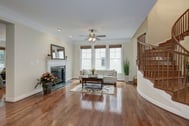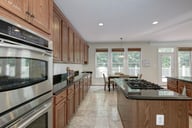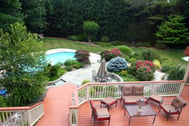 4. Full Exposure and Marketing
In order to sell your home quick and for the best price, you need to get in front of online buyers. Making sure your home listing is featured on the most popular sites on the internet is key to getting in front of the most potential buyers. Did you know that fewer than half of all real estate agents actually pay to have their listings featured on sites like Zillow, Craigslist, Realtor.com and Trulia? When you work with Glass House, we understand the importance of featuring your listing on all the top websites as a part of your home marketing plan. You can expect your listing to be featured on:
Facebook
Trulia
Zillow
Craigslist
Realtor.com
Postlets
5. Constant Communication
It's obvious that noone likes to be kept in the dark when selling their home with an agent. You and your agent are a team and clear and consistent communication is crucial to the success of your home's sale. When you work with an Glass House agent, we provide regular reports on how many people are viewing your home online, how many people are visiting your home in person, and what other agents are saying about your property.
6. Savings
Working with a rebate agent like Glass House Real Estate ensures that you get the most savings when you sell your home. How? Our fee for selling a home is only 1.5% of the sales price. Traditonal real estate agents may charge franchise fees,broker splits and overhead costs. However, with Glass House you can skip all the fancy offices and admin feeds and transfer those savings to you! We do not collect ANYTHING if your home does not sell.

Ready to hire a rebate agent to sell your home?
Work with Glass House and save! Pay only 1.5% commission to your agent after the sale of your home and pay NOTHING if your home does not sell. We include professional staging, photography and the best marketing plan to sell your home quicker and for the best price! Get started by filling out the form and we'll be in touch right away!
Sell a home in MD, VA or DC
Work with Glass House to sell quicker and save money!
Get Started Today
Khalil El-Ghoul
"Thanks for reading! I'm passionate about empowering home buyers and sellers with professional advice and unbiased information, throughout the real estate transaction. Unlike most agents, I always put clients first. When it comes to negotiating, marketing homes, and sealing the deal, I've got the experience and knowledge you're looking for. If you have any questions about moving to VA, D.C., or MD, don't hesitate to reach out."