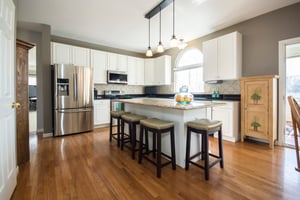 If you ask people what their favorite area of the house is, they will most likely pick the kitchen, and for good reason: It's where people cook, and more often than not, eat their food. For all intents and purposes, the kitchen is the heart of any home, no matter its size or even look.

However, if your kitchen is also the favorite haunt of anyone who drops by your house, wouldn't you want to make it look and feel as luxurious as it can get? To help you make your kitchen a hub of luxury for everyone who spends a lot of time in it, here are some kitchen luxury design ideas that should get you started.
Update your lighting
If your old kitchen used to have standard bulbs, then putting up pendants and chandeliers would add a touch of luxury to your kitchen. With these accessories, you can brighten up your kitchen even more and change the mood of the space.
Update your hardware
Overhauling your kitchen cabinets and drawers can dramatically change the look of the place, but if you don't have the budget for it, replacing their handles with more opulent-looking ones will do. Something as simple as this can immediately give your kitchen a more well-appointed air.
Add a little artwork
As long as the work of art is tasteful, it will elevate any space, and that includes your kitchen.
Improve your kitchen countertop
Kitchen countertops play a crucial role in the overall look of one's kitchen. While granite countertops
have always been the standard when it comes to luxurious kitchens, there are now a number of options available to you such as quartz, stainless steel, and even concrete.
Use lighter colors for your kitchen
When a room is painted in lighter colors, the room doesn't just look brighter; it also looks larger and
more spacious. Paint your kitchen white, cream, or any light color, watch it transform into a bright and spacious hub of luxury.
Enhance the kitchen floor
If you have the budget for quality flooring, then go for natural stone flooring or marble flooring. If not,
then there's always wooden flooring or ceramic tiles, which provide an air of luxury just the same.
Making your kitchen look and feel more opulent need not be expensive, but if you can afford the more expensive materials and accessories, then nothing should stop you from turning the heart of your home into a hub of luxury.