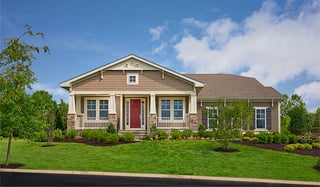 If you are considering a new construction home, there are many decisions to make in order to get started. One of the very first is the type of home you are looking for and the best builder for that home. As an experienced realtor for new construction homes, I've worked with the top Virginia builders to negotiate discounts and upgrades for my home buyers. In my two recent blogs, we've explored Pulte Homes and their technology as well as Beazer Homes' energy efficient construction. In this article, you can expect to learn about another one of the top builders in the Virginia, Maryland and DC Metro area -Richmond American Homes. I recommend researching and comparing as many builders as you can within the buying location before making a decision in order to ensure you are getting exactly what you need in your new home.
Richmond American Homes: 7 Facts You Should Know
Richmand American has been in business for nearly 40 years. They have built over 180,000 homes for families in 9 states across the country.
A "New Home Specialist" will work with you throughout the home building process. This specialist can work directly with your professional negotiator or agent in order to decide what's the best fit for your home. This person also knows a lot about the local area and can answer any questions you need.
They offer a design consultant as a complimentary service when building your new home. Their professional design consultants will assist you in coordinating colors and surfaces based on their experience and expertise.
They have quick move-in ready homes for short timelines or an option for buyers who want custom designs from the ground up.
Richmond American work with a variety of qualified vendors including Delta, Sherwin Williams, Mohawk, Honeywell, Goodman and more.
During your "Home Gallery" appointment you can expect to make choices about wiring for entertainment systems, security systems and multi-room audio systems. This is critical in the process in order to save money down the line on these enhancements to your home!
Energy savings is important to Richmond American Homes. You can expect a confirmed HERS rating for your completed new home, not just an estimate. Learn more about the HERS Index and it's importance to an energy efficient home here.
Work with a professional negotiator
Glass House has experience working with top builders, such as Richmond American Homes, to negotiate upgrades and discounts for home buyers. With Glass House, you will hire a full service agent that works for YOU. Talk to us today and let's get started.
Khalil El-Ghoul
"Thanks for reading! I'm passionate about empowering home buyers and sellers with professional advice and unbiased information, throughout the real estate transaction. Unlike most agents, I always put clients first. When it comes to negotiating, marketing homes, and sealing the deal, I've got the experience and knowledge you're looking for. If you have any questions about moving to VA, D.C., or MD, don't hesitate to reach out."