Visualize yourself living in a luxurious farmhouse-inspired, single-family home built on between three-quarters to over one-acre of land featuring unmatched finishes, a multi-car garage, peaceful tree-lined streets, a serene community pond, and an extensive network of walking trails.
Award-winning Toll Brothers are well known for building upscale homes around the country. The recently built Arden offers seven unique home designs allowing buyers to customize everything from the exterior to the floor plan. Located in Great Falls, VA, Arden is conveniently located less than 30 minutes from Washington DC and just over one mile from Tysons Corner where residents enjoy fine dining, high-end shopping, and outdoor recreation areas like Wolf Trap National Park for the Performing Arts.
Image courtesy of TollBrothers.com
Toll Brothers Offer Luxury Living at Arden
Arden's seven home designs are appropriately named after dynamic artists throughout history. All models start in the low to mid two million.
Image courtesy of TollBrothers.com
The Seurat
The Seurat's 2-story, 4,554 square foot modern design features a classic foyer elegantly opening to the formal dining room offering views of the spacious great room. The brightly-lit, open kitchen is pure heaven for the chef of the home and includes a large center island, generous cabinet and counter space, gigantic walk-in pantry, and informal dining room. The master bedroom features a tray ceiling, a large walk-in closet, and a private bathroom with a regal soaking tub, a luxurious shower with a seat, and dual vanities. The Seurat offers 4 to 6 bedrooms and 4.5 to 6.5 bathrooms. All secondary bedrooms have private bathrooms and large walk-in closets. Also, the Seurat features a tranquil morning room where residents can eat breakfast and enjoy their cup of morning java. This deluxe home comes with 3 to 4 car garages.
Image courtesy of TollBrothers.com
The Mondrian
Majestic tray ceilings open into Mondrian's grand formal dining room and ascending two-story great room. The gourmet kitchen includes a large island with a breakfast bar, and tons of counter and cabinet space. The sizeable master bedroom is accented with a stylish coffered ceiling and dual walk-in closets. The splendid master bath features a free-standing tub, glass-enclosed shower with a seat, linen closet, and dual vanities. The Mondrian offers expansive family living with 4,842 square feet, 5 to 7 bedrooms, 5 to 8.5 bathrooms, and 3 to 4 car garages.
Image courtesy of TollBrothers.com
The Rembrandt
The one-story, 4,420 square feet Rembrandt offers 4 to 6 bedrooms, 4.5 to 6.5 bathrooms, and 3 to 5 car garages. The inviting foyer calls attention to the beautiful tray ceiling and view of the deluxe-style great room. The Rembrandt includes a master bedroom featuring a sitting area and resort-style bathroom. The spacious kitchen is directly connected to the informal dining room that leads to the backyard. Secondary bedrooms each include walk-in closets and spacious private bathrooms.

The O'Keefe
With 5,364 square feet of living area, the two-story O'Keefe offers perfect family living. The two-story design comes with 3 to 4 car garages, 5 to 7 bedrooms, and 5.5 to 7.5 bathrooms. The O'Keefe's secluded master bedroom is the only bedroom located on the first floor, making this an ideal home for a large family. The sophisticated kitchen features a casual dining area, walk-in pantry, and butler pantry. The center island overlooks the stylish great room that features an elegant fireplace.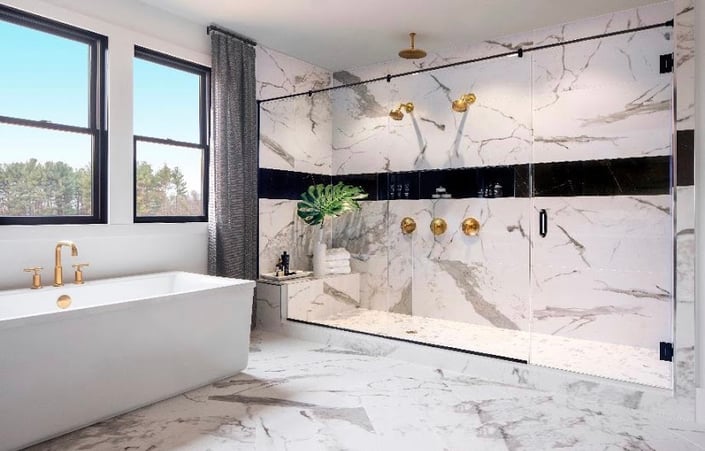 The Warhol
The Warhol's spectacular wraparound covered porch and stepped entry flows beautifully into the soaring foyer, spacious great room, and formal living room. The impressive gourmet kitchen overlooks an informal dining room that grants access to the backyard. The kitchen comes equipped with a large island, breakfast bar, ample counter space, a walk-in pantry, and a butler pantry adjoined to the formal dining room. The 6,196 square foot Warhol offers 4 to 6 bedrooms, 5.5 to 7.5 bathrooms, and 3 to 5 car garages. Additional perks to the home include a first-floor guest bedroom with a private bathroom, and an office off the foyer.
Image courtesy of TollBrothers.com
The Pollock
The 6,106 square-foot Pollock offers modern luxury living. The covered entry spills into a two-story foyer with a magnificent view of a large open staircase, formal dining area, and great room. The kitchen features a large island overlooking the casual dining area and a beautiful great room that includes a fireplace. All secondary bathrooms are located off the loft and feature walk-in closets and private bathrooms. The Pollack offers 4 to 6 bedrooms, 5.5 to 7.5 bathrooms, and 3 to 4 car garages.
The Wyeth
The welcoming covered entry of the Wyeth opens into a beautiful two-story foyer. A side courtyard allows plenty of natural light into the upscale home. With 6,336 square feet of living space, the Wyeth offers 5 to 7 bedrooms, 5.5 to 7.5 bathrooms, and 3 to 5 car garages. The two-story design features a roomy gourmet kitchen perfect for entertaining. The large, vibrant master bedroom highlights a graceful tray ceiling, dual walk-in closets, and a private bathroom that includes a dual-sink vanity, free-standing tub, and a glass-enclosed shower with seats and a drying area.
Toll Brothers Design Studio
Toll Brothers' goal is to engineer your dream home, a home that expresses your unique personality. You will collaboratively work alongside the Toll Brothers design team to custom-create your dream home. Homebuyers select each detail of their home from flooring to bathroom light fixtures. The first step is taking a virtual or in-person tour of a Toll Brothers model home. This initial visit is like window shopping, see what you like and don't like. No final decisions will be made just yet.
After the tour, search for inspiration in magazines or on social media. During the second meeting, a home designer will listen to your ideas and look at any inspiration you have found. After that, the designers will transform your design into the exact home you have envisioned.

Conclusion
Find your new home at Arden, with upscale, resort-like living, easy access to major commuter routes, and minutes from shopping, dining, and entertainment.
Thanks for reading my blog! Over the last 15 years I have sold dozens of Toll Brothers Homes, my wife is a former sales manager for Toll Brothers, and I have represented Toll Brothers Sales Managers in a personal capacity when they need to buy and sell a home. My unique insight into their sales techniques, incentives, and negotiation philosophy uniquely position me to be an effective negotiator for my clients when buying new construction homes.
If you are considering buying a new construction home from Toll Brothers or any other home builder in the DC metropolitan area, contact Khalil El-Ghoul before you meet with the builder and visit the community. Working with a Buyer's Agent to help with your new construction build will save you a ton of money. Your agent has relationships with these builders that help throughout upgrade negotiations and closing. Having a Buyer's Agent represent you in a New Construction home buying process is key to saving money and protecting your interests.
Khalil El-Ghoul
"Thanks for reading! I'm passionate about empowering home buyers and sellers with professional advice and unbiased information, throughout the real estate transaction. Unlike most agents, I always put clients first. When it comes to negotiating, marketing homes, and sealing the deal, I've got the experience and knowledge you're looking for. If you have any questions about moving to VA, D.C., or MD, don't hesitate to reach out."