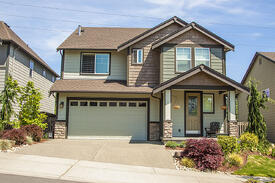 Spring is here, and that means the kick-off of the home buying season.The spring housing market is traditionally one of the hardest and most competitive times to buy a home, usually because everyone is done hibernating for the winter.
Not a lot of people are eager to get out and house hunt in below-freezing weather, and especially with the winter we just had. This results in a frenzy to get out and start looking for homes in the early spring. The market for single-family homes in the metro D.C. area tends to draw in different types of buyers depending on the price ranges and locations where buyers are looking.
Exploring the Spring Market for Single-Family Homes in the Metro D.C. Area
There is a different type of buyer for every price range, which you may already know if you've experienced buying a home before. However, the prices of homes, especially in the market for single-family homes in the Metro D.C. Area, is all over the scale. It is very possible to buy a single-family home for $300,000 as a fixer-upper while a house in the next town is listed close to $1 Million dollars!
The $300,000 Range
It is all about understanding what the buyer is looking for. It is very common for a young adult in their 20s - 30s to want a home slightly cheaper around $300,000 that they could fix-up and potentially rent out. They are also looking for an area that is near transportation, restaurants and a more energetic night life. Although, the downside to this market is that there is often a high demand and a low supply, which makes it harder to find a house.
The $500,000-750,000 Range
The next price range of about $500,000 - $750,000 tends to draw a different type of buyer. This range of buyer for a single-family is typically a young couple who is looking for a home that is still close enough to the city area to be walking distance from the various activities that the city has to offer. They know that once they start a family, they most likely will move out for a home located in a more suburban area.
Above $750,000
Anything above the $750,000 home price is definitely a different type of buyer for a single-family home compared to the other two price ranges. $750,000 and above often draws new families looking for a quieter, suburban area with a bigger property that their children can grow up in. This home may be a similar size to their previous town house but has] less of a city feel and offers a neighborhood with better schools.
Buying a home, especially for young families, is always a big decision. The metro D.C. area is a great place for young couples to start and raise a family, but it is important to find the right house for your price range in the neighborhood that's right for you.
Having a buyer agent is always a good idea to help you work out the details, decipher with the fine print and negotiate a better price for your home. With Glass House Real Estate, we not only do all of that but offer a tax-free, 1.5% cash back rebate for our clients. If you would like to learn more about this amazing offer, check out the link below for more information.
Resource: Washington Post
Khalil El-Ghoul
"Thanks for reading! I'm passionate about empowering home buyers and sellers with professional advice and unbiased information, throughout the real estate transaction. Unlike most agents, I always put clients first. When it comes to negotiating, marketing homes, and sealing the deal, I've got the experience and knowledge you're looking for. If you have any questions about moving to VA, D.C., or MD, don't hesitate to reach out."