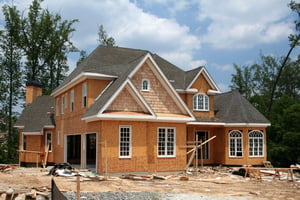 You know your location, you have an idea of the style and build you want to move forward with. Now what? Don't depend on the builder or the sales manager to help you through the new construction home buying process. Bringing a realtor into the process can help you in many ways, including saving money on upgrades and overall costs.
It's a common misconception when buying a newly constructed home, that it's unnecessary to speak with a Realtor. But that couldn't be further from the truth. Realtors have the inside scoop and can offer advantages that the builder cannot. And, when you work with a Glass House Realtor for your new construction home buy... you'll even get up to 1.5% cash back! Need further convincing? Here are our top 5 advantages for working with a realtor when buying a New Construction Home.
Reasons You Want To Work With a Rebate Realtor When Buying New Construction
1. The sales agent works for the builder. When you walk into a model home, the friendly salesperson who greets you is employed by the builder. Their bottom line isn't to help you - it's to generate sales for their boss - the builder. A realtor is your partner in the process, they work for you and your best interest throughout the entire journey. An experienced realtor, such as the agents at Glass House, will have potentially worked with this builder in the past (especially if you're choosing a local realtor) and they will have relationships that will help negotiations run smoothly.
2. A Realtor can help you stick within your budget. In new construction real estate there are endless selections available to you. It's really easy to want all the fancy bells & whistles, but when you have a set budget that you need to stick within a realtor can help you stay on track. If you're trying to decide what upgrades to go with and what to skip, an experienced realtor can help! [Check out our article on this topic here!] When you work with Glass House to buy new construction, we focus on negotiating with the builder on upgrades in order to get you the best deal possible!
3. A Good Realtor will be aware of builder promotions and may be able to help you help negotiate. While they may not be able to negotiate the overall price of the home, a good realtor won't stop at negotiating for some of those fancy upgrades. Often realtors can negotiate with the builder on things like paint color or even the style of garage door, especially if the new construction is in the beginning stages.
4. Your Realtor won't allow you to be pressured into a certain lender. Most builders have their own "preferred" lender that they will try to steer you to, but your realtor will encourage you to shop around so that you get the mortgage that works best for your financial situation.
5. Your real estate agent genuinely wants to help you. Our bottom line is to keep you informed, and get you the best deal possible. We like to put money back in your pockets too - which is why at Glass House Real Estate we offer up to 1.5% cash back at closing you buy a New Construction Home.
Thinking about buying a new construction home in No.VA, Washington DC or Maryland?
I'd love to help you through the process. Contact me today!