Are you looking for the perfect dc neighborhood to call home?
It's not easy to find an affordable place to live in Washington DC, and it is even more challenging if you are searching for an affordable and safe DC neighborhood.
With DC's median home listing price of $600,000, homebuyers must note that in that mathematical equation many unsafe neighborhoods are included.
We have comprised a list of the most affordable and safe Washington DC neighborhoods for homebuyers.
1. Glover Park
Located just off Wisconsin Avenue, situated between Cathedral Heights and Georgetown, the quiet streets lined with row houses provide a peaceful place to call home.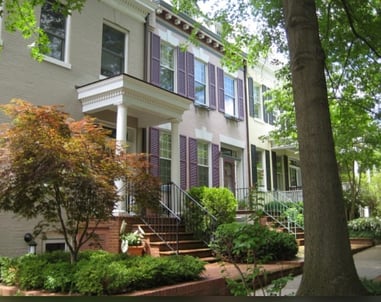 Source: dc.urbanturf.com
Charming Glover Park's median list price of $395K offers residents location, location, location - and is one of DC's best neighborhoods to raise your kids. This delightful neighborhood has a crime rate 50% lower than the national average.
Glover Park is perfect for families. With a population of just over 13,000, the neighborhood offers the Georgetown Library and the Guy Mason Recreation Center, where the entire family gets involved in activities like ceramics, woodworking, Brazilian Samba classes, and a fantastic playground.
2. Eckington
For homebuyers searching for a safe, family-friendly neighborhood, Eckington is an excellent choice. This neighborhood is comprised of several condominiums and historic rowhouses.

Source: zillow.com
Surrounded by some of DC's main roads like North Capitol Street and Florida Avenue, the Northeast neighborhood of Eckington is surprisingly extremely quiet and peaceful.
Eckington's median list price of $752.5K may be slightly higher than other neighborhoods on our list; however, Eckington offers residents an incredible location. With bordering neighborhoods Edgewood and Bloomingdale and the Metro rail Red Line, this is an ideal neighborhood for anyone looking for a peaceful escape from the bustling city and an easy commute.
3. Tenleytown
Tenleytown, bound by Fessenden Street on the north, River Road along the southwest, and Nebraska Avenue along the southeast, is a family-oriented neighborhood with abundant amenities, excellent schools, and incredibly low crime.
Home to American University Law School, this neighborhood is more affordable than other Northwest DC Neighborhoods.
Source: zillow.com
With a median list price of $764.5K, residents will have access to anything they need; it's a walk to Wisconsin Avenue with its many restaurants and shops or the Metro stop located in the center of the neighborhood.
Tenleytown has all the amenities of the city but maintains a small-town vibe. With beautiful single-family homes varying in architectural style including new construction, homebuyers aren't narrowed down to choosing one specific home design.
4. Foggy Bottom
Foggy Bottom, one of the oldest DC neighborhoods, is located in the Northwest quadrant.
With a median list price of $357K.5, Foggy Bottom offers an affordable urban haven. The neighborhood includes Georgetown University and the Kennedy Center, home to the Washington National Opera and the National Symphony Orchestra. The lively community is also within walking distance of the National Mall.
Source: zillow.com
Foggy Bottom gained its name from the mist that rises from the Potomac River and is home to several thriving restaurants and pubs. Foggy Bottom is an ideal neighborhood for young professionals looking for an upbeat community that offers beautiful homes and a lower crime rate.

This historic neighborhood offers a mix of elegant historic, and vibrant modern homes.
Finding You a Safe and Affordable DC Neighborhood to Call Home
It can be frustrating to find the best Washington DC neighborhood to call home. We can assist you in finding the perfect neighborhood for you.
Khalil El-Ghoul
"Thanks for reading! I'm passionate about empowering home buyers and sellers with professional advice and unbiased information, throughout the real estate transaction. Unlike most agents, I always put clients first. When it comes to negotiating, marketing homes, and sealing the deal, I've got the experience and knowledge you're looking for. If you have any questions about moving to VA, D.C., or MD, don't hesitate to reach out."