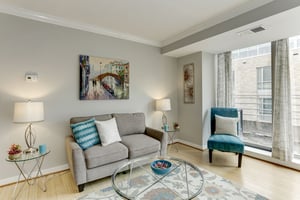 The selling season in the Washington DC area this year started heating up as early as mid-January With cold weather on its way out and spring showers on their way, if you are planning on selling your home, the Spring market is the best time to get it listed.
According to Zillow, the best time to list a home in the DC market is April 1 to April 15. Homes listed during these two weeks tend to sell roughly six days faster and make an average of $3,800 more on the sale. April, May, and June are the three most popular months to buy and sell a home in Washington. Before you list your home there are some things you need to do in order to move the selling process quickly.
Spring Selling Tips For THE DC METRO AREA
Hire a Realtor
This is the most important tip. When listing your home, you have two choices, hire a Realtor or go For Sale By Owner (FSBO). We all want to make as much money as possible when selling our home. You may think by going FSBO you will make more from your sale because you won't be paying a Realtor commission. A 2017 study indicated otherwise, stating FSBOs made about 30% less for the seller than agent-listed properties. The reality is you will most likely pay a commission anyway if your buyer is represented by an agent because the buyer's agent's commission is usually factored into the deal. Reviewing and understanding the massive amount of documents in a real estate transaction is one of the many reasons people use Realtors. Purchase agreements, escrow statement, professional appraisals, HOA addendums, and buyers inspection notice are just a few of the documents Realtors are familiar with and handle for clients. Your agent can provide local information on schools, zoning, and utility use in order to help you determine if the house is what you need. An experienced Realtor helps you get the best deal while avoiding delays and costly mistakes.
Make Small Repairs
Small repairs have a big impact when it comes to the sale of your home. Don't get stuck on the interior of your house, the exterior is equally important. First things first. Painting must be a priority. Soft gray with white trim is very popular right now. Buyers can see the property for what it truly is without being thrown off by odd colors. This neutral exterior allows people to create their own vision of what they want the home to look like. Nothing says ¨yuck" like cracked or dirty windows. Replace and clean any windows or doors that aren't in pristine condition. Be sure to have the front door and the surrounding area, such as a porch glisten. During spring is a perfect time to add some plants and flowers for a touch of color. If your home is carpeted most likely you will need to replace it. If your budget allows, putting down wood, wood laminate, or tile will not only attract more buyers but will also allow you to up your selling price. Brighten up your interior with spring colors. Replace your kitchen and bathroom towels and floor mats with pastels. Throw some soft colored blankets on the couch and chairs. Your yard is the first thing potential buyers notice. Yards need to be mowed and weeds pulled. You want the buyers to envision themselves driving up to this house each day.
Depersonalize
When a buyer walks in your home it is crucial they feel like it could be their home. In order to make this happen, you can not have the house look like it is your home. When preparing your home for sale, depersonalizing it is one of the most important steps. You have lived here for years and most certainly your home is filled with personal items that represent your personality. It is hard for a potential buyer to see themselves in the home when your things are hanging on every wall and sitting on each shelf. The buyer needs to be given an opportunity to see themselves reflected in the walls of the home.
To do this, go through your home and pack all your personal items. Remove family portraits and personal photos. Take down paintings hanging on the walls; just because you think itś a masterpiece doesn't mean buyers will share your opinion. Pack up any collections you have. Whether it's shot glasses from every city you have ever visited lined on a shelf or your baseball cap collection hanging on your bedroom wall, get rid of it. One of the most important parts of depersonalizing your house is removing any personal items that may be controversial, socially, or politically incorrect. Many people will be touring your home, all of which have a wide range of personalities and views. You may love a certain celebrity or historical figure, but the picture of you and he sitting on your mantle could immediately put a foul taste in a buyer's mouth. Depersonalize your bathroom. Most items in your bathroom are very personal like your makeup, facial creams, and hot iron. Remove everything from your bathroom counters, shelves, and shower. Keeping guest towels and a candle or two create a cozy feeling without personalizing the bathroom.
Hire a Professional Photographer
Homes with professional real estate photography on average sell $11,000 over market value, according to a Redfin report. This happens for a few reasons. You can show off the amenities around the community which add a more perceived value. There is something about twilight shots. These nighttime shots always make the house look like its worth even more. Twilight shots can be a little more expensive, but they are most definitely worth the money. As to be expected, having captivating photos will create more traffic. More traffic means more offers, which ultimately means the sale of your house. Creating marketable content is how you get buyers in the house. It's kind of like an interview; if you can just get the interview you know you will land the job. Your pictures are your interview. You know your house rocks, but you have to get people to want to see your fantastic listing.
Preparing your house for sale is a huge project. Finding a trustworthy Realtor you are comfortable with, making sure your property is in pristine condition, your yard is welcoming, and having engaging online marketing content will assist in selling your home faster and receiving a great offer on your property.
Khalil El-Ghoul
"Thanks for reading! I'm passionate about empowering home buyers and sellers with professional advice and unbiased information, throughout the real estate transaction. Unlike most agents, I always put clients first. When it comes to negotiating, marketing homes, and sealing the deal, I've got the experience and knowledge you're looking for. If you have any questions about moving to VA, D.C., or MD, don't hesitate to reach out."