Are you an investor or owner who has a few rental properties? Have you looked at the market recently and thought, "This might be the time to sell?"
Scenarios When Selling Your Northern Virginia Rental Property
There are three basic scenarios when selling a rental property.
Source: Realtor.com
1. Wait to Sell Your Rental Property Once the Tenant's Lease Expires
It is always ideal to wait until your tenant's lease has expired. The market for an end-user buyer is substantially more significant than the investor market. An end-user buyer is an individual who purchases the property for personal use. If an investor is going to buy a property with a tenant and lease in place, they will not pay the same amount of money as someone who wants to live in the home as a primary residence.
Selling your rental property vacant is always your best option.
2. Offer Your Tenant the Option to Move Out Early or Buy Them Out
The rental season generally peaks in the summer months. Many leases expire between June and August. Typically, the prime selling season is during the spring months. Sellers need to get their rental properties ready for the market at least one month before the selling season begins; this can often require your tenant to move out a few months early.
To make that scenario work for you, ask the tenant if they would like to move out early; allow them to terminate their lease early without penalty. If your tenant is unsure about early termination, offer them an incentive such as giving them their last month free if they agree to an early move out at the end of that month.
3. Sell Your Rental Property with a Tenant in Place
Selling your rental property while occupied is the least desirable option.
When you sell a rental property that is currently leased, and the lease term is active, the tenant and the lease terms transfer to your buyer; your buyer becomes the landlord. This market of buyers is significantly smaller, and you will likely see a considerably lower sale price.
What is the Timing of the Sale on a Northern Virginia Rental Property?
When selling your rental property, the first step is to refer to your lease.
Source: avail.co
Typically, a lease demands a 30 to 60-day notice from a landlord who does not intend to extend the lease. The tenant must receive written notice before that period ends.
You must know your lease responsibilities as a landlord to ensure your tenant vacates at the end of the contract.
Many leases have a clause stating if notice is not given by the landlord before the lease term ends, it automatically switches to month-to-month. Until you deliver a notice of a non-extension of the lease, it is possible your tenant will have up to 60 days before they are legally required to vacate.
The Walk-Through of Your Northern Virginia Rental Property
Typically, the next step in selling your rental property is a meeting at the property between you and your real estate agent. This meeting will include a walk-through of the property where your agent will take pictures and figure out what needs to happen to prepare the home for the market. During this meeting, your agent should give you an idea of the list price.
Source: apartments.com
An experienced agent will inquire about the tenant's lease and recommend that you determine if any rehabilitation of the home is needed due to damage caused by the tenant. If that is the case, you want to know before the tenant moves out with their entire deposit in hand. This step should happen as early in the process as possible.
Listing Your Occupied Rental Property
Many owners wonder if it is possible to list their property while it is occupied and wait to settle once the home is vacated.
Yes, you can list your property this way. Most leases allow owners to begin marketing the home for sale 60 to 90 days before the end of the lease term.
Is it a great idea? Not if you have any other options.
Listing the tenant's home while counting down the minutes until they leave gives them minimal incentive to present your property in the best possible shape.
Sometimes, unfortunately, we have no choice but to list the home while it is occupied. Not every owner has the option to carry the house payment for months while it is empty. In these types of situations, I offer to be the one who discusses the case with the tenant. I can empathize with the tenant and the life disruption they are experiencing. Practicing empathy can help resolve many issues between you and your tenant.
The Goal When Selling Your Rental Property
When selling your rental property, the goal is to be as efficient as possible with your time. Often, we rush for time at the end of the lease term. If the lease ends in the spring, that is perfect timing. We have time to get it prepared for the market. Unfortunately, when a lease ends in the summer, which most do, we are forced to make up for the lost time.
Keep a Positive Relationship with Your Tenant
If you are in a time crunch when selling your rental property, it is crucial to have a good working relationship with your tenant. When you are empathetic to their needs, they are more willing to work with you.
Keeping an open dialogue with your tenant will make for a much more pleasant situation. At Glass House Real Estate, we have years of experience working with owners and tenants of rental properties. Our goal is to create a smooth transition for our clients and get them top dollar for their rental property.
If you are in the market to sell your rental property, do not hesitate to contact me with any questions you may have. I would love to help you when you are ready to sell.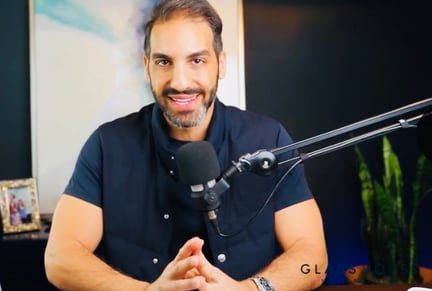 Please watch my complete YouTube video: Selling Your Rental Property: A How-To Guide, for more information.

If you want updates on the market and to be in the loop on current real estate trends, subscribe to my YouTube channel.
Khalil El-Ghoul
"Thanks for reading! I'm passionate about empowering home buyers and sellers with professional advice and unbiased information, throughout the real estate transaction. Unlike most agents, I always put clients first. When it comes to negotiating, marketing homes, and sealing the deal, I've got the experience and knowledge you're looking for. If you have any questions about moving to VA, D.C., or MD, don't hesitate to reach out."