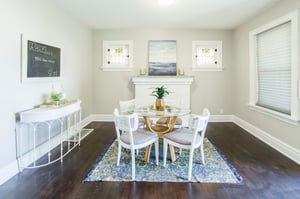 If you're selling your home, then it's time for a crash course in home staging. A well-staged home will stay on the market 73% less time than one that is not. But, you might be wondering precisely how staging makes a difference.
When your home is listed, there are two most likely scenarios: you've moved out and left a cavernous space; or, you're still in residence with personal belongings. Each situation represents a challenge for buyers. They want to walk into the home and envision their family, furniture and personal items in the space.
When you have an empty home, there's too much "negative space" for them to picture whether their furnishings will work in the room. On the other hand, if you're still living in your home, they imagine your family and not their own.
That's where home staging comes into play. A home stager is a student of buyer purchasing behavior and knows what to do to optimize your space for buyers while not disrupting your life.
Here are some tips from our professional stagers to help you get started.
Getting Ready For Market? Here's What To Do
Declutter Your Entire Home
Most stagers will recommend right away that you should rent an off-premises storage unit. Some people want to move all their items into the garage or shed, this is a possibility but should be discussed with the stager and real estate agent because it may affect the sale of your home if potential buyers cannot see those spaces because they are cluttered with belongings.
To get started, ruthlessly begin donating or packing up excess items for your move, label the boxes, and remove them to that storage unit.
Pay particular attention to the following:
· Bedroom closets
· Kitchen cabinets
· Linen closets
· Pantry
· Bathroom vanities
· Attics
· Basements storage shelves
A good rule of thumb is to remove 25% of your items – this will improve the appearance of these spaces.
We can assure you that buyers are going to open drawers, peek in medicine chests, and inspect closet space to ensure that it's adequate for their needs. If the mismatched collection of plastic food containers with missing lids slides out onto the kitchen countertop, they will perceive that as "not enough storage room."
"Neutralize" Personal Objects
Super-personalized objects and photos also impede a buyer's ability to see your home as their own. When your home is listed, family photographs, the children's handprint artwork, and even your favorite monogrammed coasters should be stored.
Pack these items gently, label the box, and keep it in a safe place until moving day. When you unpack those boxes in your new home, you will have a greater appreciation for those items.
Replace any personal items with "neutral" items such as a few framed prints from the craft store to take the place of that family photo gallery. When you work with a professional stager, they will provide these and place them correctly throughout your home.
A Little Paint, Please
Step back and take an honest assessment.
Are your walls scuffed, dingy, or faded? Did you embrace last year's Pantone trend and now face purple walls that seem to encroach on a room? Do you see nails poking out of the wall in spaces where you once had photos hanging? You need to fix those nail holes and add a little paint, please!
Pro stagers usually choose a neutral color like light to medium grey tones, a warm creamy white, or soft, warm tan. Those neutral paint shades will go with everything; plus, the freshly painted room will appear larger and brighter.
Buyers don't want to feel that they will need to have the home painted before move-in day. Most will want a "turn-key" home that can be moved in right away!
Minimize Furniture
Just as overloaded closets diminish the space, so does overstuffing rooms with furniture. However, if you've already moved out, rooms empty of all furniture also lack appeal to buyers.
Each staged room should have a few stylish but functional pieces of furniture that make sense together. A sofa, end table, and a lamp work together in your living room. In your bedroom, remove the extra dresser from the space (now that you've cleared the clutter, no problem) and keep the bed, nightstands, and just one dresser.
You'll be impressed with the square footage you didn't even know that you had!
Furniture Placement
Pro stagers will usually place furniture to call attention to the main feature in any room. That feature could mean a gorgeous view of the rose garden or a stunning fireplace. This strategy helps highlight amazing details and ensures the buyers take note of them, as well.
Also, notice that stagers don't push the furniture to the wall. They pull it away from the wall several inches or place it at attractive angles. It seems counterintuitive, but it does make a room feel enlarged.
Sumptuous Textiles
Professional stagers also know the essential role textiles play in staging. Adding a plush rug over hardwood floors invites the buyers to sink their toes in. Sumptuous bedding fosters the sense that they will enjoy lazy Saturday mornings sleeping in. Plush hand towels in the guest bath pamper their family when they visit.
Textiles seem like a tiny detail, but they serve as "completer pieces" to every room.
Get Started Staging
Whether you're just about to list your home and need assistance or you've already moved out Contact us for details on how we approach home staging and selling! We look forward to hearing from you.
Khalil El-Ghoul
"Thanks for reading! I'm passionate about empowering home buyers and sellers with professional advice and unbiased information, throughout the real estate transaction. Unlike most agents, I always put clients first. When it comes to negotiating, marketing homes, and sealing the deal, I've got the experience and knowledge you're looking for. If you have any questions about moving to VA, D.C., or MD, don't hesitate to reach out."