following a homebuyer checklist
Northern Virginia home buyers have a lot on their plate. We have created a Northern Virginia homebuyer checklist to help make this process smoother and help you dodge common mistakes.
Know Your Budget
Before you even peruse homes online, know your budget. Your debt-to-income ratio should not be more than 43% of your gross monthly income. This includes your mortgage, student loans, car loans, and lines of credit.
Source: pexels.com
Get Your Down Payment Ready
Conventional mortgages typically require a 20% down payment. Other programs like FHA require much less for a down payment; however, these programs require Private Mortgage Insurance (PMI), which increases your monthly mortgage payment.
Prioritize the Most Important Features
When choosing your new Northern Virginia home, what are the essential features? Do you want a big backyard? Lots of closet space? Is a smart home what you are looking for, or do you want new construction? Deciding on essential features in your home will save you and your agent a lot of time during your search.
Get a Pre-Approval
Most Northern Virginia home sellers will not accept an offer from a homebuyer who is not pre-approved for a loan. Securing your pre-approval shows sellers that you have the funds and resources to ensure your offer. Select your lender and apply for a pre-approval. Have your bank statements, tax returns, and any loans or credit card statements ready before you begin the application process.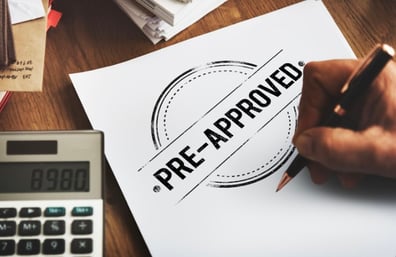 Source: sttimehomebuyer.com
Work with Your Agent to Find Your New Home
Let your agent know exactly what you want in a house. Share your list of priorities with them. Your agent will send you listings every time they find one in your price range with your preferences. Agents can also send you listings that haven't hit the market, giving you a heads up in this seller's market.
Make an Offer
Once you find the perfect home, the next step is to make an offer. Before an offer is entered, your agent will inquire about the current status of the house. In our current market, homes are taken off the market quicker than usual, and it is possible a home shows as available when a contract has already been accepted. In a sellers' market, it is common for sellers to have an offer-review date. An offer-review date is a deadline to put in an offer. Sellers will then review all offers on that date and make a decision. Your agent will advise you of where to start when making an offer.
Enter Escrow
Once your offer is accepted and both parties have agreed on the terms of the sale, you will enter escrow. Typically, a home is in escrow for anywhere from 30 to 60 days. During escrow, your agent will be in close communication with you.

Get a Home Inspection
A home inspection is vital to discover any defects in the property. Contracts have home inspection clauses in case defects are too expensive to repair and/or the seller is not willing to fix the flaws or alter the sale price. In a seller's market, some buyers choose to waive the home inspection in hopes of having their offer accepted. Waiving a home inspection is a precarious move and not advised.
Source: topinspectors.com
Perform a Final Walk-Through
A final walk-through is essential to ensure the home is what you and the seller agreed upon. In Northern Virginia, the Pre-Settlement Access to Property Law allows buyers to perform multiple walk-throughs for seven days before the closing of the home.
The Settlement
The settlement is the last step in the home buying process. You will go to the title company and sign the final documents. Be sure to bring your photo identification and a cashier's check to pay your down payment and closing costs. You will receive your keys during this meeting.
Source: weichert.com
Purchasing Your Northern Virginia Home
When purchasing your Northern Virginia home, following this checklist will ensure you know what to expect and are ready for it.
Khalil El-Ghoul
"Thanks for reading! I'm passionate about empowering home buyers and sellers with professional advice and unbiased information, throughout the real estate transaction. Unlike most agents, I always put clients first. When it comes to negotiating, marketing homes, and sealing the deal, I've got the experience and knowledge you're looking for. If you have any questions about moving to VA, D.C., or MD, don't hesitate to reach out."