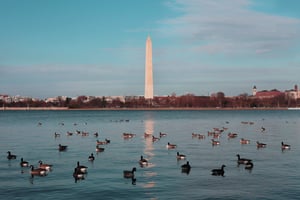 There are plenty of reasons to settle down in Washington D.C. Our nation's capital is home to several important monuments, world-class museums, and award-winning restaurants. However, the highlight of this historic city is the vibrant atmosphere that permeates its neighborhoods and home. If you're unfamiliar with the D.C. area, it might feel daunting to pick a neighborhood that meets your fiscal and geographic needs. Well, get ready to cross this task off your moving checklist. Our guide will help you understand the city's cost of living, transportation systems, neighborhoods, and educational opportunities.
Cost of Living
You probably already know that Washington D.C. is one of the most expensive cities in the country. In addition to high prices on housing, food, and utilities, D.C. also has a sales tax of 6.0%. Fortunately, the DMV is also home to a wide variety of high-paying government organizations, tech companies, and educational institutions. These opportunities generally offer salaries that compensate for the high cost of living. Residents can also save money by visiting the city's free museums, using the highly effective public transportation system, and living away from the downtown area.
Commuting
If you like public transportation, you'll love living in the DMV. Washington D.C. is a walkable city with a highly effective public transportation system. Unlike many of the world's subways, the Metro is clean, safe, and easy to use. Start by figuring out which stops are closest to your ideal neighborhoods and workplaces. Then, map out your commute on MapQuest, Google Maps, or the city's website. When you arrive, you can also purchase a SmarTrip card, which provides access to all of D.C.'s transit methods and saves $1 per trip. If you're still not sold on public transportation, consider buying a sleek street bike. Washington D.C. is home to roughly 60 miles of on-street bike lanes and countless more scenic trails. Just be sure you wear a helmet and pay attention to the city's biking regulations.
Neighborhoods
As a rule of thumb, properties get less expensive as you move away from downtown. That said, Capitol Hill East is very popular among newcomers who work on the Hill. This area is within biking distance of the capital building and also offers easy access to the artsy Eastern Market. Its streets are safe enough for children to play outside, and there are several nearby grocery stores, restaurants, and coffee shops. Foggy Bottom is another popular area for college graduates and working professionals. Located near George Washington University, this urban area offers several opportunities to purchase a condos or apartments.
Glover Park is a popular neighborhood for growing families. This area offers sizable housing options, convenient supermarkets, and easy access to Georgetown's intimate restaurants and high-end shops. Friendship Heights are another fun place for families to call home. Some of its best features include its single-family homes, easy access to the metro, and verdant parks. No matter your budget or family size, the right real estate agent can help you a house you love in the right neighborhood.
Education
If you're moving with children, it's important to choose a neighborhood with access to great educational institutions. Fortunately, there is no shortage of good schools in Washington D.C. In fact, the Thomas Jefferson High School for Science & Technology has been ranked as the #1 charter school in the country. Other highly rated high schools include the School Without Walls High School on the campus of George Washington University and the Washington Latin Public Charter School in Brightwood Park. Some notable middle schools include the E.L. Haynes Public Charter School and the Basis D.C. Public Charter School. A few neighborhoods with highly rated schools include Cathedral Heights, Chevy Chase, and Grover Park (listed above).