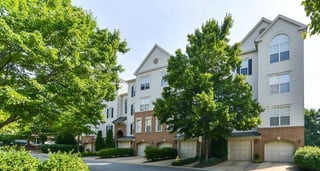 Looking for the best neighborhood in Alexandria, Virginia? Consider Fort Ward Heights! With many spacious condos and single family homes available, Fort Ward Heights has been a popular Virginia location for home buyers in 2016. Learn about the neighborhoods demographics, employment and more in this article!
13 Facts About Fort Ward Heights
Most of the homes were built between 1970- 1990. You can find newer homes built between 2000 - 2016 in the neighborhood as well.
Many residents of Ford Ward Heights are employed by the government. Government employees make up about 22% of the workforce in the neighborhood.
About 1.8% of the Fort Ward Heights neighborhood are active military members.
High proportion of people in this Virginia neighborhood are executives, managers and professionals. These occupations make up about 64% of the neighborhood employment. That is greater than 95% of neighborhoods in America.
You can find some diversity in Fort Ward Heights. There are some British and South American ancestry.
71% of the adults in Fort Ward are college educated with 4-year bachelor degree.
Fort Ward Heights is a popular place to live for college undergrad and grad students due to it's high walkability score and it's low crime rate.
You can expect the neighborhood to be a bit more upbeat when college is in session. However, it's also a great place for young professionals.
This neighborhood is more densely populated than 95.9% of neighborhoods in the U.S., with 23,384 people per square mile living here.
Fort Ward Heights neighborhood is unique because it has one of the highest proportions of one, two, or no bedroom real estate of any neighborhood in America.
The greatest number of commuters in Fort Ward Heights neighborhood spend between 15 and 30 minutes commuting one-way to work.
Schools that serve this Alexandria, VA neighborhood include Francis C. Hammond Middle, John Adams Elementary and TC Williams High.
Fort Ward Heights could be considered a "hip and trendy" neighborhood of Alexandria. With 43% of residents listed as "single" and 33.4% between the ages of 30-44.
*All stats and information above has been compiled from NeighborhoodScout.com and is subject to change.
Save 1.5% on Your Alexandria Home
Traditionally, when you purchase a home, the agent receives a commission of 3%, paid by the seller. When you sell your home with Glass House, our agent's fee is 1%, and the remaining commission is rebated back to you; usually about 1.5% of the sales price. On homes under $500,000, our fee is $5,000, and the remaining commission is rebated back to you.
Glass House offers more for less. We work as a team, so someone is always available when you need us. We try to end each transaction with a smile and a bottle of champagne! Contact us today!
Khalil El-Ghoul
"Thanks for reading! I'm passionate about empowering home buyers and sellers with professional advice and unbiased information, throughout the real estate transaction. Unlike most agents, I always put clients first. When it comes to negotiating, marketing homes, and sealing the deal, I've got the experience and knowledge you're looking for. If you have any questions about moving to VA, D.C., or MD, don't hesitate to reach out."