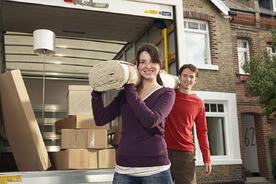 Once you know your closing date, you'll want to start thinking about packing and moving. If you're moving into a new house in the Washington, D.C. metro area, you can help the process go as smoothly as possible by making some checklists and allowing yourself enough time for the actual move.
The first question is whether to handle the move yourself or hire a moving company. If you decide to hire a moving company, you'll want to find a company you can entrust with your houseful of valuables.
Tips for moving to a New House in the Washington D.C. Metro
Some of the factors you'll want to consider when trying to decide whether to hire a professional moving company include:
Reputation
How long has the company been in business? Have any complaints been filed with the Better Business Bureau?
Licensing and Bonding
The Interstate Commerce Commission regulations protect customers on interstate moves and define the rights and responsibilities of consumers and movers. Call your local ICC office for a copy of the pamphlet, "Your Rights and Responsibilities When You Move."
Local Moving Costs
Costs for local moving are generally calculated using the number of hours the truck is used, multiplied by the hourly for-hire rate.
Long-Distance Costs
Costs are calculated on the weight and distance of your shipment.
Storage
If your goods are to be placed in storage, make sure the costs, including loading and unloading, are explained to you.
If you've decided to proceed with a moving company, you should:
1. Obtain at least three estimates and compare the services offered.

2. Obtain a written estimate once a qualified estimator has viewed the contents of your home.
3. Book your move as far in advance as possible.
4. Try to avoid moving at the end of the month. These are the busiest periods for movers.
5. Try to ensure that at least three movers are assigned to your move, two to load and unload your items and one to remain with the truck to avoid potential theft.
6. Determine liability issues and make special insurance arrangements, if necessary.
7. Decide whether you want the movers to pack your goods.
8. Confirm your arrangements a day or two prior to the move.
Regardless of whether you're moving yourself or hiring professionals, always begin the move process as early in the morning as possible. You want to get as much done in a day as possible, and you want to avoid the heat of the day, especially in spring and summer months when it warms up. Try to avoid the first and last days of the month, because those tend to be the busiest moving days. Also, try to avoid weekends whenever possible.
If packing your own boxes, pack up by room and label your boxes with exact contents. Make an inventory list with box numbers so all the boxes can be accounted for at your destination and you can find things quickly.
Keep one box aside that contains your important items that you can get to as soon as possible: a change of clothes for everybody, toiletries, and essential cooking items.
With patience and organization, the tedious part will be over and you can begin enjoying life in your new house.
If you would like to learn more about how you can save money when buying a new home, get in touch with me today to discover how you can receive a 1.5% cash back rebate when buying a home through Glass House!
Khalil El-Ghoul
"Thanks for reading! I'm passionate about empowering home buyers and sellers with professional advice and unbiased information, throughout the real estate transaction. Unlike most agents, I always put clients first. When it comes to negotiating, marketing homes, and sealing the deal, I've got the experience and knowledge you're looking for. If you have any questions about moving to VA, D.C., or MD, don't hesitate to reach out."