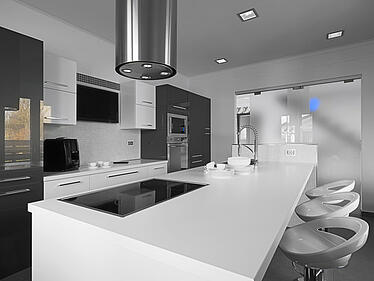 Kitchens are no longer just a space to cook your meals. New and inspiring trends are being seen in the kitchen designs of new construction homes in Northern Virginia.
Yes, it is possible to create a trendy cooking space and still be able to actually cook! To help you out, we have complied a list of 5 of the top kitchen trends for you to incorporate into your new home.
5 Kitchen Building Trends for New Construction Homes in Northern Virginia
1. High Technology
Kitchen appliances have gone high-tech! From refrigerators with high-def TVs to smart ovens that let you control cook times from your laptop or cell phone, technology in the kitchen has come a long way from just automated water dispensers on your fridge. Now you can check the weather, display recipes, or even watch a movie all while your cooking dinner.
2. Green Design
Going green has been a huge trend lately, and it hasn't skipped the kitchen. Make your kitchen eco-friendly by installing bamboo butcher blocks or an IceStone countertop made of recycled glass and concrete. Both are kinder to the environment than traditional countertops. You can also set your kitchen up to be more energy efficient by connecting appliances so that they run off of each other's power.
3. Concrete Countertops
Although they may not be a new idea, concrete countertops are gaining popularity in new construction homes. The material looks like stone and is even customizable. The look can be rustic, modern or artistic depending on your tastes. The finished product acts a lot like marble or granite.
4. Hidden Appliances
Hidden appliances are one of the biggest trends in kitchens right now. Doors matching those of your cabinets can conseal dishwashers and trash bins. You can even get your refrigerator doors to match! Building appliances into a custom cabinetry design rather then enclosing them is another way to make your kitchen look sleek and polished.
5. Dual-fuel Ranges
You'll never have to choose between gas and electric stovetops again! Duel-fuel ranges come with a gas stovetop for cooking with pots and pans, plus an electric range for a more efficient, self-cleaning oven. Induction burners are another new trend in stovetops that heat up faster and are more efficient than both gas and regular electric.
A great way to save money when purchasing a new construction home is by working with a real estate agent who will give you a real estate rebate. A real estate rebate lets you save money for buying a home!
Source: HowStuffWorks
Building a new construction home?
Contact us to find out how you can earn up to 2% cash back.
Khalil El-Ghoul
"Thanks for reading! I'm passionate about empowering home buyers and sellers with professional advice and unbiased information, throughout the real estate transaction. Unlike most agents, I always put clients first. When it comes to negotiating, marketing homes, and sealing the deal, I've got the experience and knowledge you're looking for. If you have any questions about moving to VA, D.C., or MD, don't hesitate to reach out."