This is a guest post by Laura Farr, landscape designer at Earth Essence Designs in Maryland.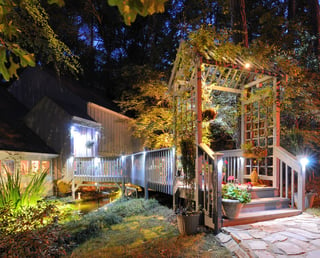 When I bought my house in December 2015 the outside made me cringe. The front door and shutters were painted a muted green, the railings were bright red, and the landscaping was uninspiring. I had to look hard and past the lack of curb appeal and imagine what it could be. To be honest, I wasn't excited when I drove up to the house and the same images that initially turned me off online left me uninspired as I pulled up to front. I was even a little apprehensive to share pictures of the house I was about to buy to my family and friends. My mother asked me when I planned on repainting the front of the house. Unlike many prospective buyers before me, I was able to envision the potential in this house. Many people may have drove right by because there was no curb appeal. Good for me, bad for the seller. While many buyers are looking for the perfect home inside and out, it's important to consider the potential in a home that lacks curb appeal. This being said, it's also critical for sellers to improve curb appeal in order to appeal to a larger audience and sell your home quicker!
What Can You Do To Improve Curb Appeal - For Sellers and New Buyers
Paint
I started changing paint colors the day I closed and received keys. I consulted my favorite interior designer, Colleen Mitchell from Redbird Redesign. She has helped me pick every color in my house and I couldn't be happier. This tip is simple but easy to ignore - painting can go a long way when it comes to curb appeal.
Update foundation plantings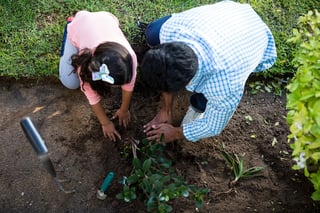 There are usually two options, remove everything and start from scratch, or try to work with what you have. When I bought my home, I did a little bit of both. Most landscapes are overgrown. It is possible to prune back overgrown trees and shrubs. You can reduce the size, take out bulk and density of the plant and limb up a large shrub or tree and plant underneath. The advantage of working with your existing plants is that it saves time and money not having to rip everything out and it will keep the feel of a mature landscape. In my opinion, a row of overgrown yews are usually beyond saving. On the other hand, a large shrub at the end is a great candidate to prune and reshape. In general, it is best to keep trees 5 feet away from your foundation. Sometimes it really is easier to start from scratch and take everything out.
Accents
Adding colorful pots with annuals is a great way to dress up a front porch and draw your eye to the front door. Furniture, accent pillows, hanging baskets and a rug are all great investments for a front porch.
Consider the season
Think about what time of year you will be putting your house on the market. I would select plants that will bloom and flourish at that time of year. If I am putting the house on the market in the fall, I'm going to be thinking about planting sedum, asters, mums, ornamental grasses and shrubs with great fall color. If I'm going to putting the house on the market in the spring, I'm going to want to plant spring blooming bulbs and flowering shrubs. In winter and early spring evergreens are going to be important to hold the structure of the landscape when everything else is bare. The heat of the summer is the hardest season for plants. Consider planting hydrangeas and roses for summer color. I would also add annuals for color and be sure to water regularly.
Check out my Pinterest board for free ideas on incorporating seasonal interest to improve curb appeal!

Why Curb Appeal Increase Property Value
Curb appeal and landscaping in general is important not only to get buyers in the door, but it also increases the value of your property. Here are a few of the experts that the American Society of Landscape Architects have gathered on the subject.
"Landscaping can increase the value of your property by as much as 20 percent - if it is done well." - This Old House Magazine
"Spending 5 percent of the total value of your home on landscaping, and doing it wisely, can add 15 percent or more to the value of your home". - Smart Money Magazine
"Homes with nice landscaping are likely to see sales prices that are 4 percent to 5 percent higher than compared to similar properties in the neighborhood, according to the Guide for Plant Appraisal, published by the International Society of Arboriculture. And homes with landscapes that are not as nice as others in the neighborhood could see sales prices that are 8 percent to 10 percent lower".- Baltimore Sun
"Landscape design and installation offers the best return on investment of any home improvement you can make". - Money Magazine
See more expert quotes on why curb appeal is a good investment here
A small investment in curb appeal goes a long way. Do what you can and if you get overwhelmed, hire a professional to help!
Get a Free, No Obligation Home Value Estimate
Find out how your home compares to others in your area and in the current market. Request a free consultation for a home value market analysis and one of our agents will come to your home at a scheduled time. There is no obligation to work with us - this is just a friendly conversation. Our goal is to help modern buyers and sellers with our smooth, up to date, technology driven real estate process.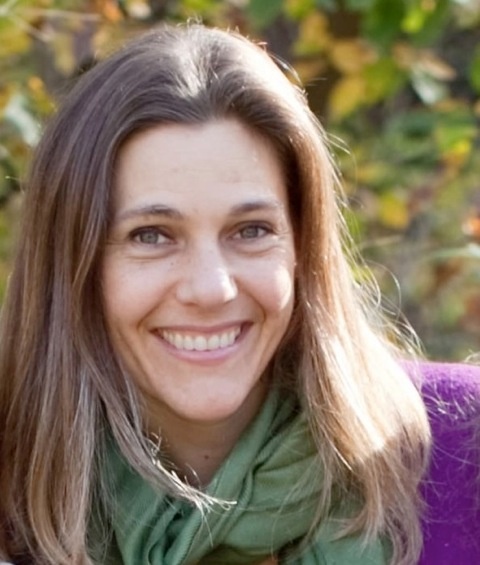 Laura Farr
Laura blends the ancient ways with the gifts of the earth to design outdoor spaces with the intent of elevating the soul. Throughout her education and career, she has concentrated on ecological design and maintains a high sensitivity to the environment. With degrees in horticulture and landscape architecture and over 20 years experience in the green industry, Laura has developed a deep appreciation and understanding of the essence of plants. Wanting an even greater understanding of the connection between nature and well-being, she has been apprenticing with a shaman for the three years, studying aromatherapy, and has been exploring the relationship between landscapes and well-being. Her goal is to inspire and uplift using the elements of the earth. For more information visit her design website at www.earthessencedesigns.com