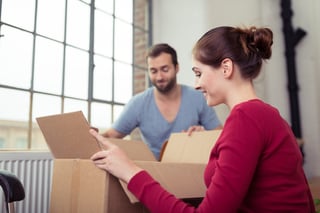 There is something exciting about moving.
New place. New people. New perspective on life.
It makes you reconnect with the people in your life and the stuff in your life. You could look at moving as recreating the life you want. Once you get past all the work, right? But if you look at moving as a positive thing in your world, it can be life changing in a good way.
How You Can Look Past All The Work & Enjoy Moving!
Let's talk about getting past the work, so that you can get to the life changing part. Moving means packed everything you own into boxes and not seeing things for awhile. Does that give you heart palpitations? Well, maybe it should. Whether you do the packing yourself (as most of us at 20-something did) or you have someone do it for you, I urge you to take the time to review everything in your home BEFORE it's packed up. Don't think about where you are going to put each item in your new home. Instead think about how each item is going to fit into your new life.
What I mean is this. You are moving for a reason: More space, Less space, New job, Retirement. The reasons are varied. Whatever your reason is, your life is changing and you probably have a lot of stuff that isn't going to fit into your reason for moving and your new life.
"According to a new study by Wakefield Research for SpareFoot, more than half of Americans describe their home as cluttered and 61 percent believe moving is the best opportunity to declutter their home." Sparefoot.com
At Basic Organization, we pack and unpack clients when they move. Every single time (and I'm not kidding) our moving clients comment that they didn't realize how much stuff they have. Of course, once everything is out of the cabinets, cupboards, basket, bookcases, closets and dressers the volume of what you have is exposed. We encourage you to do some decluttering before your packing day.
We can help with the decluttering process, making it quicker and easier than if you do it yourself. We know that it is a personal journey to review your belongs and decide what doesn't fit into your world anymore. Working with a professional organizer allows you to master the decision process with ease.
What's the benefit of decluttering before your move?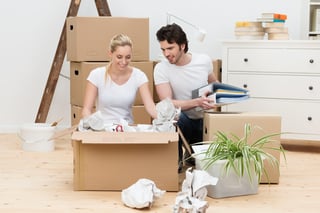 Well, now we get to the exciting part of moving. Imagine move-in day, walking into your new home with the anticipation of a new start and the feeling of having left all that wasn't serving you in your past home (and life) behind. Image how freeing it would be to know you are starting out fresh and free from what wasn't serving you anymore.
This can happen for you.
We recently packed and unpack a young family (with a very new baby) moving from DC to Northern Virginia. They didn't have a lot of stuff and they were moving to a larger home. They still had stuff that wasn't serving them anymore. Why take it with them?
We also recently assisted a single woman to review, pack and unpack when she moved into her downsized home. She knew that she needed to make decisions about many items that were a part of her life that were not going to fit into her new home. The support in the decision making process, the referrals to other services that could sell valuable items or pick up donations and the coordination with our suggested moving company made the process easy, fast and productive for our client. She is now happily living a wonderful retirement in her awesome Arlington apartment.
Need help with moving or decluttering your home?
If you live in the Washington DC Metro area and have any questions about moving, downsizing or decluttering any part of your home, please give us a call, 571-265-1303 and visit BasicOrganization.com.
For more reading on the subject, read these blog posts from Basic Organization:
Pretty Terrific Packing Tips to Make Moving Easier
We create space for the life you want to live and we love what we do.
Janet Schiesl
Janet Schiesl is a Certified Professional Organizer and the owner of Basic Organization. Her company provides professional organizing services to busy families, home-based business owners and moving clients in the Northern Virginia and Washington DC Metro area. She has grown from a solo practitioner to a team of six organizers that specialize in big jobs with a tight time frame. So along with working one-on-one with clients, we also can pack or unpack a home in one day, organize a garage or basement in record time or help you deal with piles of paper or an over-stuffed closet or pantry. Janet is the co-author of Get Organized Today. A collaboration of many professionals, to provide inspiration that affirms the power and importance of getting organized. The book provides practical ideas that you can use immediately to live a better, more effective life. She has also been interview by several publications including, Northern Virginia Magazine and The Loudoun Times-Mirror. Janet speaks to groups on all-subjects organizing, including new organizing business start-ups, IKEA Visual Merchandisers, the Association of Interior Design Professionals and the NAPO 2011 and NAPO 2014 National Conference for Professional Organizers. She also offers fun workshops to the public including; The Simple Magic of List Making and A Paper Organizing Party. She is the Past President of the Washington DC Chapter of the National Association of Professional Organizers (NAPO). She is a member of several NAPO committees. Janet has been honored by her colleagues in receiving the Professional Organizer of the Year award and the Volunteer of the Year award from the Washington DC chapter of the National Association of Professional Organizers.