Finding the right Washington DC neighborhood to call home can be overwhelming. With so many things to consider such as convenience, quality of schools, and overall environment the decision takes a lot of research and understanding. According to The National Association of Realtors, millennials, ages 22 to 40, make up 53% of Washington DC homebuyers.
A strong sense of community along with many large corporation and government job opportunities make Washington DC a popular place to call home. Here are some of the hottest DC neighborhoods for home buyers.
Washington DC neighborhood guide
CAPITOL RIVERFRONT
As many DMV area residents know, the Capitol Riverfront has recently become one of Washington's up-and-coming neighborhoods. Also known as The Navy Yard District, attractions such as Yards Park and Nationals Park along with the spectacular shopping and dining scene have many residential communities catapulting throughout the area. The young neighborhood is on track to become the most densely populated neighborhood in Washington DC. With a large entertainment scene and easily accessible location, this vibrant neighborhood offers over 40 restaurants such as local favorites The Salt Line and Bluejacket Brewery. Yards Park offers free Friday night concerts and many other festivals throughout the year.
Throughout the winter months, Canal Park is a great place to go ice skating and enjoy dancing fountains in the warmer months. And, of course, season tickets to cheer on the Nationals is a great way to spend some time outdoors.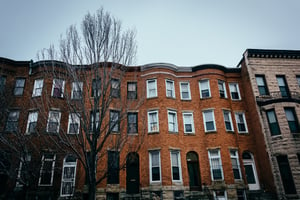 Colorful, upgraded rowhouses, luxury condos, and remodeled attached single-family homes ranging from $600Ks to well over a Million are found throughout the lively neighborhood. Many young professionals call Capitol Riverfront home. With the vibrant nightlife and plethora of shopping, restaurants, coffee shops, and easily accessible transit system other than work there is little reason for residents to ever leave this urban neighborhood
PETWORTH
The once sleepy neighborhood of Petworth has recently transformed into a real estate favorite. The Northwest DC neighborhood is now the talk of the town with its vibrant community ambiance. Large condos have sprouted up and are currently in construction in Petworth around Georgia Avenue, New Hampshire Avenue, and Upshur Street. Along with new builds, Petworth features classic Wardman row homes set on large lots. Traditionally encompassing the early 20th-century terraced single-family homes, Petworth has seen an increase in affordable condominium developments. The community has a strong porch culture. Walking down the street residents are greeted by neighbors sitting on their porches with invites to share a beverage.
There is a true sense of community in Petworth as neighbors spend time together at the Petworth Jazz Project and the Upshur Street Art & Craft Fair where residents support local businesses during the holiday season. The Petworth Library has been a local favorite of residents since 1939. Metro's Green Line is nearby along with bike-share, buses, and just simply walking making this a neighborhood easily to live in without a car. This family-friendly neighborhood is largely residential and has a much calmer environment than many DC neighborhoods.
DUPONT CIRCLE
The high-energy Dupont Circle neighborhood is located near central downtown Washington DC. Young families and older adults alike call this urban neighborhood home. Friendly is an adjective commonly used to describe this community. Dupont Circle Fountain is at the heart of the neighborhood where residents conjugate to take a simple stroll or jog. An array of eclectic coffee shops, bookstores, eateries, and nightlife packs Connecticut Avenue. Dupont Circle is home to The Phillips Collection of Modern Art and the famous National Geographic Museum. Nearby Rock Creek Park offers over 30 miles of hiking trails along with horseback riding, tennis, golfing, and boating. Dupont homes range from under $200,000 to several million dollars. Home styles have just as much range with classic row houses, Queen Anne homes, mansions, and metro condos.
SOUTHWEST WATERFRONT
Bordered by the Potomac River just south of downtown Washington DC, the upscale community of Southwest Waterfront has become one of the most up-and-coming DC neighborhoods. Home to newly developed The Wharf Southwest Waterfront offers waterfront dining and entertainment with dozens of restaurants and bars. And although this charming community is best known for water and entertainment there is much more to the hip neighborhood. Scenic parks with live music and theatrical plays and golf courses are popular ways residents spend their time. This historic neighborhood provides an eclectic multitude of architecture reaching from 18th-century Federal to Mid-Century Modern and new build condominiums.
BRENTWOOD
Conveniently located north of Capitol Hill and Union Station the tight-knit community of Brentwood is on its way to becoming one of DC's most sought after neighborhoods. The progressive redevelopment undertaking known as RIA (Rhode Island Avenue corridor) is in the process of making over 20-acres of Brentwood financially impacting the value of existing homes in the area making the time to buy right now. Settled on a hill in Northeast Washington, the historic community has long been a generational neighborhood where families raised their children and their children raised their children. And although developers aim to revitalize the community with new housing and retail complexes their goal is to preserve its tight-knit environment.
The median selling price for Brentwood homes is $525,000, and the range of homes in Brentwood adds to its unique charm. From brick condos to renovated early 20th-century single-family homes and custom-built new homes, residents have a wide variety of styles to choose from. People look out for one another in this family-friendly community which is a neighborhood feature that is priceless.
LOGAN CIRCLE
Bordered by S Street to the north, K Street to the south, Ninth Street to the east, and 16th Street to the west is the popular Logan Circle neighborhood. With a 97 Walk Score, the lively neighborhood is practically self-contained with shopping, eateries, and entertainment nearby. A wide range of architecture around Logan Circle includes awe-inspiring Victorian-style homes from the late 19th century to the early 20th century which have been completely refurbished with brilliant shades of red, blue, green, and yellow. Small and medium-sized townhomes and condos along with new high-rise apartments are found sprinkled through the community as well.
In the heart of Logan Circle enjoy luxurious penthouse living with the best rooftop in the neighborhood. Incredible features such as 11 foot ceilings, skylights, large bedrooms, ample closet space, vintage reclaimed oak floors, and private parking are offered in this available unit designed by famed architect Brie Husted listed by Glass House Real Estate at $1,650,000. This unit won't be on the market long! Visit the property website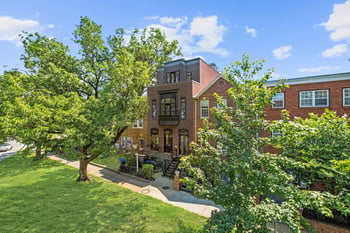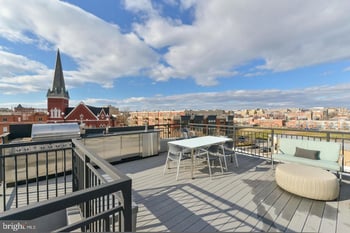 Because of the proximity from everything from dining and shopping to downtown entertainment expect to pay an above-average price tag to call this neighborhood home. Logan Circle is a popular home choice for professionals in their 20s and 30s.
GEORGETOWN
DC's oldest neighborhood is known for its historic million-dollar row homes and plentiful green areas. Georgetown's brick sidewalks and vibrant flowers hanging from porches add to its character. Along with being the oldest DC neighborhood, it is also one of the most upscale communities found in the city. The revitalized Georgetown waterfront offers views of the John F. Kennedy Center for the Performing Arts and is home to distinguished Georgetown University. One of Washington's most expensive housing markets, Georgetown has a median home price of over one million dollars. With a population of just over 10,000 people, the average age of Georgetown residents is 27.
WEST END
Located in the heart of DC, West End is home to some of DC's most exceptional hotels, restaurants, and condos. First-rate luxury condos make up the majority of West End housing. Mid 200s for a one-bedroom condo to upwards of 4 million for a 3 bedroom, 2 bath takes West End luxurious living to a different level.
Listed by Glass House Real Estate at $694,500 the highly desirable Whitman Place has an incredible penthouse unit available for purchase. The two bedroom unit features a 30 foot sunny terrace with sliding doors, a renovated kitchen, dining area, and bathroom along with dedicated garage parking. The perfect combination of comfort and livability; this unit offers a modern and bright floor plan, outdoor living, dedicated garage parking, and an extra storage unit. The Whitman place is a pet friendly building in the bustling West End close to parks, two metro stations, & new multimillion dollar condo buildings. Have friends over on the expansive rooftop deck with city views, walk to Whole Foods or Trader Joes, and dine at the finest Washington DC Restaurants. Learn more information about this home here.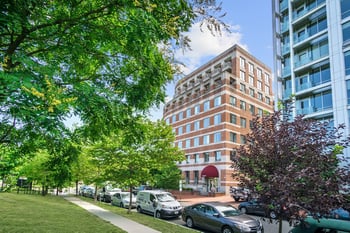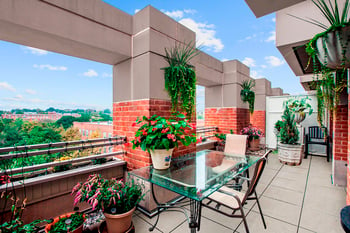 Glass House Real Estate specializes in assisting Washington DC home buyers find their dream home. Recently, Glass House seller's closed on an upscale condominium in the heart of the West End. This 2 bedroom, 2 bathroom, 1,183 sq ft townhome sold at $750,000.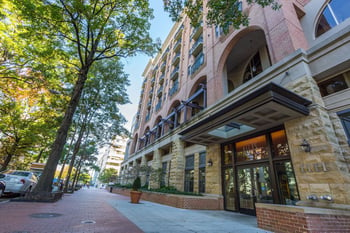 The easy accessibility to Georgetown, Dupont Circle, and many other beautiful surrounding neighborhoods add to the quality of West End living. Residents simply walk across a bridge to a booming nightlife and attractions such as the White House and the National Geographic Museum. The largest population is aged 20-35 with the median population age at 33. West End is home to many young professionals.
There is so much to consider when choosing your home. With the numerous neighborhoods DC has to offer it is important to discover which community has the amenities, location, and general atmosphere that will make your chosen location feel like home.
Khalil El-Ghoul
"Thanks for reading! I'm passionate about empowering home buyers and sellers with professional advice and unbiased information, throughout the real estate transaction. Unlike most agents, I always put clients first. When it comes to negotiating, marketing homes, and sealing the deal, I've got the experience and knowledge you're looking for. If you have any questions about moving to VA, D.C., or MD, don't hesitate to reach out."