The Dupont Circle community sits just blocks away from the National Mall and Smithsonian Museums. However, once you've stepped away from the bustle of Federal Government business and tourists, you feel like you are in a different world. And that is why so many locals find Dupont Circle such an excellent place to live.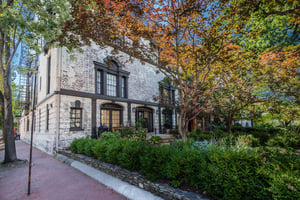 It offers convenient access to work in downtown DC but also keeps a definite line between workplace and home. Many who call Dupont Circle home do work for those Federal agencies.
Here, however, the throngs of tourists thin out somewhat and give way to an eclectic, vibrant neighborhood. The sense of community is strong. Additionally, residents have many opportunities to take in local culture and enjoy their time off.
Highlights of Life in Dupont Circle
Dupont Circle was drafted as a traffic circle by L'Enfant and the Army Corps of Engineers built it in 1871. However, in 1882 Congress voted to rename the circle to honor the life of Rear Admiral Samuel Du Pont who served honorably in the United States Navy during both the Mexican-American War and the Civil War. And, yes, he was a member of the famous industrialist-era Du Pont family.
1 – The famed fountain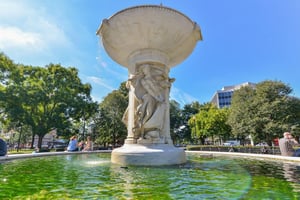 The Dupont Circle Fountain, designated as a National Historic Place, resides in the middle of Dupont Circle itself. The fountain's official name is the Samuel Francis Dupont Memorial Fountain, but most just call it "Dupont Fountain."
Locals and tourists alike congregate in the green space around the fountain to make a wish, soak up the sun, eat a picnic, or read and reflect. The Dupont Fountain serves as the heart of this community—and a reference point when offering directions.
All are welcome here. You'll often find friendly locals chatting with tourists offering inside advice on the best places on the less-visited sites around DC.
2 – Active art scene
Art lovers enjoy visiting galleries in Dupont Circle.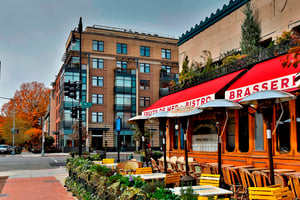 Most famously, The Phillips Collection was the first modern art museum to open in the United States. Visitors can view art, meet artists, and attend both concerts and lectures. Some of the famous artists featured permanently include Renoir, O'Keefe, van Gogh, and Rothko.
However, special exhibits change often, so art lovers visit this place over and over again to see what's new in the art world.
In addition to The Phillips Collection, the first Friday of each month is an event called "First Friday Dupont." Local galleries open their doors in the evening and art enthusiasts walk from gallery to gallery viewing, wishing for, and purchasing their favorite works of art.
3 – Low maintenance lifestyle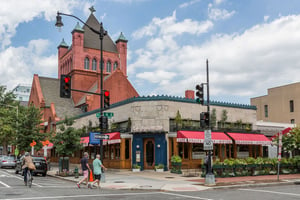 Are you hoping to buy a home in Dupont Circle? You'll be hard-pressed to find a detached, single-family home. But that's a plus, in this case! Not needing to cut the grass every Saturday frees up the locals to explore all that DC has to offer.
The homes here are condo units, townhomes, row houses, and lofts. These stately brick buildings have been lovingly restored and modernized over the years. The end result is a mixture of old world charm meets modern-day living.
So, while the homes are historic and look it from the outside, you'll be delighted once you step inside and see the transformations of many of them.
Looking to rent instead of buy? You'll find an eclectic mix of renters and homeowners—as one would expect in this neighborhood.
4 – International flair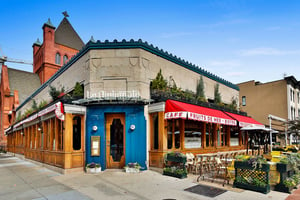 Also located in Dupont Circle is Washington DC's famous Embassy Row. Stretching from Dupont Circle along Massachusetts Avenue Northwest are embassies of nations from around the world.
In each embassy building, global ambassadors support their national interests as well as their nationals residing in America.
The international flair spills over into the local cuisine. Dupont Circle restaurateurs offer menus ranging from those inspired by Asia, Europe, Latin America, and all points around the globe.
5 – Thriving gay community
Dupont Circle is notably a prominent gay community. The eclectic and educated residents of the area support the presence of the thriving LBGTQ businesses that dot 17th St. NW.
Living in Dupont Circle
Dupont Circle is best described as worldly and eclectic. Here, people from all around the world live amicably and in peace in very close quarters to each other. Residents don't mind if you are from the United States of a faraway land, if you are straight or gay, or if you rent or own your home.
They just want to live peacefully and enjoy their leisure time in the neighborhood they love.
Khalil El-Ghoul
"Thanks for reading! I'm passionate about empowering home buyers and sellers with professional advice and unbiased information, throughout the real estate transaction. Unlike most agents, I always put clients first. When it comes to negotiating, marketing homes, and sealing the deal, I've got the experience and knowledge you're looking for. If you have any questions about moving to VA, D.C., or MD, don't hesitate to reach out."