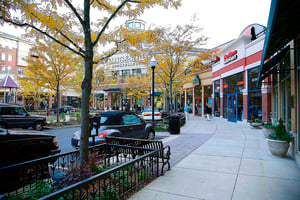 Clarendon, Virginia is a vibrant and progressive area that has reinvented itself throughout the years. And the community has adapted to each change, accepting and embracing the transformation instead of fighting it!
The community transformed from a suburban shopping hub in the 1940s and 50s into a place that offered a safe haven for Vietnamese refugees in the 1960s and 70s. However, the more recent decades brought an influx of young, hip professionals, making Clarendon a destination for dining and entertainment.
If you love a full social life that includes cultural events, festivals, craft breweries and distilleries, shopping, and dining, you'll love Clarendon. Plus,, that's not to mention the fact that you have to strike a work-life balance—and Clarendon has a convenient Metro station to get you into the city.
What's not to love about this area?
What To Love About Clarendon, Virginia
Cultural Diversity
Clarendon is a culturally diverse community. Indeed, they don't only welcome diversity—they encourage it!
Many times each month, residents take to the streets and celebrate! Some of the celebrations you'll find include:
Mardi Gras festival and parade
Clarendon Day. This street festival celebrate all in the community and features music, children's activities, and local beers and wines.
Paint Clarendon Pink (breast cancer awareness)
Arlington Festival of the Arts (in the springtime)
Additionally, the area attracts a diverse population of people from all over the world. So, if you enjoy learning about new cultures and customs, all you need to do is get out of the house and go rub elbows with your neighbors. They will probably be glad to share a little bit about their traditions.
An Urban Vibe
Although you are still in the 'burbs of Arlington County, you get a distinctly urban vibe in Clarendon.
The housing here is a mix of detached and semi-detached homes, condominiums, and apartments. While some areas of Arlington County make it difficult for renters to find housing, that's not the case in Clarendon.
The eclectic mix of people brings with it a wide variety of housing options offered. While you'll find homes for sale here, if you are looking to purchase, you'll need to retain the services of a highly-skilled real estate agent. The market is highly competitive, homes are coveted, and the inventory turns fast. Having an agent on your team will ensure a successful buying experience.
Market Common Clarendon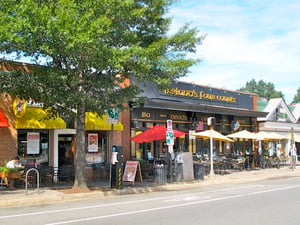 As mentioned earlier, Clarendon had its roots in the early 20th century as a suburban shopping district. Today, the community carries on that tradition with the Market Common Clarendon shopping center.
This outdoor shopping center features something for everyone. From charming local retail boutiques to national giants like Crate & Barrel, Pottery Barn, Whole Foods Market, and Apple, you won't leave empty-handed.
And, if you bring your little ones with you to shop, they will enjoy the fact that the shopping center even features a playground for them to expend their energy.
Metro Station Access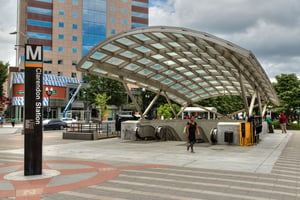 Commute to Washington DC for your job? Don't fight the daily traffic jam. Hop onto the Metro at Clarendon Station.
The Metro station sits in the heart of Clarendon, easily accessible to residents. And, it's only a couple of blocks from Market Common for those days you need a little retail therapy after work!
This particular Metro station does not offer day parking. However, you can ride your bicycle to the stop and then take advantage of securing your bike on a rack. Or, you can connect to a bus stop to head closer to home after work on days you don't feel like making the trek on foot.
Night Life and Dining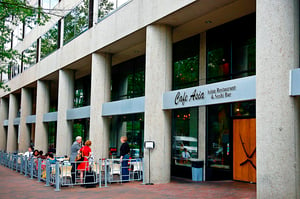 As the community has continuously reinvented itself, it has reserved the best traditions of all previous generations. And that includes the culinary influences and traditions.
In the area, you'll find one-of-a-kind craft breweries, bistros, and rooftop dining. From casual eats to Sunday brunch with your friends, you won't miss out when you try the local Clarendon establishments.
And, if you're a night owl, you won't be disappointed. The area thrives late into the evening. So, if you prefer listening to live music or dancing long into the night, Clarendon is the place for you!
Final Thoughts about Life in Clarendon
Clarendon is a vibrant, diverse, and inclusive area. If you want to live outside of DC but still live in an urban area, you will thoroughly enjoy this lively community.
Looking to buy a home in Clarendon?
Get up to 1.5% cash back! Contact us today to discuss our home buyer rebate for Clarendon home buyers.
Khalil El-Ghoul
"Thanks for reading! I'm passionate about empowering home buyers and sellers with professional advice and unbiased information, throughout the real estate transaction. Unlike most agents, I always put clients first. When it comes to negotiating, marketing homes, and sealing the deal, I've got the experience and knowledge you're looking for. If you have any questions about moving to VA, D.C., or MD, don't hesitate to reach out."