Situated between the historic towns of Leesburg and Middleburg in Aldie, Virginia sits an extravagant gated community of unparalleled custom homes where everything you could want is right at your fingertips. Creighton Farms sits just north of the intersection of Highway 50 and US 15 near the tip of West Virginia.
Creighton Farms Homes
The rolling hills of Northern Virginia along with the picturesque views of Bull Run and Blue Ridge Mountains are the perfect backdrop for Creighton Farms estate homes. Creighton Farms is home to 4 custom built neighborhoods.
The Enclave
Do you want a beautiful home away from distraction and noise where you can create a connection with nature? Creighton Farms Enclave neighborhood lies comfortably among majestic tall pine trees creating complete privacy. The Enclave provides the most privacy of the Creighton Farms neighborhoods. So much privacy you are more likely to see local wildlife than your neighbors. Each home offers spectacular views and provides the ultimate location to build your dream home. Ranging from 3 to 3.5 acres, homebuyers can create their custom home in absolutely any way they desire. The Enclave is located in the northwest corner of Creighton Farms just a short drive to all the community amenities.
Creighton Farms Drive
Ranging in size from three to seven-acre lots, a Creighton Farms Drive homes can be built in any imaginable way. Homebuyers choose their builder and create their custom dream home on 3 to 7.5 acre lots. Living in Creighton Farms Drive allows you to wake up each morning to awe-inspiring views of Northern Virginia horse country. Homes are set in the eastern and central part of Creighton Farms. Check out the available homes here
North and South Villas
Located adjacent to all amenities, both the North and South Villas of Creighton Farms allow residents to simply walk out their front door to pools, tennis courts, golf shop, and everything else this affluent community has to offer. These smaller custom-built homes are set on 1 to 1.5 acre lots and come equipped with the highest quality fixtures and finishes along with every upgrade available. The Villas were designed for simple living and low maintenance. Check out the current listings here
Walker Run
Offering 3 to 6.5 acre lots, the Walker Run neighborhood of Creighton Farms allows ample room for families to create their custom home. This incredible pastoral area features panoramic views of majestic pine trees and the rolling hills of Northern Virginia. Homes in Walker Run are custom made to meet the individual style of the family. Walker Run homes are set in the southernmost corner of Creighton Farms. There are only a few available lots left!
Creighton Farms Amenities
Wake up each morning, saunter into your gourmet kitchen with Taj Mahal quartz countertops, pour yourself a cup of tea, stroll into your all-season sunroom, and then take in the incredible scenery of the Jack Nicklaus golf course or the Audubon sanctuary. What will you do today? Take a dip in one of the glorious pools, play a quick game of tennis or a round of golf, or workout in your state-of-the-art fitness center? Creighton Farms offer residents unsurpassed resort-style living.
Clubhouse
The unmatched 34,000 square foot American Vernacular-style clubhouse provides world-class amenities. Included in this spacious clubhouse are Grille Room an upscale restaurant for a night out and Jack's Pub for more casual eating and drinking experience. An outdoor terrace is offered for residents who appreciate dining while enjoying the fresh Virginia air. Locker rooms, private lounges, and a steam room are all located in this lavish clubhouse. Do you want to get out of the house for a night not too far from home? The clubhouse provides overnight club rooms for residents and their guests. Need a new book? Visit the community library conveniently located in the plush clubhouse.
Fitness Center
Located adjacent to the clubhouse, Creighton Farms provides residents a state-of-the-art fitness center with a large variety of strength-training and cardio equipment. If yoga is your cup of tea you will love the Wellness Studio located inside the clubhouse. The Wellness Studio offers yoga and barre classes, along with services like facials and massages.
Tennis
Not only can you play a friendly game of tennis with your neighbor you can also join the Creighton Farms tennis program where all skill levels from beginner to professional are offered to members. Creighton Farms provides two Har-Tru and two USTA hard-surface tennis courts. Whether it's family play or a member event the tennis courts are a hot spot at Creighton Farms.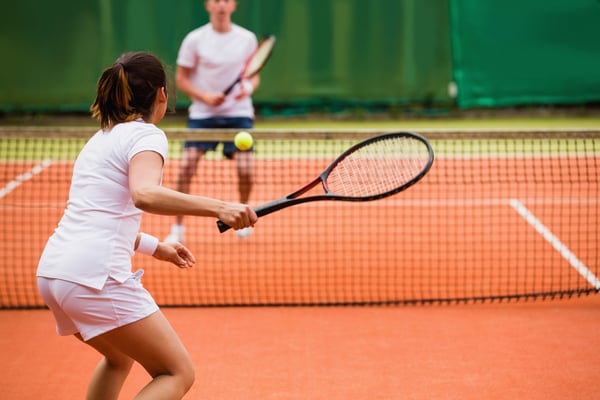 Pool
Summertime means Creighton Farms residents are getting wet! Whether it is the family pool, the junior Olympic-size pool, the spa pool, or the splash zone created especially for kids, Creighton Farm pools are a popular summer spot in the community.
Jack Nicklaus Signature Golf Course
Recognized as one of the premier courses on the east coast, the Jack Nicklaus Signature golf course is the shining star of Creighton Farms. The 18-hole course is a golfers paradise. As far as course trends, there isn't one. The golf course isn't noticeably long, short, wide, or narrow. Designed by the Golden Bear himself, Nicklaus had a goal of creating a nice, middle-of-the-road course for people to truly enjoy. Additionally, many practice areas are offered such as the dedicated short-game practice area, and a double-ended practice range. Residents of Creighton Hills enjoy many hosted tournaments and instructional opportunities from the number 1 golf instructor in Virginia.
Creighton Farms Community
Living in a securely gated community allows peace of mind. Spending your days in a community that feels like a 5-star resort is priceless. Residents are treated to an extensive calendar filled with community events that bring the neighborhood together. Holiday parties, wine tasting, themed parties, and an annual Fourth of July party with a spectacular fireworks show are just a few of the impressive events happening at Creighton Farms.
Advantage of Creighton Farms living
The advantage of life at Creighton Farms expands well beyond its scenic surroundings. Creighton Farms is more than just an assembly of exquisite homes with unmatched amenities. It is a true community that brings family and friends closer and creates new memories each day. There is luxury living and then there is living at Creighton Farms.
Khalil El-Ghoul
"Thanks for reading! I'm passionate about empowering home buyers and sellers with professional advice and unbiased information, throughout the real estate transaction. Unlike most agents, I always put clients first. When it comes to negotiating, marketing homes, and sealing the deal, I've got the experience and knowledge you're looking for. If you have any questions about moving to VA, D.C., or MD, don't hesitate to reach out."