Cloud IX Homes is Northern Virginia's luxury home builder. Founded in 2006 by Patrick Ohlhort, Cloud IX Homes will turn your dream home into a reality. Serving all of Northern Virginia, Patrick and his company's goals are to offer every customer the opportunity to build their dream home at a reasonable price.
Cloud IX Homes set the foundation to offer beautiful custom homes while making use of the most current construction methodologies and scheduling procedures. Cloud IX provides quality, energy-efficient homes with minimal environmental impact.
Cloud IX Homes Building Process
Whether you are starting with a picture in your mind, notes on scratch paper, or modifying an existing Cloud IX home, your new, elegant custom home will be designed to meet your lifestyle and budget. Let's take a look at the steps in building your new home with Cloud IX Homes.
Step 1- Contact
The first step in your Cloud IX Home building experience will be an informal gathering where you and the company will discuss the wide variety of opportunities available to you. At this initial meeting you will also understand the process, time frame, and costs associated with building your dream home.
Step 2 - Budget & Financing
In the first meeting, you will have been given a general idea of costs correlated with your new home. It is during this step that you will need to document your loan pre-qualification.
Step 3 - Pre-Construction Agreement
Cloud IX's pre-construction agreement is an intermediary agreement that allows you less commitment and more freedom as you move towards an accurate construction bid. This agreement leads you through home design, trim and color selections, and required permits.
Step 4 - Home Site Selection
This is when it starts to get exciting! Once the site is selected it will be easier to determine the configurations and any restrictions that need to be factored into the design of your home. Cloud IX Homes will walk you through this process and identify the best lots available to you.
Step 5 - Bid Analysis & Home Design
Once you have secured your lot, Cloud IX will utilize local architects to personalize your home design. This is also the time your construction documents will be put out to bid with suppliers and subcontractors. Typically the duration of this stage is 2 to 4 months.
Step 6 - Construction Agreement
The construction agreement will outline all construction specifications and the timeline of the project.
Step 7 - Building Your Dream Home
Once your home site has been selected and your dream home design is down on paper it is time for Cloud IX Home to get busy building your new construction home. Throughout this time you will have scheduled visits to the site to keep you in the loop and orient you with your new home. The general duration of the building process is 8 to 24 months.
Step 8 - Completion
Finally, your custom-built dream home is finished and it is time to move in and start making memories!
Step 9 - Warranty
Cloud IX Home stands by their work and every home they build is covered by their 10-year Limited Warranty. Four months after you move into your new home they will schedule a walk-through to review any warrantable items you have identified as problematic. There will be an additional walk-through after your first year with your new home, as well.
Cloud IX Homes: Recent Projects
Vienna, VA
This majestic custom-built 7,498 square foot home includes 6 bedrooms, 8 bathrooms, and sits on over 4 ½ acres of land in Vienna.
Fall Church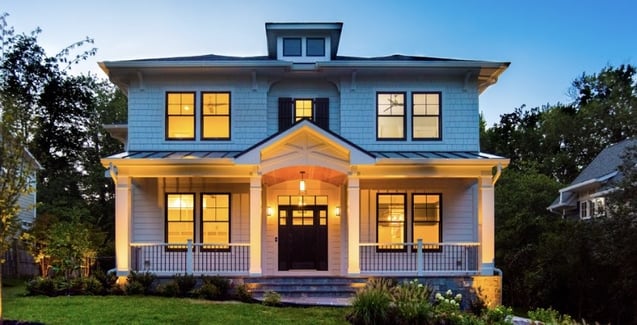 Image courtesy of cloudixhomes.com
This incredible custom-built Falls Church home includes 5,227 square feet with 5 bedrooms, 4 ½ bathrooms, and sits on over ½ acre of land.
The Chesapeake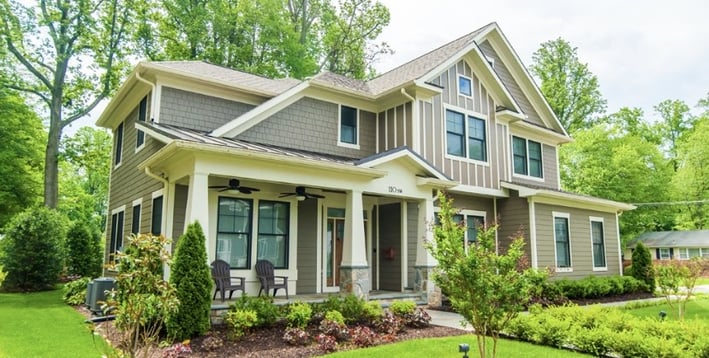 Image courtesy of cloudixhomes.com

Cloud IX Homes' Chesapeake model is 5,108 square feet of luxury living with 5 bedrooms and 5 ½ bathrooms. Any Cloud IX model home can be modified to fit your lifestyle and needs.
Building your Northern Virginia dream home is an exciting time. Choosing Cloud IX Homes helps you bring your dream to life on your terms and budget.
If you are considering buying a new construction home with Cloud IX Homes or any other new home builder in the Northern Virginia area, contact Khalil El-Ghoul before you meet with the builder and visit the community. Working with a Buyer's Agent to help with your new construction build will save you a ton of money. Your agent has relationships with these builders that help throughout upgrade negotiations and closing. Having a Buyer's Agent represent you in a New Construction home buying process is key to saving money and protecting your interests.
Khalil El-Ghoul
"Thanks for reading! I'm passionate about empowering home buyers and sellers with professional advice and unbiased information, throughout the real estate transaction. Unlike most agents, I always put clients first. When it comes to negotiating, marketing homes, and sealing the deal, I've got the experience and knowledge you're looking for. If you have any questions about moving to VA, D.C., or MD, don't hesitate to reach out."