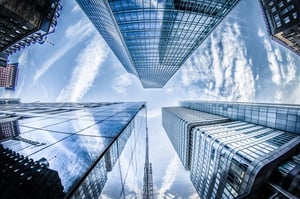 Last fall, retail behemoth Amazon selected Crystal City as the site of their HQ2 campus. While I have touched on this topic in a past blog post, I am just as excited as ever about the growth that Amazon HQ2 will bring to the area, and I want to share some updates with you.
Amazon HQ2
The Location
For those who may have missed out on the news, Amazon HQ2 Headquarters construction is underway in Crystal City between Alexandria and the Pentagon in an area now dubbed "National Landing." The project kicked off in March of 2019, beginning work on the first phase, office space for the construction team.
On May 16, 2019, Amazon released their development plans to the public. The submitted project comes with a $2 billion budget. They will include some fantastic spaces and promise the following:
LEED Gold-certified buildings and sustainability
Amazon has long advocated for earth-friendly materials, and this LEED gold-certified project proves that.
LEED, which is an acronym for Leadership in Energy and Environmental Design) is a well-respected system that grades building developments based on environmental indicators.
The 2.1 million square foot buildings will rise 22 stories and have integrated energy efficiency and green spaces for their employees. Sustainability is a cornerstone of their plans.
Metro station and public transit access
The HQ2 Campus will be located near two Metro stations, bus lines, and a Virginia Railway Express (VRE) station for commuting employees. The company has proven that its employees will go green and utilize mass transit in their Seattle headquarters, where they report that over half their employees report to work via bicycle, foot, or mass transportation.
Additionally, the campus will feature storage space for 600 bicycles and will build a path that connects their campus to Arlington's city bikeways.
Retail spaces and dining at street level
The Amazon towers will feature 50,000 square feet for retail stores, dining options, and daycare facilities to open up for and meet the needs of their employees and other local residents.
Not only will HQ2 mean jobs directly with Amazon, but these new shopping and dining spots will also equal an additional hundred or more jobs.
Amazon Has Started Hiring
In an April 2019 blog post, Amazon announced that they had begun posting jobs for HQ2. Yes, that's right. Amazon has promised to create 400 jobs this year and 25,000 over the next ten years.
I checked out Amazon's hiring page, and I found 62 full-time jobs posted. At this point, the career opportunities posted include titles such as:
Software engineer
Hardware engineer
Software developer
Technical writer
Senior recruiter
Benefits generalist
Delivery program manager
Financial analyst
Procurement
Account representative
Sales manager
They are currently offering up an excellent, broad range of employment options from tech to accounting to human resources to sales and marketing at this time. That's a great start.
While this list is almost sure to change on a daily basis, you can find the Arlington job board, here.
The Amazon Effect on Northern Virginia
When Amazon announced they were moving into the area, the excitement in the air became almost palpable.
While the Amazon Effect refers typically to the retail site's disruption to their competition, in Northern VA, it's becoming synonymous with driving the availability and competition for houses.
According to Fox Business, the impact is already beginning to cause some alarm about home affordability in the area. The Amazon Effect has kicked into gear already, and home prices in Arlington shot up 11% from October through January.
The area is becoming a real estate hot spot; and, in an already tight housing market, this could make housing more challenging to find.
However, there are two sides to this rusty coin. Not all are opposed to the gentrification of Crystal City. Those with the money to spend, and their well-paid employees who want to work close to HQ2, embrace the idea of paying premium pricing for prime housing near campus.
This remains to be seen, but if you are considering investing in real estate in the area, you should do some due diligence surrounding the matter.
Welcome Amazon HQ2
From our point of view, Amazon HQ2 will mean more jobs that pay impressive wages. Isn't that ultimately what every community wishes for?
Khalil El-Ghoul
"Thanks for reading! I'm passionate about empowering home buyers and sellers with professional advice and unbiased information, throughout the real estate transaction. Unlike most agents, I always put clients first. When it comes to negotiating, marketing homes, and sealing the deal, I've got the experience and knowledge you're looking for. If you have any questions about moving to VA, D.C., or MD, don't hesitate to reach out."