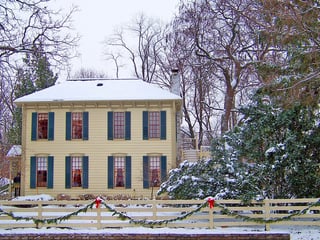 Choosing when to start the process of listing and selling your home is an important decision. Many sellers choose to list during the Spring, which is considered "peak season" for the real estate market. However, listing your home for sale during the holidays can result in attracting more motivated buyers and possibly a shorter time on the market. Learn why listing during the holiday season could be a great choice for sellers in this article.
8 Reasons To List Your Home During The Holidays
1. More Motivated Buyers
Buyers who are motivated to purchase a home will shop all year long, including the holiday season. Motivated buyers do not discontinue their home search because they are too busy during the holidays. If you list your home during this time, you expect higher quality buying prospects to come see your home and show interest. These buyers are motivated by the idea of lower interest rates before the new year starts. Although you may see a smaller amount of people requesting showings, the people who do come are really showing interest and you can expect a shorter sale process.
2. More Time For Buyers To Search and Shop
During the holiday season many people have time off from work or slower work schedules allowing them to have more time to search and shop for homes. Whether it's searching online or actually going to showings, motivated buyers during this season will make the time to find the perfect home. Better yet, prospective buyers may even have loved ones in town visiting and will include them in the home search for feedback and perspective.
3. Fewer Competitors on The Market
If you list your home during the holidays you'll most likely have less competition in your neighborhood. Most people wait until after the holiday season to list their home for sale so you will get noticed during home searchers by quality buyers.
4. Homes Look Better During The Holiday Season
There's nothing like the smell of Christmas cookies and pine needles to make a home feel cozy and welcoming. The holiday season is a great time for open houses because your home is typically organized, clean and ready for visitors and holiday gatherings. Simple decorations and baked goods will welcome prospective buyers during showings and make them feel right at home!
5. Buyers Are More Emotional During the Holidays
Emotions typically run high throughout the holiday season. With family members coming together and the wonderful feeling of giving and receiving, many people are filled with emotion. Home buyers are no different and will definitely welcome the cozy, comfortable natural touches of a holiday-themed open house. The smell of pine wood and cinnamon sticks, the warmth of the fire and the taste of a freshly baked cookie will help buyers imagine their life in their new home.
6. More Buyers Are Relocating
During the months of November through the end of December many buyers are searching for new homes due to work transfers or new college semesters. Relocation is very common during the holiday season as people prepare for the start of the new year. It's a popular time for people to move to a new place and they are motivated to do it quickly! Listing your home for sale during this time could attract these types of buyers who are determined to find a new place before January 1.
7. Showing Times Are More Convenient
If you've ever sold your home before then you know that selling during the "peak season" of Spring can result in having to leave your home many times throughout the day for showings. It's hard to turn down showing requests during the Spring market since there are so many sellers. However, during the holiday season, people are more understanding if you restrict showing times due to family gatherings or holiday obligations.
8. Top Agents Work All Year Long
Many agents will take time off during the holidays but if you can find yourself an agent who is working and has always worked year round, you're in good hands! Top agents work all year round to find and sell homes for clients. An agent that is actively working during the holidays is going to be determined to do everything they can to get your home seen and sold. Look for an agent that focuses on getting your home maximum exposure and priced properly. Use Yelp, Angie's List, Zillow and Trulia reviews to ensure that you're in good hands with the agent you're considering.
Want to list your home during the holidays?
Pay only 1.5% for a top experienced full-service agent
Khalil El-Ghoul and his team at Glass House Real Estate provide a modern real estate experience that improves the way you buy and sell a home in Northern Virginia, Washington D.C. and Maryland. Our clients SAVE an average of $17,500 when they work with us! Learn more
Khalil El-Ghoul
"Thanks for reading! I'm passionate about empowering home buyers and sellers with professional advice and unbiased information, throughout the real estate transaction. Unlike most agents, I always put clients first. When it comes to negotiating, marketing homes, and sealing the deal, I've got the experience and knowledge you're looking for. If you have any questions about moving to VA, D.C., or MD, don't hesitate to reach out."