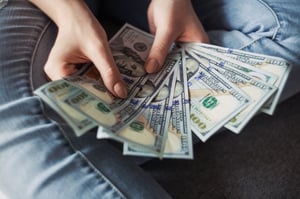 When you work with Glass House Real Estate, you receive up to 1.5% cash back on your new home purchase at closing! In fact, our average buyer receives $10,400. Wow! With this rebate you can pay off debts, invest in improvements on your new home or maybe even upgrade your furniture and appliances!
In this article we'll give you 7 ideas for spending your rebate. Some are worthy investments and others are just to treat yourself to some fun!
7 Ways to Spend Your Glass House Real Estate Buyer's Rebate
1 – Kitchen remodel
First, let's look at investing some of that newly-acquired cash into your new home. A kitchen renovation often tops the wish lists of many home buyers. But, with the average cost of $14,000 for this job in the Washington, DC, metro area, it's out of reach for some.
Your rebate takes a big bit out of that steep cost. Plus, you'll spend that money well! Not only will you enjoy the conveniences and upgrades, but you'll also increase your home's equity right after purchasing it. You're setting yourself up for cashing in big if/when you sell the property at some point in the future.
2 – Dream vacation
Ever dreamed of taking the family for a luxurious vacation with no worries about expenses? Or, have you wanted to treat your spouse to the beaches of Bali?
Due to the financial constraints placed on so many hard-working families, vacations are low-key events. But what if you had a pocket lined with thousands of dollars?
You could enjoy that dream vacation without guilt by funding your travels with your real estate buyer's rebate. And, the chances are strong that you'll still have some cash left if you spend wisely and look for great travel deals.
3 - Pay off other debt
Some of our buyers make their lives easier by paying down or altogether eliminating other debts. For instance, imagine the ease of life sans student loans or credit card payments every month. Many of our homebuyers appreciate the opportunity afforded to them by being able not only to invest in real estate but also to rid themselves of these other obligations. You can also get a head start on your mortgage payments or pay off your mortgage insurance.
4 – Pool party
If you envision an in-ground pool as the ultimate luxury, then this could be your chance to realize that dream. With such a feature, you will entice the kids to stay home more and become the go-to house for all their friends. Yep, you will be the coolest parent in the neighborhood.
In the suburbs around Washington, DC, the average price to install an in-ground pool is $8,000. This dollar amount may indicate that you will enjoy the real estate buyer's rebate to install the pool plus have money left over to stock up on all the supplies that you'll need to equip it well.
5 – Add the dough to a college fund
If you've desired a college fund for your children, you may have found it nearly impossible even to begin to put a drop into the bucket, let alone fill it! Monthly expenses, car breakdowns, commuting costs seem to mount and negate your paycheck before it makes it to the college fund.
Here are the startling facts. In-state tuition averages (annually) are as follows:
$15,600 in Virginia
$15,522 in Maryland
Each state offers excellent educational opportunities, but these come with a price tag above the national average.
Placing this $10,000+ in an investment account could grow this money into the funding your children need to attend an excellent university.
6 – Spoil yourself rotten
Have you ever secretly wished that your teeth were straighter or whiter? Or, have you considered other cosmetic enhancements?
Cosmetic procedures can boost your self-confidence and give you a new outlook on life. One problem. They are costly, leaving many people going without them.
If you've ever thought that cosmetic dentistry or "lifts" of one kind or another would always be just out of your reach, financially, think again! Sometimes, the investment in your self-confidence is the one that will offer you the greatest personal satisfaction.
The real estate buyer's rebate is like found money. So, use it as you wish.
7 – Down payment on a second home
Some past clients have used their real estate buyer's rebate to purchase a second home. In some cases, they plan to retire to that spot in the future. But others desire a retreat at the seaside or in the mountains to escape city life.
If you can afford the payments on a second home comfortably, but you've struggled to find the cash for a down payment, this could be a prime opportunity for you to make that investment.
It will offer you the vacation home you've wanted. And, you can rent it out and make an income from it.
How Would You Spend Your Real Estate Buyer's Rebate?
I bet right now the wheels are turning. You're thinking about how you'll spend your Glass House Real Estate Buyer's Rebate. Or, you're trying to calculate just how much you may receive at the closing table.
Feel free to give us a call—we are glad to help you sort it out.
Khalil El-Ghoul
"Thanks for reading! I'm passionate about empowering home buyers and sellers with professional advice and unbiased information, throughout the real estate transaction. Unlike most agents, I always put clients first. When it comes to negotiating, marketing homes, and sealing the deal, I've got the experience and knowledge you're looking for. If you have any questions about moving to VA, D.C., or MD, don't hesitate to reach out."