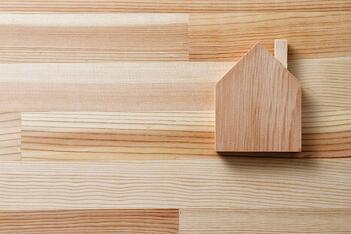 Many people like to buy a newly built home so they have a say in the options and amenities. Unfortunately, new home construction costs and all the available upgrades can add up.
When deciding what to choose now and what to hold off on in the future, there are some key choices that will save you money up front and in the long run. The most important thing to focus on as you build or choose a newly built home is the shell — windows, doors, ceilings, skylights.
Some of the specific ways to keep new home construction costs down include:
Opting for a smaller lot. If you choose a smaller lot, you'll save money. If you prefer a small back yard, maintenance costs in the long run will also help you save money.

Making sure the floor plan is efficient. The more square footage, the higher the price tag. That's why it's important that the floor plan works for your family and that you don't have extra space that won't be used. If you want an open kitchen/family room and a loft area where the kids can hang out and do homework, make sure you have it. If a floor plan you're considering has a formal dining room you think will never be used, then find a floor plan that works. Lower ceilings will cost less than high ceiling designs. Your energy costs will also be less with lower ceilings.

Choosing carpet. When it comes time to choose the flooring in your new house, you'll save the most money by going with carpet; although if there is a lot of wear will need replacing in five or ten years. Hardwood floor is popular, but more expensive. Carpet is something that can easily be upgraded in the future.

Considering laminate in the kitchen and bathrooms. Laminate is less expensive than tile or hardwood. And it's easy to pull out and replace in the future if and when you want to upgrade.

Going with oak or maple cabinets. Hickory and cherry are more expensive. Avoid glazes and special finishes on the cabinets if you want to save another 20 percent or so on the cabinets.

Opting for energy-efficiency. Install water heaters, air-conditioning and heating units that are ENERGY STAR certified. That means you'll see about a 20 percent savings on your energy bill each year. Over the seven to eight years that a typical family lives in a home, you can save thousands of dollars in maintenance costs. You'll also realize long-term savings of seven to fifteen percent when you have ENERGY STAR windows.

Keeping the lines of communication open. Make sure there are no surprises as your house is being built. Always ask the builder about specifics, costs, timelines, potential delays, and options. Your builder can also present you with options that will save you money.

A great way to save money when purchasing a new construction home is by working with a real estate agent who will give you a real estate rebate. A real estate rebate lets you save money for buying a home!
Khalil El-Ghoul
"Thanks for reading! I'm passionate about empowering home buyers and sellers with professional advice and unbiased information, throughout the real estate transaction. Unlike most agents, I always put clients first. When it comes to negotiating, marketing homes, and sealing the deal, I've got the experience and knowledge you're looking for. If you have any questions about moving to VA, D.C., or MD, don't hesitate to reach out."