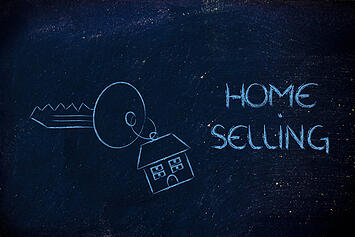 If you thought the only way to sell your home fast was by significantly lowering the price, you were wrong! We've put together a list of helpful ways to sell a home fast in Northern Virginia while still getting the best price possible.
How to Sell a Home Fast in Northern Virginia
1. Clean Up The Clutter
You wouldn't want to move into a messy home, would you? Potential buyers want to be able to picture themselves in the space. This means cleaning out closets and pantries as well. Make sure to remove all personal items, such as photos and mementos. Moving around furniture is also a way to make your home seem more spacious and attractive to buyers. Another option is hiring a home-staging expert to stage your home to sell.
2. Price It Right
Selling your home quickly doesn't always mean you need to have the lowest priced home on the block. It's important to research and find out what comparable homes are going for in your area. The listing price you choose should not be out of line with other comparable homes in the market.
3. Don't Fight The Market
Pay attention to the housing market when you are trying to sell. Selling your home fast in a bad market may mean that you have to accept a lower offer. Be flexible and don't list your home for an unreasonable asking price in times that the market is down.
4. Improve Curb Appeal
The external appearance of your home is the first thing potential buyers see, so you want it to look fantastic! Appearances mean alot in real estate. Make sure that your lawn is manicured, the house if painted nicely, and you have great landscaping design to attract the potential buyers.
5. Differentiate from the Neighbors
Make your home stand out from the rest! Custom designs or additions, such as landscaping, high-grade windows or a new patio may help you attract more buyers than others trying to sell around you. By improving the aesthetics of the home, you are also adding value. When renovating, be sure to use colors and designs that will appeal to the widest audience.
6. Get Your Home in "Move In" Condition
Give your potential buyers the impression that they will be able to move into the home on the spot. Be sure that your home is in compliance with current building codes and in working order. This means that doors, appliances, and electrical and plumbing fixtures should be in tip-top shape. After all, no one wants to move into a home and have to immediately spend money fixing it.
7. Sweeten The Deal
Garner some more attention for your home by offering the buyer a couple of thousand dollars credit toward closing costs. Some buyers are motivated by the option to close in a short amount of time, so if possible close your home within 30 to 60 days. These are great ways to set your deal apart from competitors and make buyer feel like they are getting a bargain, and who doesn't love a sweet deal!
If you're interested in selling a home in Northern Virginia and the D.C. metro area, feel free to contact us to chat about how you can sell your home quickly with our help. Plus, when you work with us you will receive a portion of our agent commission fee in cash back!
Sources: Forbes, MSN Real Estate
Work with Glass House to sell your home quickly and earn a cash rebate.
Contact us today!
Khalil El-Ghoul
"Thanks for reading! I'm passionate about empowering home buyers and sellers with professional advice and unbiased information, throughout the real estate transaction. Unlike most agents, I always put clients first. When it comes to negotiating, marketing homes, and sealing the deal, I've got the experience and knowledge you're looking for. If you have any questions about moving to VA, D.C., or MD, don't hesitate to reach out."