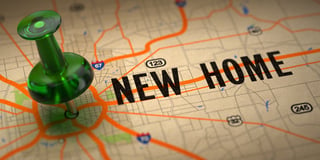 Buyer's who are looking to purchase a home during a "seller's market" need to understand what they can expect. By being prepared and having insight into what it means to buy during this market you have a better chance at getting a home that you love, for a price you can afford. Here's 5 tips for home buyers during a seller's market.
5 Things Buyers Should Do in a Seller's Market
1. Make Your Best Offer
Although you may be dealing with an internal battle to pay as little as possible, it's a good idea during a seller's market to offer the best price you can. Buyer's that step up with their best opening offer will have a better chance of getting the home they want.
2. Don't Overanalyze Price
When you wait too long and overanalyze a home's price you are a high risk of the losing the home you may have fallen in love with. Get your finances in order and be prepared to move quickly in a seller's market. Understanding how much you can truly afford and fixing any credit issues before you start house hunting is the key to making this work.
3. Work with an Experienced Agent
Hire a seasoned, local, and professional agent who is experienced in the area you'd like to buy in. Working with an agent will save you a ton of time and decrease the stress of buying a home. Your agent will know about the area and the ins and outs of the buying process to make things go smoothly.
BONUS: Work with a real estate rebate agent and save money when buying a home! Glass House Real Estate rebates 1.5% back to the home buyer at closing. You find the house - you get the reward. Contact Khalil and talk about your home buying needs today.
4. Get Pre-Approved for a Loan
Prove to the seller that you are a qualified buyer by getting pre approved for a loan. This shows that you are taking house hunting, and buying, seriously. Not only will this help you win over a seller but it will make the process of buying the home you love quicker and pain-free.
5. Be Prepared for a Bidding War
During a seller's market, a bidding war is very likely. In order to prepare for this, hunt for houses that are below your max budget so you have room in case you have to enter a higher bid.
Are You Pre-Approved and Ready to Buy?
Work with Glass House to buy your next home in Virginia, DC or Maryland and we will rebate you 1.5% cash back at closing! Contact Khalil El-Ghoul and talk about getting started with the rebate process
Khalil El-Ghoul
"Thanks for reading! I'm passionate about empowering home buyers and sellers with professional advice and unbiased information, throughout the real estate transaction. Unlike most agents, I always put clients first. When it comes to negotiating, marketing homes, and sealing the deal, I've got the experience and knowledge you're looking for. If you have any questions about moving to VA, D.C., or MD, don't hesitate to reach out."