transform your basement into a home gym
Getting to the gym can be the hardest part of working out. Turning your basement into a gym makes getting there a whole lot easier. What better space to assist you in your fitness goals than your basement? If you are looking to convert your basement into a home gym, follow these steps.
Source: stagirlandherblog.com
1. Clear the Clutter
The first step to turning your basement into a home gym is clearing out any clutter that can cause distraction or injury. This is a great time to purge items you've stored in the basement, whether it is donations or a garbage dumpster.
2. Install Flooring
Basement flooring is typically carpet or concrete; neither is comfortable or safe to work out on. Replacing your current flooring with vinyl panels is not only safe and aesthetically pleasing, but they are also resistant to moisture which can cause mold. If you aren't ready to replace the flooring, place foam tiles or rubber mats over your current flooring; they will provide the support and shock resistance needed to ward off injuries.
3. Make Use of the Walls
Walls can be used in an abundance of ways. Mirrors are a perfect addition to your home gym; they are helpful tools to ensure your form is correct. Using incorrect forms during exercise is a quick way to injury. Mirrors also create an illusion that your gym is more extensive than it is.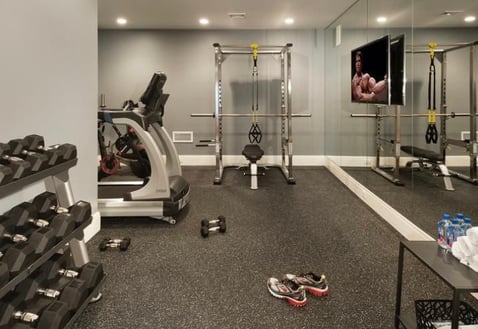 The color of your walls can have a significant effect on your mood and energy level. Bright or bold colors like red, green, or neon can assist with a boosted energy level. Hanging pictures on your walls can also help with motivation, whether it is images of body goals or positive affirmations.
4. Plan the Layout
Consider what type of exercises you will be doing in your home gym. What you will be using your gym for will determine how much open space you will need. If you plan to have many weight racks and cardio machines, consider shelves to hold free-weight dumbbells and mats. If you think you may gradually add to your home gym, be sure to leave enough open space. Planning your area out beforehand will assist you in using your space correctly and getting the most out of your home gym.
5. Purchase Equipment
You don't need loads of equipment to make a stellar home gym. Having at least one piece of cardio equipment like a treadmill or stationary bike, a set of dumbbells, and a yoga mat for stretching is enough for a very effective workout. Inexpensive pieces of equipment like medicine balls, jump ropes, kettlebells, and foam rollers create the possibility for a full-body workout. Sites like Offer Up provide a great place to find a myriad of gym equipment at a reasonable rate.
Source: lisamateo.net
Fitness Goals and Home Gyms
Turning your basement into a home gym will make staying on target easier, especially on cold winter days when going to the gym is not an appealing thought. A home gym will accelerate your fitness goals resulting in a happier, healthier you.
Khalil El-Ghoul
"Thanks for reading! I'm passionate about empowering home buyers and sellers with professional advice and unbiased information, throughout the real estate transaction. Unlike most agents, I always put clients first. When it comes to negotiating, marketing homes, and sealing the deal, I've got the experience and knowledge you're looking for. If you have any questions about moving to VA, D.C., or MD, don't hesitate to reach out."