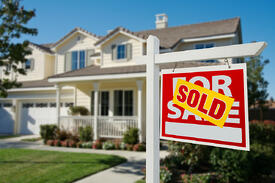 Maybe it's your first time buying or selling a home. Or perhaps the market has you feeling a bit uncertain. No matter what your circumstances for buying or selling a house, choosing a real estate agent is one of the most important steps of the process.
With all the disclosure forms, inspection reports, mortgage documents, insurance policies, deeds, and multi-page settlement statements, an expert will help get you the best deal and help you avoid mistakes that could cost you down the road.
5 Tips for Choosing A Real Estate Agent
One of the most important considerations in choosing a real estate agent is to have a successful negotiator by your side. There are many aspects to negotiating: price, financing, terms, date of possession, and inclusion or exclusion of repairs, furnishings, or equipment.
So when it comes time to finding a real estate agent, there are some key traits you should look for:
Experience. Ask potential agents how long they've been in the business. Just as you would want to know long your surgeon has been in the business before he operates on you, the same holds true when it comes to buying and selling your house. Much of being a real estate professional is learned on the job. Ask about any special designations or specialized training. Ask how many homes the agent sold in the past year. Also, ask how many days their homes are on the market versus the rest of the market.

Marketing Strategies. Ask about marketing methods. Today's successful agent has more than a "For Sale" sign in his marketing arsenal. Marketing your house competitively on the Internet should be second nature for your real estate agent. And the agent you end up hiring should be responsive — today's buyer wants information fast.

Communication. You'll want to ask if you'll be kept updated on the status of your transaction. Does the agent prefer phone or email? Will he/she call you only if there is something new to report, or will you get a call every few days even if things haven't changed? While there is no right or wrong answer to this question, the answer provided will give you a good idea of how well the agent's practices mesh with your preferences.

Referrals. Ask for the names and phone numbers of their three most recent clients. Ask those clients if they would work with the agent again and what his or her strengths are.

Rebate. Ask potential real estate agents if they offer a Realtor rebate. When an agent offers a rebate, they will give the buyer a portion of their commission to the home buyer. Rebates can also come in the form of gift certificates or payment of closing costs. Rebates can end up saving the home buyer several thousand dollars.
In the end, a good real estate agent realizes that buying and selling a home is a huge emotional undertaking and, in most cases, the biggest investment you'll ever make. Having a third party who is objective helps you stay focused on both the emotional and financial issues most important to you.
If you would like to learn more about how you the Glass House Real estate rebate process and how you could earn a cash back rebate for buying a home, check out the link below.
Thinking about buying a house?
Find out how you can earn a cash rebate working with Glass House.