Considering a move to Washington D.C.? Here's a quick summary of information to help you learn about your future city!
Living In Washington D.C.
Median Age is 36.3
$65,900 is average salary
34.3 minutes is the average commute for residents
Living in the D.C. area is expensive. The average home cost is significantly higher than the national average and price continue to climb over the years.
Washington D.C. has many diverse neighborhoods with a variety of home types including row homes, luxury condos and more.
The population in DC is diverse because the state attracts people from all around the world with its strong job market.
There are many things to do in Washington DC for residents and tourists. There is a growing restaurant scene and residents can enjoy many sports bars to watch their local teams. Plenty of nightlife venues as well as trendy bars and cultural attractions. Museums, theaters and year-round markets are other attractive to-dos for DC residents.
Washington D.C. Schools
As of 2017, there are 198 public elementary, middle and high schools in the Washington DC area. Fifty-one high schools are recognized on U.S. News & World Report's Best High Schools rankings.
There are also many school districts nearby including Fairfax County Public Schools, Montgomery County Public Schools, Loudoun Country Schools and more.
What Does It Cost To Live In Washington D.C.?
Choosing a neighborhood in DC can be overwhelming, with 131 neighborhoods to choose from.
According to the calculations of Number.com living in Washington DC is about 5.70% lower than living in New York.
A single person's monthly costs may be around $1,101 without including rent or mortgage payments.
An average meal may cost you between $15 - $60 depending on the range of restaurant. See more here: https://www.numbeo.com/cost-of-living/in/Washington
Things to Consider When Moving To D.C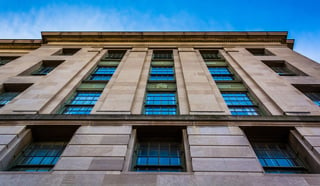 Parking prices can be high. Consider storing your vehicle and utilizing public transportation or bikes for commuting. The metro is known to be very clean and safe and is an easy way to get around for most residents. Here's the the Metro's schedule and routes.
Sales tax is an even 6%, except for liquor, which is 9%. For restaurants and renting cars, expect to see 10% tax.
You'll find that the city has more of a professional dress code. Some fine dining restaurants and trendy bars even enforce certain dress codes.
It's easy to take mini-vacations when living in D.C. because it is surrounded by many beautiful areas. Weekend long trips for outdoor adventures such as hiking in Shenandoah National Park or rafting in Harper's Ferry, WV are common.
The city is continuously growing and is full of life, culture, and diversity.
Buying a home in the DC metro area?
Get a 1.5% cash back rebate when working with Glass House Real Estate to buy your new home in Washington DC, Northern Virginia and Maryland. Contact us today to learn more!
Khalil El-Ghoul
"Thanks for reading! I'm passionate about empowering home buyers and sellers with professional advice and unbiased information, throughout the real estate transaction. Unlike most agents, I always put clients first. When it comes to negotiating, marketing homes, and sealing the deal, I've got the experience and knowledge you're looking for. If you have any questions about moving to VA, D.C., or MD, don't hesitate to reach out."