Remodeling or designing your kitchen is a big investment and knowing all your options is imperative. There are six fundamental layouts for kitchens: galley, one-wall, U-shaped, L-shaped, G-shaped, and island kitchen layouts. Let's get started on finding which design will work best for you.
Galley Kitchen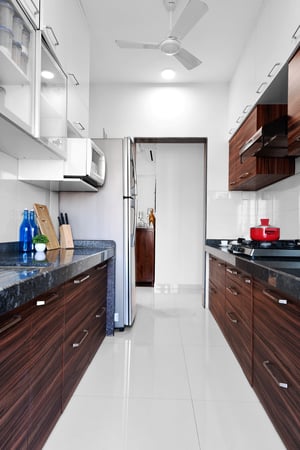 Also referred to as a parallel kitchen, the galley kitchen is one of the most efficient kitchen layouts. It is ideal for smaller spaces where there will only be one cook in the kitchen. In a galley kitchen, you will have two parallel walls opposite each other. These kitchens are called walkthrough kitchens because of the walkway between the two walls. There are many advantages to a galley kitchen such as high utility for the cook and easy access to all your essential cooking needs. This kitchen layout works nicely for homes demanding maximum function from tight spaces. One benefit of a galley kitchen is that it won't break your bank. Galley kitchens are generally more cost-effective than larger, more open layouts. On the other hand, a galley kitchen isn't great if you plan on having more than two people in the room at once. This is not an ideal layout for large families.
One-wall Kitchen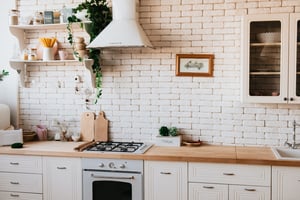 The one-wall or single-wall kitchen is popular in loft apartments and studio flats because it can effectively utilize minimum space. All three work centers are lined up in a straight line. Your work centers are food storage and preparation (refrigerator, cabinets, cupboards, pantries, counter space), cooking (stove, microwave), and cleanup (sink, dishwasher). Typically, the cabinets and appliances are mounted on one wall. Some one-wall kitchens include an island that gives you more preparation room and an extra place to eat by easily buying a couple of barstools. This layout is most suitable for homes with a narrow, limited space for the kitchen. Cons of a one-wall kitchen are the limited storage space and counter space without the addition of an island.
U-Shaped Kitchen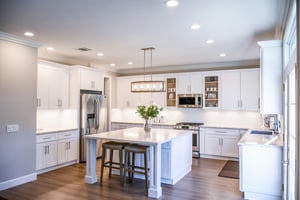 This layout is commonly referred to as the horseshoe layout. The U-shaped kitchen sports three walls of appliances and cabinets. This is a terrific layout if you have a large space and spend a large amount of time in your kitchen. This plan supplies more floor, cabinet space, and counters that create an efficient workplace while creating meals. U-shaped kitchens provide a separate working area when you need to accommodate a larger family or if you entertain regularly. This layout creates a free traffic flow where disruptions to work areas are minimized. As there are to all layouts, there are cons to this plan. If you are using a large space for your kitchen you will need an island, which will require a larger budget to allow the work areas to be closer in proximity to one another. Corner base cabinets can be difficult to access in this type of layout.
L-Shaped Kitchen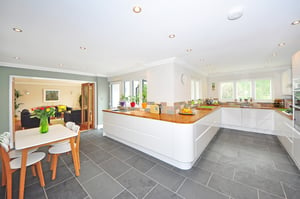 L-shaped kitchens are super ideal for smaller family homes that have small floor space. This layout employs two walls in an L-shape for the countertops, cabinets, and appliances. This plan provides a systematic design for the incorporation of all three work areas. A small island can always be incorporated into this layout if there is enough floor space. L-shaped kitchens are desirable plans in open-plan living spaces. However, these layouts can be very spread out making the kitchen inefficient for the cook. You may be doing a lot of walking back and forth between your cabinets, sink, refrigerator, and stove. L-Shaped Kitchens are not recommended for large kitchens as the appliances and workstations are too spread out.
G-Shaped Kitchen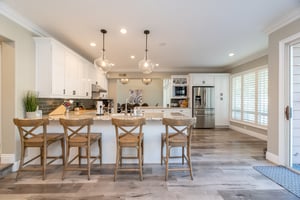 G-shaped kitchens, also known as peninsula kitchens typically contain a connected island; however, unlike the traditional four-sided island, the connected island offers just three sides, hence the name peninsula kitchen. This connected island provides a free-standing workplace that can be used as a countertop, eating area with storage underneath. The peninsula kitchen gives all the perks of an island kitchen while using less floor space. With more surface areas, a G-shaped kitchen gives you more space for working. This design allows you the opportunity to build cabinets on all three walls creating more storage for pots, pans, and the rest of your kitchen items. This is not an ideal design choice if you are living alone. There just may be too much space for you. The G-shaped kitchen can appear as overstuffed with so many wall cabinets and storage units making the kitchen appear smaller than it really is.
Island Kitchen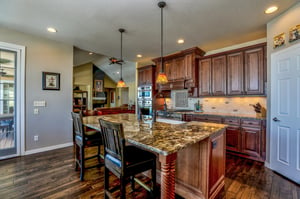 The island kitchen is a very popular layout. This plan can be used in both small and larger floor spaces. From creating extra counter space to more storage and a breakfast nook, creating additional seating the island kitchen has many benefits. Islands essentially play two roles in the kitchen, adding counter space and boosting the visual aesthetics to the room. Having a single wall, the island gives cooks a great meal prep spot. Additional storage underneath the island and extra cabinets and drawers are highly beneficial to lager families. This open plan allows the kitchen to be a part of another room, as well. More modern apartments are integrating island kitchens into there blueprints, making the living area appear much larger. This is a great design if many people will be wandering in and out of the kitchen. Instead of yelling from the other room, you can easily speak to the rest of the family while you are frying up the bacon. This is a great set-up for families with young children, as they can sit at the island and do homework, play a game, or just talk to you. Can't miss a play of the big game, but have to get the pot roast in? No problem, typically you can see the television from an island kitchen. Islands serve as a beautiful accent piece dividing the kitchen and living room. However, this kitchen has to stay clean. The island kitchen typically flows into the living room, meaning you can't hide a messy kitchen. Probably the biggest con of an island kitchen is cost. The island is a very expensive addition to a kitchen and can definitely inflate your budget.
There are many things to factor into the decision of your kitchen layout. How large is your family, how often will you be in the kitchen, how much storage will you require, and do you entertain often are important questions to answer before deciding on this large endeavor. Once you choose your perfect kitchen layout, the next step is organizing. Click here for great tips on master chef worthy kitchen organization tips.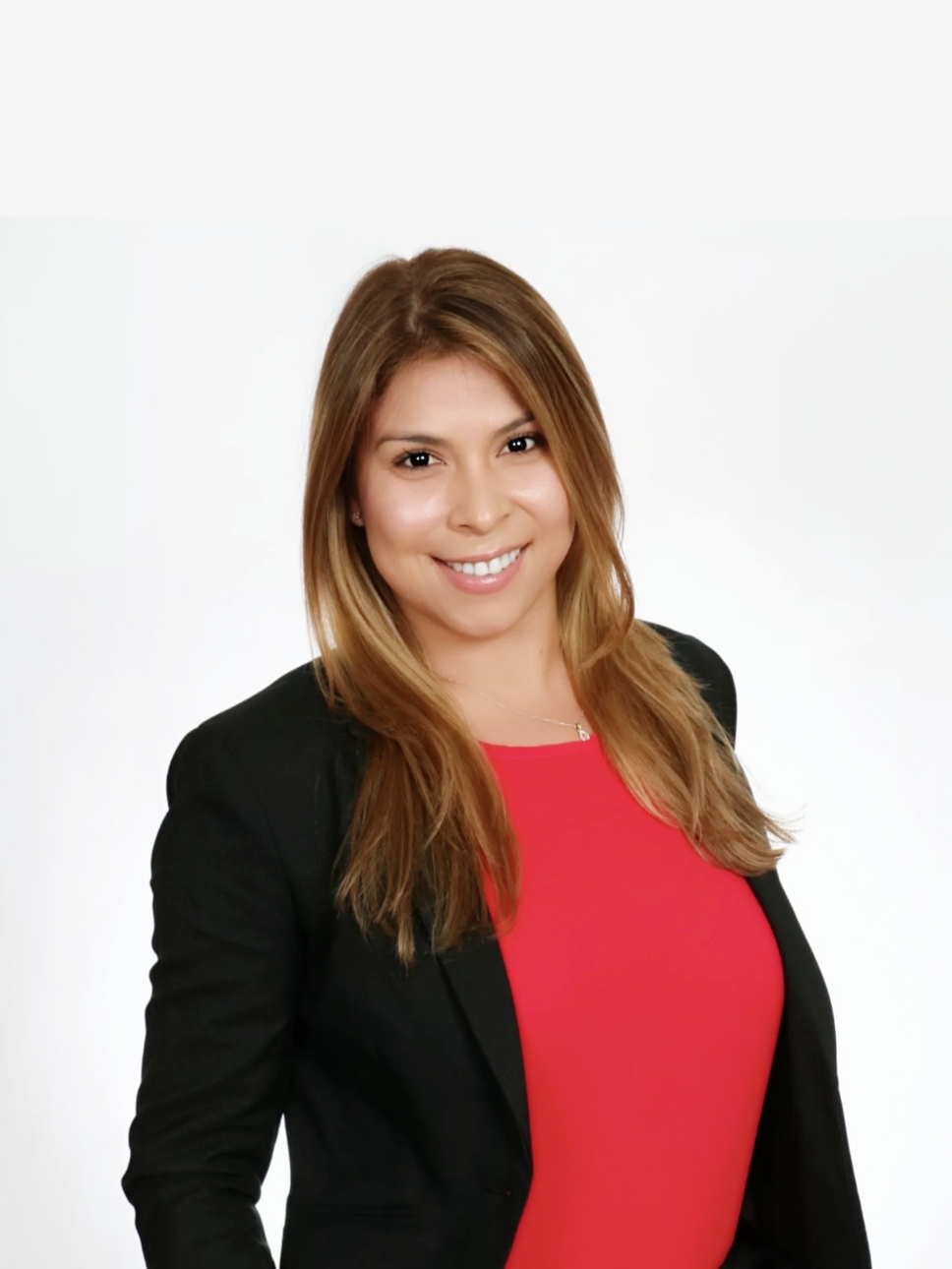 Isabel Machua
Since 2008, Isabel has helped both buyers and sellers accomplish their real estate goals. Growing up in Vienna, Isabel has vast local knowledge about the DC metro market and has enjoyed growing her network and building relationships with . Her love for real estate and passion for guiding people through the process makes her a an excellent asset to the Glass House team.